Moderate senate Democrats could sink nomination, problems include a history of shoplifting and being a communist.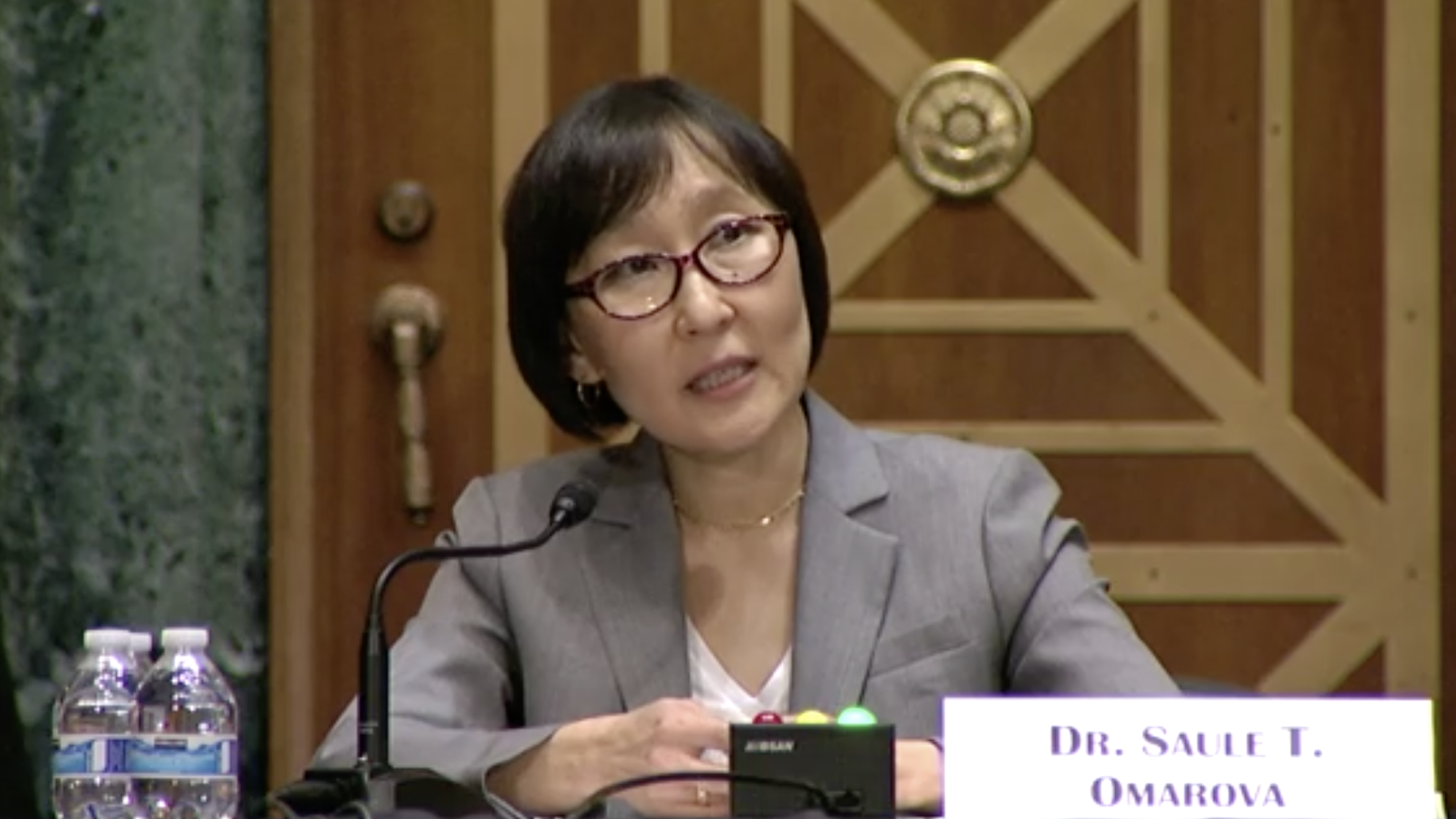 Saule Omarova, President Joe Biden's nominee for the office of the Comptroller of the Currency, is under scrutiny for her advocacy of a more dominant role for government in finance, as well as her history of shoplifting.
In 1995, while completing her PhD at the University of Wisconsin, Omarova admitted to stealing $216 worth of merchandise of a T.J. Maxx.
A police report of the arrest says that Omarova stole four pairs of shoes, two bottles of cologne, two belts and socks from the store when she was apprehended.
The T.J. Maxx security agent on duty told police that he saw Omarova take the items by placing them into a large purse and covering them with other clothing items to obscure the stolen items.
The security agent attested that Omarova paid for several items at the jewelry counter but "made no attempt to pay for the items concealed in her purse" and confronted her after she left the store with the stolen items.
Omarova "immediately requested the opportunity to pay for the items" and was "cooperative" as the security agent said he would "sign a complaint" about the items being taken "without his consent."
The responding police officer read Omarova her rights, which she "waived," according to the police report, and then "admitted to have stolen the items."
The nonprofit American Accountability Foundation published the police report on Twitter.
BREAKING: AAF unearths Biden nominee Saule Omarova's arrest records from 1995 when she stole hundreds of dollars in merchandise from a T.J. Maxx.

Omarova has no respect for our laws, system of government, or our economy.

But Biden wants to put her in charge of American banks. pic.twitter.com/G5rlu6MLDT

— BidenNoms, A Project of AAF (@bidennoms) November 17, 2021
Politico reported on Thursday that at least seven Senate Democrats have "reservations" about her nomination:
But the Biden administration has also privately told people that at least seven Democratic senators have reservations about her nomination. People familiar with the matter say that includes four members of the committee: Jon Tester of Montana, who has already voiced concerns; moderates Mark Warner of Virginia and Kyrsten Sinema of Arizona; and Raphael Warnock of Georgia, who faces a potentially tough reelection battle next year.
In Thursday's Senate Banking Committee hearing on Omarova's nomination Republicans largely focused on her past writings in their criticism, including a recent proposal that would move consumer deposits out of private institutions and into the Federal Reserve. But the hearing took an uncomfortable turn away from her policy views when Sen. John Kennedy (R-La.) asked about her membership in a communist organization while she was growing up in the Soviet Union.
"It's commonly referred to as the 'young communists,'" he said to Omarova. "Were you a member?"
"Senator, I was born and grew up in the Soviet Union," she said. "Everybody in that country was a member of the Komsomol, which was the communist youth organization."
After Kennedy asked whether she had any record of resigning from the group, committee chairman, Sherrod Brown (D-Ohio)  made the rare move of interrupting the GOP lawmaker to say that Omarova had renounced her Kazakhstan citizenship, causing an argument to flare between the two senators. "I understand that, but you're not the witness, she is," Kennedy said. He told the nominee that he didn't know whether to call her "professor or comrade."
The U.S. Chamber of Commerce opposes Omarova's nomination. In a letter to the Senate Banking Committee, the Chamber wrote, "We believe someone who holds the expressed desire to "effectively 'end banking' as we know it" should not serve as a primary regulator of this industry. The Chamber strongly opposes Dr. Omarova's nomination to serve as Comptroller of the Currency."
In addition, the Independent Community Bankers of America and 41 community banking associations representing thousands of community banks across the country, oppose the nomination. In a letter to the Senate Banking Committee they wrote,  "We generally believe that the Senate should accord the President a strong measure of discretion in selecting the members of his Cabinet and heads of independent agencies. We have not previously opposed a nominee of this President and have only rarely opposed a nominee of any previous President. We take this unusual step based on the nature of Professor Omarova's public positions and the impact they would have on community banks."
Americans for Limited Government President Richard Manning said Omarova is "perhaps the worse choice out of hundreds of bad nominations. Ms. Omarova is a genuine Moscow University (not in Idaho), Lenin Scholar who emigrated to the United States in 1991 who is on video saying, 'There will be no more private bank deposit accounts and all of the deposit accounts will be held directly at the Fed.'"
"When this statement is put into the context of an administration that has aggressively sought to have annual transaction reports for every bank account with more than $600, what could go wrong?" Manning asked. "While most people don't know what the Comptroller of the Currency does, the position is more than a signature line on the money.  The Office of the Comptroller of the Currency overseas the execution of laws relating to national banks including chartering, regulating and supervising them.
"Ms. Omarova is the exact kind of radical that America does not need and should be rejected by the Senate," Manning concluded.
Catherine Mortensen is Vice President of Communications at Americans for Limited Government.