As Americans try to wake up from the authoritarian Fauci nightmare that has dashed the hopes and dreams of many a small business over the past 20 months, economists have some good news: this year's holiday shopping season looks to be a bright one.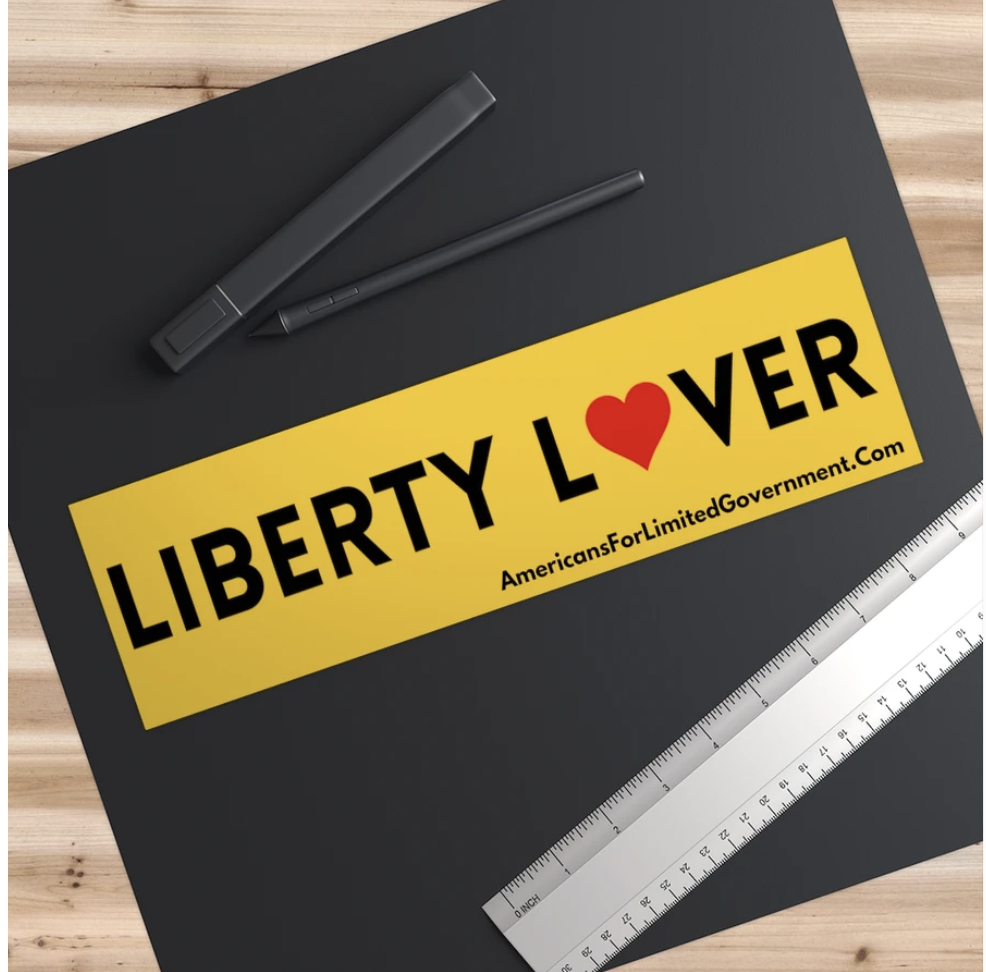 As Americans try to wake up from the authoritarian Fauci nightmare that has dashed the hopes and dreams of many a small business over the past 20 months, economists have some good news: this year's holiday shopping season looks to be a bright one.
Household spending rose 1.3 percent in October from a month earlier, while personal income increased 0.5 percent last month, the Commerce Department said Wednesday. And consumers are benefiting from a strong labor market.
Holiday spending looks to be especially strong in the ecommerce space between Thanksgiving and Cyber Monday, the period known as Cyber Five (Thanksgiving, Black Friday, Small Business Saturday, Cyber Sunday, and Cyber Monday).
We expect the Cyber Five to deliver strong sales volume and solid (if unspectacular) growth rates. We forecast the period will marginally increase its share of holiday ecommerce from 18.4% to 18.5% but still down from its high of 20.0% in 2019.
Each Cyber Five shopping day will surpass $5 billion. The top two days—Cyber Monday and Black Friday—will top $10 billion, but Thanksgiving Day and the weekend will post the strongest growth rates.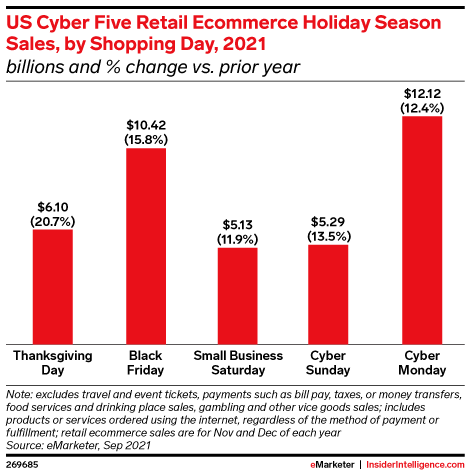 Thanksgiving 2021 will be the fastest gainer of the top three ecommerce shopping days. Key factors behind its expected ecommerce surge include the following:
The rise of smartphone-driven "couch commerce." Gathering on the couch to shop Black Friday deals on mobile devices has become an unofficial post-Thanksgiving meal tradition in recent years. Unlike the desktop ecommerce era when Thursday shopping meant scurrying off into another room, smartphones have given family members license to get a jump on Thanksgiving weekend shopping without being antisocial.
Early Black Friday online promotions. Last year, retailers unleashed their Black Friday deals early in the week of Thanksgiving, and with travel constrained, many shoppers jumped on those deals on Monday, Tuesday, and Wednesday. Early deals are likely here to stay, but the resumption of holiday travel this year means there will be more shopping than buying in the days leading up to Thanksgiving.
Brick-and-mortar stores going dark on Thanksgiving. A near universal shutdown of Thanksgiving Day doorbusters among brick-and-mortar retailers—led by Walmart, Target, Best Buy, and The Home Depot—will keep traditional Thursday evening shoppers at home. But still, they'll shop, and the purchases typically completed in-store will happen online.
Black Friday 2021 will be a brick-and-mortar bonanza. Following a year of strained in-person holiday shopping events and widespread store closures on Thanksgiving Day, consumers will hit the stores at a frenzied pace on Black Friday. Resumption of pre-pandemic shopping rituals like door-busting at big-box retailers and fashion-finding at malls will generate strong foot traffic. Mobile traffic will also spike on Black Friday as consumers prepare for in-store shopping trips and engage in showrooming while there. We expect online sales to increase 15.8% to $10.42 billion, assuming the No. 2 spending day position for the season.
Cyber Monday 2021 will be the No. 1 US ecommerce shopping day ever. Cyber Monday has been the No. 1 ecommerce spending day every year since 2010, and this year will be no different as it once again sets new records. Despite significantly underperforming last year's benchmark—15.6% versus the holiday season's 32.0% growth rate—this year, it will lag the season by just a few points. We forecast Cyber Monday to rise 12.4% to $12.12 billion, 6.2 times the sales volume of the average day during the holidays.
But Americans for Limited Government (ALG) President Richard Manning said while global supply chain woes are beginning to recede, he doesn't expect a return to more normal operations for some time.
"We still have a trucker shortage, particularly in California where anti-business laws have pushed many independent truckers off the roads," explained Manning. "The other big threats are COVID vaccine mandates and restrictions. President Biden is appealing a federal court ruling that halted his unconstitutional mandates. If businesses move forward with firing unvaccinated workers, as the president is urging them to do, that could really hamper our economic recovery."
ALG Merch store director, David Potter says shoppers' hunger for unique gifts will benefit niche ecommerce sites as the one ALG launched last month.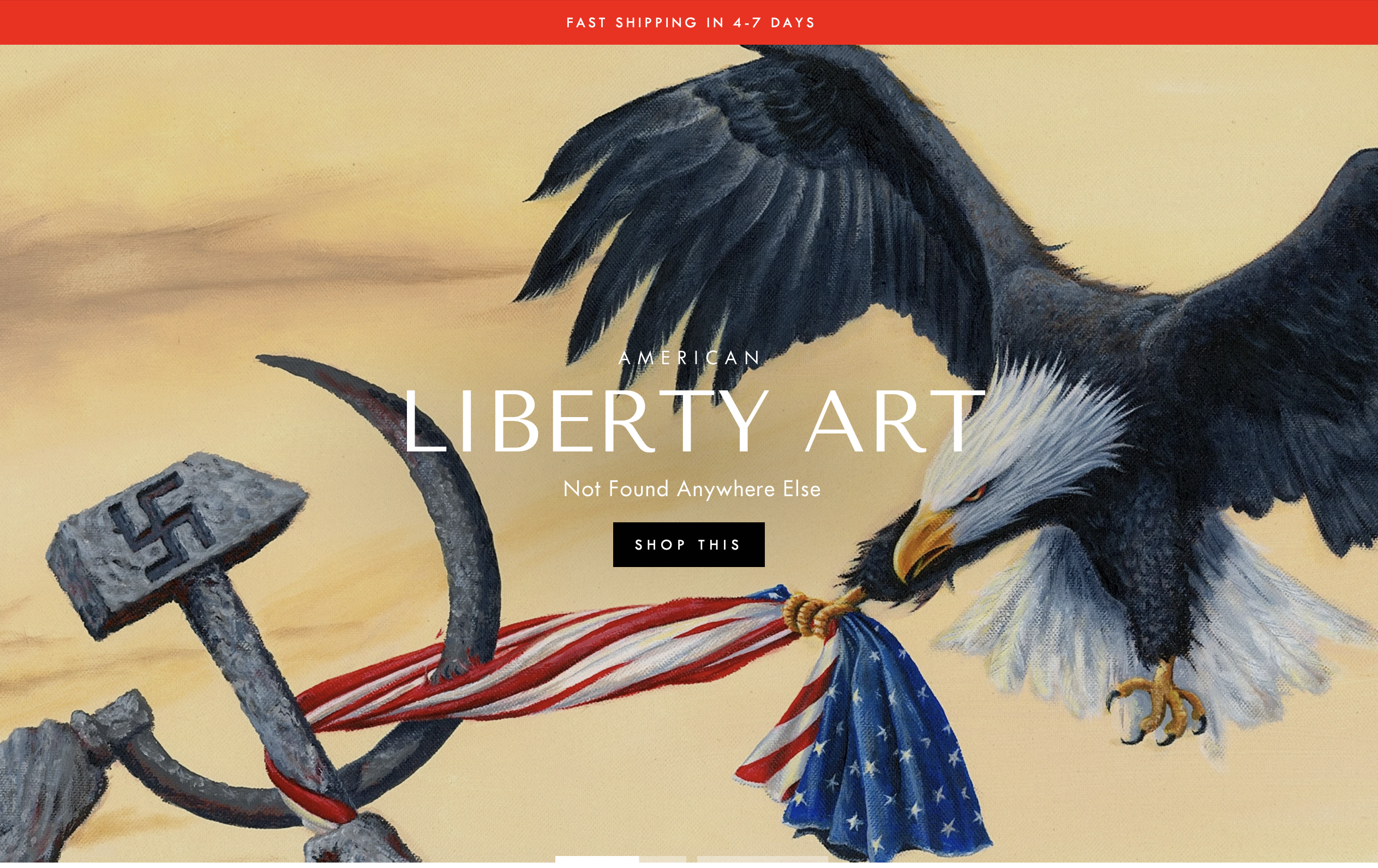 "Let's face it, Biden's multiple stimulus checks have allowed millions of Americans to buy everything they really needed this past year," noted Potter. "It can be hard selecting a gift for someone who has everything they need. If they are a liberty lover, consider purchasing something from the ALG MERCH store. We have puzzles and art featuring exclusive cartoons by Tony Branco. We have fun bumper stickers and T-shirts. All of our merchandise is made in America and is of the highest quality, but still super affordable."
Potter noted that ALG's merchandise has so far avoided supply chain problems and expects that to continue. "We aren't shipping things from China, and that is the key," Potter explained.
Catherine Mortensen is Vice President of Communications for Americans for Limited Government.