The heart of Democrats' collective anxiety is over Biden himself, in his flailing, failing first year of his presidency.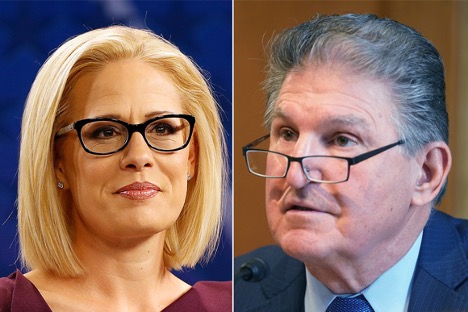 Be careful what you wish for.
That kernel of wisdom should be ringing in Democrats' ears as they watch the spectacular rise of President Joe Biden's disapproval rating, which has reached all-time highs of 59 percent and 57 percent in recent surveys by USA Today-Suffolk and ABC News-Washington Post, respectively.
Only 38 percent and 41 percent approved in those polls, respectively, as the country continues to deal with surging inflation amid massive spending bills by Congress, a seemingly never-ending pandemic, unpopular, unconstitutional vaccine employer mandates, a failing global supply chain and the national shame of leaving hundreds of Americans and thousands of American allies to die in Afghanistan.
And in those same polls, Republicans have established 8-point and 10-point leads over Democrats in the generic Congressional ballot question, 46 percent to 38 percent and 51 percent to 41 percent, respectively.
2022 will in all likelihood be a great year for Republicans. In midterm elections dating back to 1906 through 2018, the party that occupies the White House usually loses seats in the House 90 percent of time, on average 31 seats, and loses seats in the Senate 71 percent of the time, on average about three seats.
That's more than enough for Republicans to take back one or both chambers of Congress in 2022. A year out from the midterms, and Republicans are leading the generic ballot on average 3.4 points.
These results should surprise no one. This is about the time in the 2010 midterm cycle, following gubernatorial races the GOP performed well in Virginia and New Jersey, that Republicans consistently began to lead the generic congressional vote in national polls. The latest polls are simply the oncoming red wave building politically.
And now, it is unclear Democrats will even be able to deliver on President Biden's $1.75 trillion so-called Build Back Better plan. Even after losing the Virginia governorship earlier this month, the Biden administration and Congressional leaders have remained optimistic, suggesting voters wanted them to get to work and pass more legislation.
Yet, even as the $1.2 trillion bipartisan infrastructure bill passed the House on Nov. 8 and was signed into law on Nov. 15, Biden and Democrats continue to sag in the polls. Now, Senators Joe Manchin (D-W.Va.) and Kyrsten Sinema (D-Ariz.) are being pressured to again vote for the next $1.75 trillion legislation.
So, what gives? Just a year ago Democrats had swept the trifecta of the White House, House and Senate. But the majorities are scant, with only 50 Senate seats and 222 House seats (218 is a majority). Biden barely won by about 40,000 votes in the swing states of Wisconsin, Georgia and Arizona. There was zero margin for error headed into 2021 in order for Democrats to get the most out of their majorities.
The infrastructure bill should have been a layup. It wasn't. And going forward, it won't get any easier as the true Democratic resistance emerges.
For, what we are witnessing now is collective Democratic (and independent voter) anxiety, over inflation, which is viewed as a betrayal by suburban middle class voters, over Biden's rush to exit Afghanistan even as it looked overwhelmingly likely the Taliban would take over the country again, over Biden and Democrats' crushing poll numbers and against other radical overreaches by the Biden administration including Green New Deal-style policies and restarting Operation Chokepoint.
But the heart of Democrats' collective anxiety is over Biden himself, in his flailing, failing first year of his presidency.
It's not just that he has to govern with tight majorities, grapple with Covid or to deal with emergencies overseas. It is his failure to lead the nation as he instead lords over them to get the vaccine — or else.  He's too old. He looks unwell. And with former President Donald Trump waiting in the wings for another run in 2024, Democrats may feel trapped with Biden — especially if they believe he's the only one who could beat Trump.
But, especially as political tides turn against Democrats this midterm cycle, the pressure for him to step aside will only mount, potentially setting up what could be a catastrophic presidential primary for Democrats in 2024, dividing Democrats at a time when they would normally be rallying around the incumbent.
History tells us that a beleaguered incumbent foreshadows bad news for the majority party. And every Democrat in Congress. That is why the real Democratic resistance will emerge from within, especially as Democrats start looking to save their own skins.
Robert Romano is the Vice President of Public Policy of Americans for Limited Government.