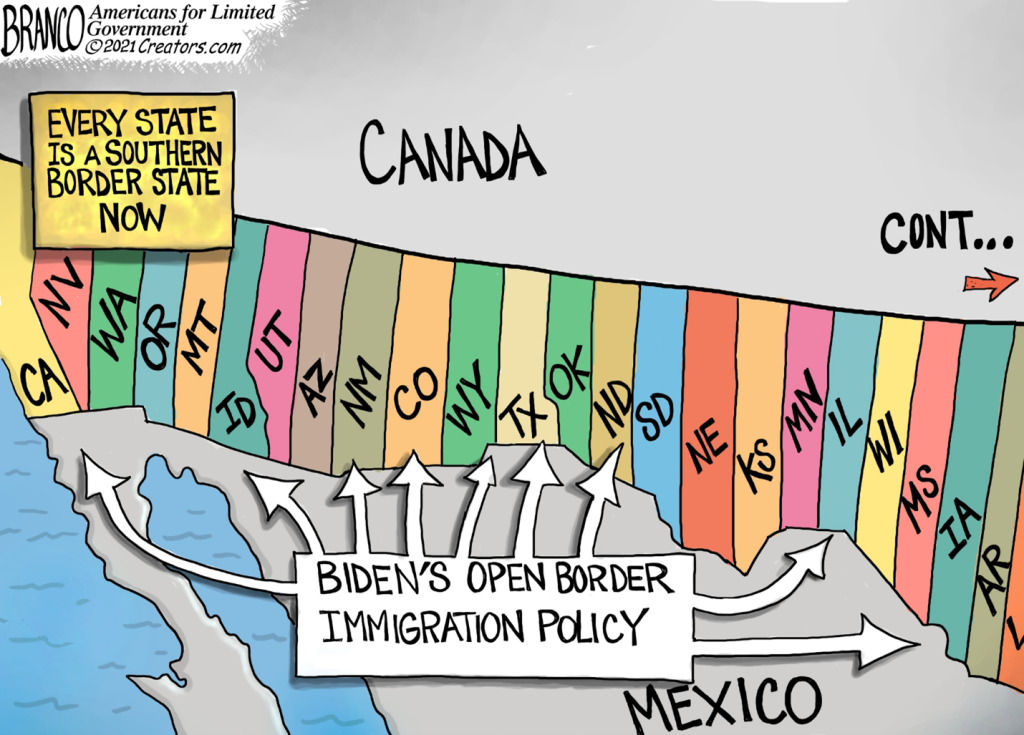 Since President Joe Biden was sworn into office in Jan. 2021, more than 2.5 million illegal immigrants have been apprehended at the southern border, the greatest unchallenged influx of illegal immigrants in American history, according to data compiled by U.S. Customs & Border Patrol (CBP).
Of those, just 167,392 were either deemed inadmissible or expelled due to health concerns, according to the CBP.
Currently, just 20,146 illegal immigrants are currently detained in FY 2022 according to Immigration and Customs Enforcement (ICE). 136,725 have been released in FY 2022: 7,879 were bonded out, 85,747 were given orders of recognizance and 38,745 were paroled out. Besides that, ICE reports that Alternatives to Detention (ATD) currently number at 191,988.
That's catch and release.
In addition, reports that in FY 2021, there were just 59,011 removals in its latest annual report, a 68 percent decrease from FY 2020, when 185,884 illegal immigrants were deported. And that was during the height of the Covid pandemic, and with far fewer apprehensions to work with.
So, working through the numbers: 2.5 million illegal immigrants were caught at the border, but only 167,392 were turned away and another 59,011 were deported.
Meaning, 2.27 million illegal immigrants just from Biden's time in office remain in the country. They were all released.
Unfortunately, many of them are indentured slaves and victims of human trafficking who paid the Mexican drug cartels to get into the U.S. Once here, they are obliged to keep paying protection money. Many of them are sex slaves. How many?
In the year 2000, the Central Intelligence Agency (CIA) estimated as many as 50,000 women and children are smuggled to the U.S. every year to serve as prostitutes and forced laborers in violation of the 13th Amendment's prohibition of slavery and indentured servitude.
After more than 20 years, that would mean there are more than 1 million slaves in the U.S. and likely, given the numbers we are seeing presently at the border, there are many, many more than that.
And the Biden administration—and prior administrations although not the Trump administration, which prioritized securing the border—is letting it happen. In fact, by opening the border, Biden is accommodating this abhorrent crime against humanity.
According to a report by the Organization of American States on human trafficking, the conditions of these slaves are atrocious: "The victims, mostly women and children, are often deceived about the true nature of the work. They are exploited in slavery-like conditions. The traffickers grow rich, but the victims are held in debt bondage… Some are abducted and sold, some are deceived into consenting by the promise of a better life or a better job, and some feel that entrusting themselves to traffickers is the only economically viable option. Regardless of the route of entry, most women and children trafficked for sexual exploitation suffer extreme violations of their human rights, including the right to liberty, the right to dignity and security of person, the right not to be held in slavery or involuntary servitude, the right to be free from cruel and inhumane treatment, the right to be free from violence, and the right to health."
The report continued: "Why can't they just leave? Some trafficking victims are physically imprisoned by locks, bars or guards. Those with apparent freedom to leave are controlled by other means. Physical, sexual and psychological violence are employed against them effectively."
Former President Trump dealt with this problem by threatening Mexico with massive tariffs if they would not deploy their military to secure their side of the border. The Migrant Protocols and the Remain in Mexico policy were adopted by both countries, and apprehensions dropped substantially.
Then, Biden arbitrarily ended the Remain in Mexico policy, an action which the Supreme Court then struck down. Not that it matters. While the U.S. and Mexico have nominally agreed to reinstate the program in December, without the threat of tariffs, the amount of apprehensions is higher than ever.
Who's remaining in Mexico if 838,685 illegal immigrants have been apprehended this year?
The better question is, of the millions of illegal immigrants coming here, how many of them are now enslaved here in the U.S. by the cartels? Maybe somebody should ask President Biden at this next press conference.
Robert Romano is the Vice President of Public Policy at Americans for Limited Government Foundation.