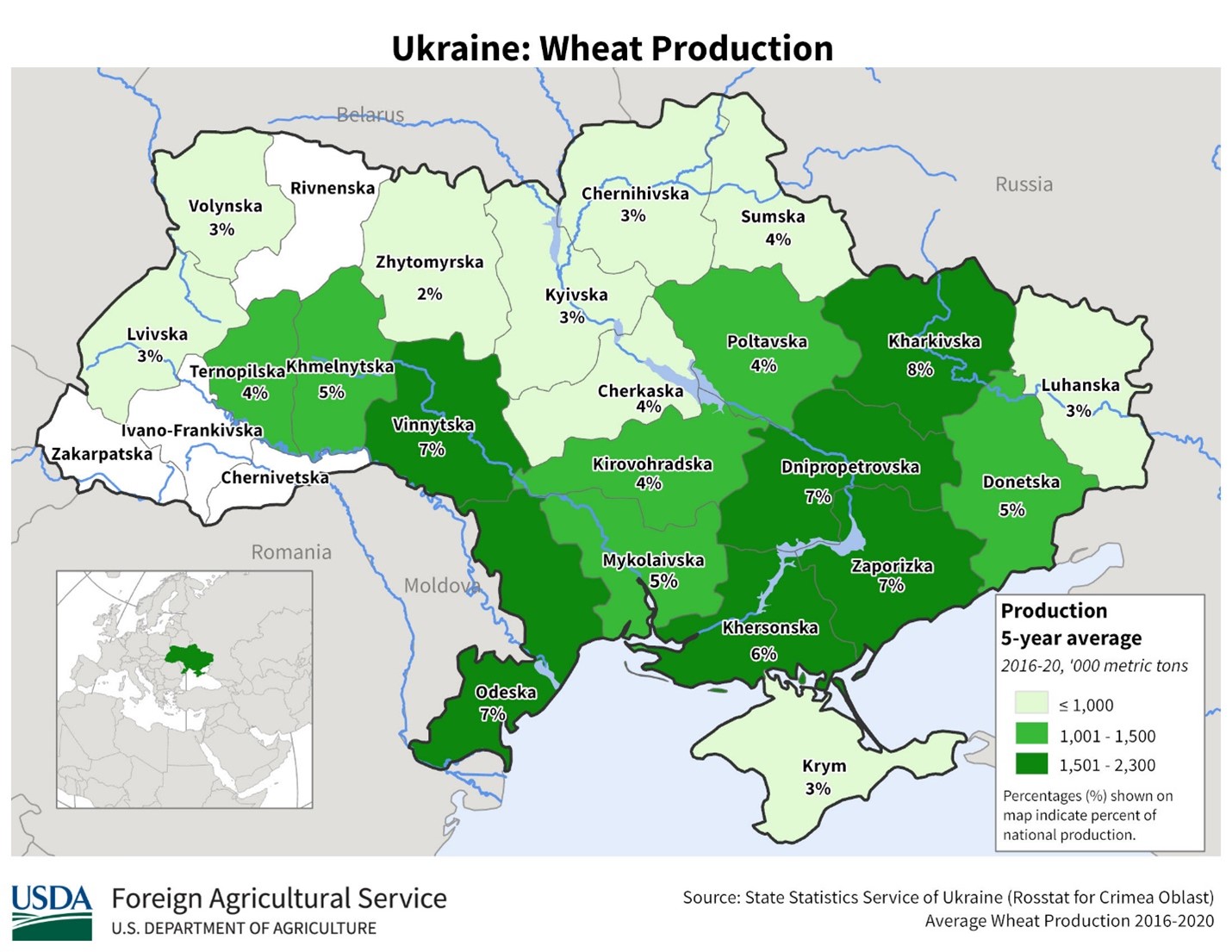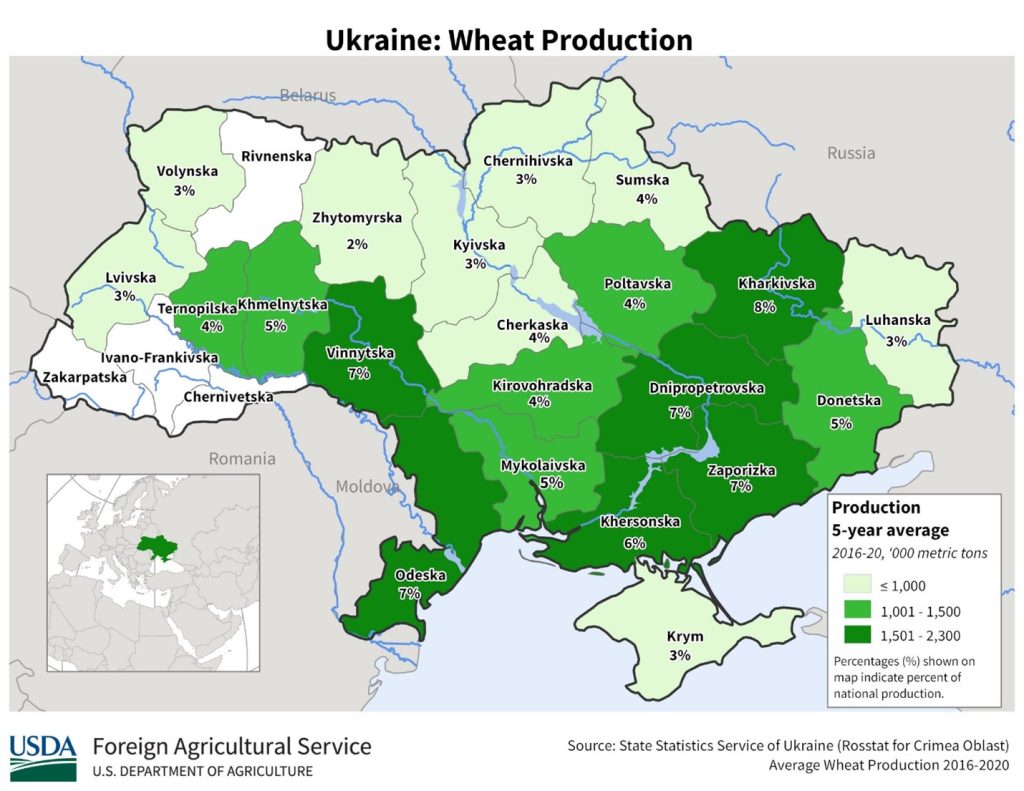 "With regard to food shortage, yes, we did talk about food shortages.  And — and it's going to be real.  The price of these sanctions is not just imposed upon Russia, it's imposed upon an awful lot of countries as well, including European countries and our country as well.  And — because both Russia and Ukraine have been the breadbasket of Europe in terms of wheat…"
That was President Joe Biden on March 24 at the NATO summit in Brussels, Belgium, noting that because of Russia's invasion of Ukraine, as Ukraine and Russia combined account for about one-third of global wheat exports, disruptions to distributing that food would cause food shortages all over the world.
In 2021, global wheat production was about 772 million tons, 75 million of that came from Russia and another 33 million tons came from Ukraine. Any disruption of agriculture on that level could impact millions of people.
According to Oleg Nivievskyi, vice president of economic education at Kyiv School of Economics, speaking to LancasterFarming.com, wheat and corn production in Ukraine to decrease by 35 million pounds this year in Ukraine, and exports of wheat in Ukraine and Russia combined will decrease by 60 million pounds in 2022, adding, "low income countries in Africa that depend on the grain will be severely impacted."
Making matters worse, a lot of the farms are in eastern Ukraine where some of the fighting has been the heaviest, while the situation at Ukraine's Black Sea ports in the south could mean even if the crops are not damaged because of the war, getting the exports out to sea could be problematic.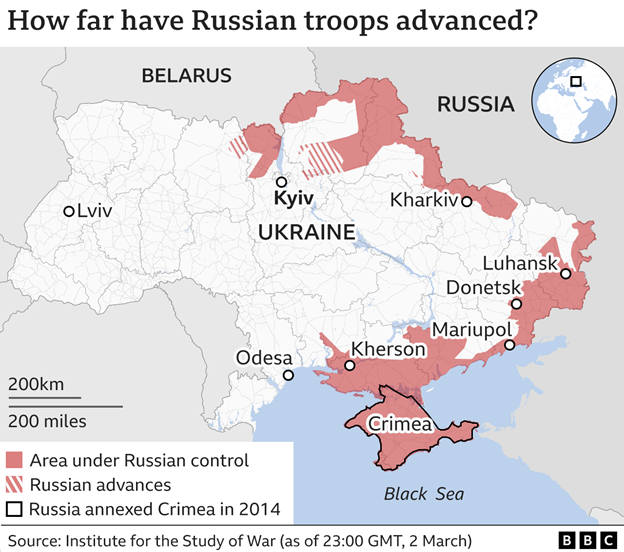 So far, the winter wheat crop is okay, but that could change. According to LancasterFarming.com: "The current crop looks good, Nivievskyi said, but that's where the optimism ends. Right now, he said, is the time of year when farmers are usually in their fields applying fertilizer and getting the land ready to plant. It's a crucial step for every spring crop — not just wheat — yet in much of the country it may not be possible."
Besides the risk of mines and other dangers on the roads and the fields, there are also massive fuel shortages that could make operating the tractors necessary for the harvest impossible.
High fuel costs, particularly of diesel, could make ramping up production in the U.S. and elsewhere more difficult. According to a report by the Associated Press' Aya Batrawy, Steve Karnowski, and Rob Gillies: "Any increased production is running up against surging costs for supplies. The price of fuel has skyrocketed, and the cost of fertilizer was already high because of a crunch in natural gas acutely felt in Europe."  
But it gets worse. About half of the wheat the World Food Program (WFP) purchases to help feed about 125 million people around the world comes from Ukraine, with WFP Executive Director David Beasely told the Associated Press: "It will impact millions and millions of people, particularly in the poorest countries of the world."
Meaning, if inflation remains high and the war in Ukraine continues, global food production could take such a hit that millions of people end of starving. So, what to do?
One area that could help farmers speed up production would be to lower artificial fuel costs. For example, the federal diesel tax is $0.2440 per gallon and states charge on average $0.3266 per gallon, according to the U.S. Energy Information Administration. If those were temporarily suspended, it could speed along production.
It's one of those things where time is essential. The winter wheat was planted last year. The spring wheat gets planted in March, April and May in the northern hemisphere. If not enough seeds are planted this year to offset the war in Ukraine then President Biden is right, there are going to be food shortages.
Robert Romano is the Vice President of Public Policy at Americans for Limited Government Foundation.