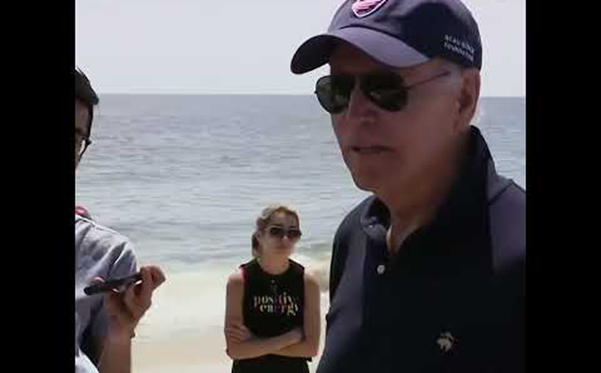 67 percent of Americans disapprove of President Joe Biden's handling of the U.S. economy and 71 percent disapprove of his handling of inflation as gasoline prices continue hitting records at $5 a gallon, a recent Fox News poll taken mid-June found, even as Biden recently suggested a recession is not "inevitable".
A whopping 75 percent of independents disapproved of Biden's handling of the economy, and even 36 percent of Democrats registered disaffection. 93 percent of Republicans predictably disapproved.
On inflation, disapproval rises to 77 percent among independents, 44 percent among Democrats and 94 percent of Republicans.
The numbers are about as atrocious as one might expect, considering the economic turmoil hitting Americans in the pocketbooks this summer. Overall consumer inflation remains high at 8.6 percent with no end in sight.
The U.S. is still not pumping that much more oil, where production remain below pre-Covid levels that had gasoline prices at less than $2.50 when Biden took office in Jan. 2021, and production is not expected to get above its prior highs of more than 12 million barrels a day until 2023, according to projections by the U.S. Energy Information Administration.
Neither is Saudi Arabia all that much, where President Biden is scheduled to visit next month. Nor Russia, who Biden has terrible relations with as the war in Ukraine continues to wreck havoc on global supply chains, particularly for oil and natural gas.
In early June, OPEC+ had announced a modest increase of about 1 million barrels a day over July and August to 43.2 million barrels a day, but so far is struggling to meet the targets it just set out. Oil prices here remain over $100 a barrel after tumbling from $120 a barrel earlier this month.
Now, the Atlanta Federal Reserve is projecting the U.S. economy could fall into recession, projecting a pathetic 0 percent growth in inflation-adjusted Real Gross Domestic Product in the second quarter. The economy contracted by 1.5 percent in the first quarter, the Bureau of Economic Analysis reported.
One indicator that remains strong has been labor markets, with the unemployment rate still at 3.6 percent the past three months according to the Bureau of Labor Statistics. But job openings remain near record highs at 11.4 million job openings, indicating labor shortages continue to loom as a longer term problem. Usually, in a business cycle, job openings will peak towards the end and then drop once a recession strikes as unemployment rises. We're still not there yet, but we might be getting close. Stay tuned.
Robert Romano is the Vice President of Public Policy at Americans for Limited Government Foundation.