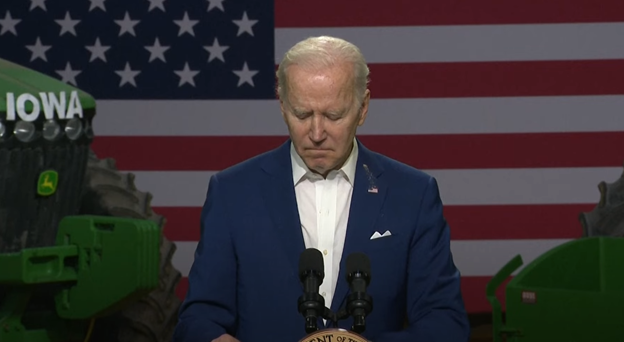 By Rick Manning 
Is Chinese president Xi under house arrest in Beijing?  Are a number of Xi's opponents under arrest?  Is Russia's Vladimir Putin in danger of a coup due to his Ukraine invasion?  Are trained Venezuelan militia coming across our southern border to set up terrorist cells throughout our country?  Were the Nord Stream 1 and Nord  Stream 2 natural gas pipelines that carried Russian gas to Germany sabotaged, and by who? 
These are just a few of the headlines and questions being asked over the past few days, the answers to each having a dramatic impact on the geo-political future for billions of people across the globe. And this is ignoring the on-going supply chain crisis, predicted worldwide catastrophic food shortages, Iranian aggression threatening the Middle East, rapidly rising prices, just completed, secret joint Chinese/Russian naval exercises threatening Alaska and a major hurricane rampaging through Florida.   
On most of these issues, the world relies upon America's ability to discern truth and act rationally upon it to avoid cataclysm.   
Like it or not, for the past 75 years, it is America which has led the way with other countries falling in line with the decisions made by Washington, D.C., and the old economic saying that if America's economy sneezes, the rest of the world catches a cold remains true. 
Out of all the problems listed above, the one which no one dares talk about is whether the President is capable of the discernment needed to make decisions or not.  The void left by an incapacitated U.S. president at a time such as these almost guarantees aggression into the void. 
Unfortunately, the world is aware that President Joe Biden regularly gets lost on stage after delivering speeches. They suspect that others within the administration may actually be calling the shots, but aren't necessarily sure who they are.  They suspect that when the chips are down, they may be left on their own as there may not be the ability to make the toughest decisions, or have the kind of direct conversations to calm situations does not exist. 
The speculation about the sabotaging of the Nord Stream pipelines is a sad example as one of America's top allies in Europe, Poland, publicly speculated that the dirty work might have been done by those in the Biden administration who seek to cut off Russia's leverage this winter against Europe.  Understand that Poland has real skin in the game when it comes to Ukraine as historically, foreign cavalry (horses or tanks) have rolled through their countryside either coming from or to Ukraine.   
While the European Union has publicly pointed at Moscow as the likely culprit, the suspicion that America was behind it with the result being a very hard winter for the people of central Europe does more to split our traditional cross-Atlantic alliance than anything Putin or Xi have done. 
 I don't know who is responsible. Eco-terrorists determined to permanently ween Europe off of fossil fuels? Ukraine fighting for their own survival cutting off leverage which would undermine support for their fight against Russia? Russia itself, benefitting from higher natural gas prices on the world market while impoverishing those who are currently supporting the fight against them?   
What I do know is that the danger of having the leader of the free world, through no fault of his own, unable to lead and privately, credibly answer concerns like those voiced by Poland has become too significant to ignore. 
America has a mechanism for removing a president who is incapacitated.  After the November election, we need to have an honest, bi-partisan discussion about whether it is time to exercise it.   
I am aware that Vice President Kamala Harris has hardly acquitted herself in her current inconsequential role and that has to be part of the discussion. But the obvious damage being done by a rapidly aging Biden cannot be avoided any longer. 
The potential consequences are too grim to ignore. 
Rick Manning is the President of Americans for Limited Government.