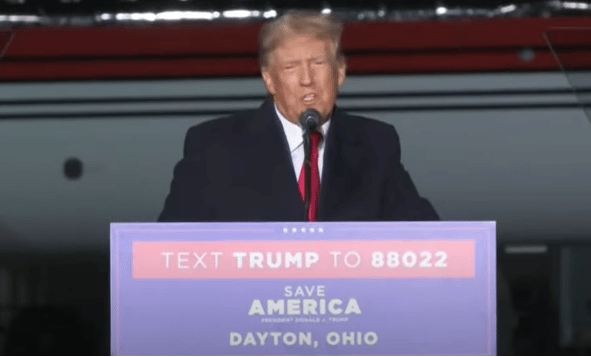 Former President Donald Trump was leading President Joe Biden in several 2024 presidential polls in key swing states taken at the end of October constituting a majority of the Electoral College prior to the appointment of Special Counsel Jack Smith by Attorney General Merrick Garland.
In Ohio, Emerson had Trump leading Biden by 12 points, 50 percent to 38 percent.
In Arizona, Emerson also had Trump ahead of Biden by 4 points, 46 percent to 42 percent.
In Michigan, Emerson again, Trump led Biden by 3 points, 47 percent to 44 percent.
In Nevada, this time a poll by The Hill-Emerson, Trump was ahead by 5 points, 47 percent to 42 percent.
In Georgia, The Hill-Emerson again, Trump up by 3 points, 47 percent to 44 percent.
In North Carolina, The Hill-Emerson had Trump up by 11 points, 51 percent to 40 percent.
And nationally, on Nov. 16-17, a Harvard-Harris poll had Trump leading Biden 44 percent to 42 percent.
Trump is also the frontrunner in Republican nomination polls, leading by 14 points and 18 points, respectively in the last two snapshots by Politico-Morning Consult and Harvard-Harris polls, respectively.
If nothing else, the polls show that a 2024 rematch between Trump and Biden would be very close. Biden might not win.
If the above states came Trump's way in 2024, he would defeat Biden 283 Electoral College Votes to 255.
Now, Biden and Garland are explicitly threatening to prosecute and imprison Trump ahead of the 2024 election.
In Garland's Nov. 18 announcement of the appointment of the special counsel, Trump's Nov. 15 announcement he was running for president — something he has a constitutional right to do —  in the constitutionally prescribed 2024 election was the rationale for the heightened criminal investigation.
Garland stated, "Based on recent developments, including the former President's announcement that he is a candidate for President in the next election, and the sitting President's stated intention to be a candidate as well, I have concluded that it is in the public interest to appoint a Special Counsel."
Here, Garland is admitting that the justification for the special counsel was political: Trump and Biden are running against each other in the next election. Just consider the gravity of that.
In order for a special counsel to be appointed, according to 28 C.F.R. 600.1, the Attorney General must determine "that [a] criminal investigation of a person or matter is warranted and… investigation or prosecution of that person or matter by a United States Attorney's Office or litigating Division of the Department of Justice would present a conflict of interest for the Department or other extraordinary circumstances…"
Meaning, Attorney General Merrick Garland has a "conflict of interest" and cannot continue the investigation on his own. Because Trump is President Biden's opponent in the 2024 presidential election.
Attorney General Garland might prefer to rely on the "other extraordinary circumstance" portion of the regulation but frankly, there is nothing extraordinary about either the constitutionally prescribed 2024 election occurring in two years or Trump's valid exercise of his constitutional right to run for president.
Nor was there anything extraordinary about delivering a speech on the National Mall on Jan. 6, 2021, even to protest the outcome of the 2020 election, where Trump urged everyone to "peacefully" protest the Electoral College certification of Joe Biden as President-elect: "We have come to demand that Congress do the right thing and only count the electors who have been lawfully slated, lawfully slated. I know that everyone here will soon be marching over to the Capitol building to peacefully and patriotically make your voices heard."
And in exercising his constitutional Article II executive powers in declassifying documents related to the Russiagate fiasco on Jan. 19, 2021, right before leaving office.
So, we're left with the obvious conflict of interest posed by Trump running in 2024 against Garland's boss, President Biden. The implication is that Garland would not do so were there no crimes that were to be prosecuted. And so the intent is almost certainly to arrest, prosecute and then imprison Trump before he has a chance to run for office again.
Taken together with the results of the general election on Nov. 8, where Republicans have narrowly reclaimed the U.S. House of Representatives, as Biden enters into what will certainly be a legislative lame duck period, the naming of the special counsel looks increasingly desperate.
The Nov. 18 announcement came as House Judiciary Committee Republicans put the Justice Department and FBI on notice that they will be coming to Congress to testify, voluntarily or not, as soon as House Judiciary Committee Ranking Member Jim Jordan (R-Ohio) takes the gavel from committee Democrats in January.
Matters to be explored include the Justice Department's 2016 determination to put the Trump campaign under surveillance for suspicion of being foreign agents, a false tale made up by Trump's political opponent in the election, the Hillary Clinton campaign and the Democratic National Committee.
There are certainly oversight matters there relevant to the special counsel inquiry. On Jan. 19, 2021, the day before he left office, Trump declassified a trove of documents related to the Justice Department's botched investigation of Trump that falsely accused him and his 2016 presidential campaign of being Russian agents, in the memorandum, entitled, "Memorandum on Declassification of Certain Materials Related to the FBI's Crossfire Hurricane Investigation."
The Biden Administration Justice Department led by Attorney General Garland never complied with the Trump memorandum, Senate Judiciary Committee Ranking Member Chuck Grassley (R-Iowa) and Sen. Ron Johnson (R-Wis.) revealed in a Feb. 15, 2022 letter to Garland. It was a follow-up to an Oct. 2021 letter on the same complaining about the lack of disclosure.
Grassley and Johnson wrote in the Feb. 2022 letter, "We remain concerned that over one year from the date then-President Trump directed the Justice Department to declassify certain Crossfire Hurricane records the Justice Department has not only failed to declassify a single page, the Department has failed to identify for Congress records that it knows with certainty to be covered by the declassification directive."
Were these the documents the FBI was seeking in the August raid on Trump's Mar-a-lago estate in Palm Beach, Fla.? Even if they weren't, don't they show evidence that Trump was declassifying documents before he left office? It will be up to Jordan and House Republicans to find out and subpoena those documents and once obtained, read them on the floor of the House for all to hear.
Once declassified, those documents belong not to Trump and not to the Justice Department—but to the American people.
And somehow, the American people are to believe all this nonsense over what goes and what does not go in the National Archives? No, this is the exercise of raw power by Biden and Garland against Biden's principal opponent, the Republican frontrunner Trump, using the Justice Department to go after the opposition party in an election—again.
And since special counsels can obtain warrants, yes, there will be more surveillance.
If this were any other country, where a president barely won election and then ordered investigations to imprison his rival who swears he's running again, the free world would rightly denounce that president as an undemocratic despot who feared the outcome of the next election and did not respect the consent of the governed to make an informed decision in 2024 without the politically motivated witch hunt being a factor.
This is what third world countries now, and now so is America. In the meantime, on Twitter, where Elon Musk has restored free speech and reinstated Trump's account, Congressional Republicans have barely made a peep about the Special Counsel. Neither have supposedly Republican-friendly news outlets, who appear to be boycotting Trump's 2024 presidential run. This is a pathetic display.
The Republicans the American people elected to protect them from one-party rule are afraid to speak out. Or worse, they're being told not to, and will sit idly by while Biden uses the full force of law against a Republican candidate who seeks to unseat him.
Where are the defenders of the nation's two-party system and the civil society? Trump has a constitutional right to give speeches such as Jan. 6, 2021 and to run for president. And he had the power to declassify presidential papers.
No matter what case the special counsel might bring, it will be unable to overturn these facts, calling into question the wisdom of the appointment, which is also very dangerous. This is worse than shouting fire in a crowded theater, it's potentially lighting the fuse to a powder keg. Maybe that's the point.
This is the "violence of faction" that James Madison warned about in the Federalist No. 10. There is no greater form of political violence than using majorities in government to crush the opposition.  
For, the instrumentalities that unleashed Russiagate against Trump were not invented overnight solely for him. They have been in place for decades under FISA and the FBI's counterintelligence activities that Republicans in the House now must oversee. It appears likely that in every major presidential campaign, there is this secret vetting process that for once was exposed in 2016. Surveillance. That's what members should truly be frightened by.
And thanks to Trump, it's all been declassified, so that all future presidential candidates — especially Republican candidates — will know what they're truly up against. But the Justice Department isn't giving up the evidence freely. That's not a free country. Sadly, a one-party state is forming before our eyes, and if something is not done by the civil society to save itself, there won't be any opposition left, principled or otherwise.
Robert Romano is the Vice President of Public Policy at Americans for Limited Government.