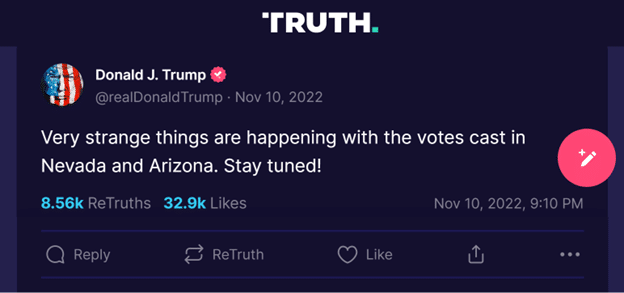 S.686, the Restricting the Emergence of Security Threats that Risk Information and Communications Technology Act (RESTRICT Act), contains language that could be used to shut down any website or app with more than 1 million users that challenges the "reported result of a Federal election" — threatening websites and apps that allow free speech on their platforms including Truth Social and Rumble, not just TikTok, the supposed reason for the legislation.
Specifically, Section 3(a)(1)(C) of the proposed legislation states, "The Secretary [of Commerce], in consultation with the relevant executive department and agency heads, is authorized to and shall take action to identify, deter, disrupt, prevent, prohibit, investigate, or otherwise mitigate, including by negotiating, entering into, or imposing, and enforcing any mitigation measure to address any risk arising from any covered transaction by any person, or with respect to any property, subject to the jurisdiction of the United States that the Secretary determines… poses an undue or unacceptable risk of… interfering in, or altering the result or reported result of a Federal election, as determined in coordination with the Attorney General, the Director of National Intelligence, the Secretary of Treasury, and the Federal Election Commission…"
The key words there are "interfering in, or altering the…reported result of a Federal election…" How does one "interfere" or "alter" the "reported result" of an election? By saying somebody else won the election and that it was rigged or corrupt.
That's exactly what anybody, including former President Donald Trump in 2020 or former 2016 Green Party nominee Jill Stein or Al Gore in 2000 did by challenging the "reported result" of the presidential elections of 2020, 2016 and 2000, respectively, whether through lawsuits, television and print media or more recently, via social media.
There were efforts to remove Trump before he had even taken office in 2017, including by challenging the Electoral College and then again when Congress certified the electors in 2017, with false allegations that he had been some sort of Russian agent, leading to government surveillance, criminal investigations and special counsels, only to have Trump cleared of any conspiracy with Russia to hack the DNC and put the emails onto Wikileaks.
Special Counsel Robert Mueller's 2019 report stated, "In particular, the Office did not find evidence likely to prove beyond a reasonable doubt that Campaign officials such as Paul Manafort, George Papadopoulos, and Carter Page acted as agents of the Russian government — or at its direction, control or request — during the relevant time period."
Manafort was brought up on unrelated tax and bank fraud charges and Papadopoulos on a process crime related to his questioning. As for former Trump lawyer Michael Cohen, per the Mueller report, "Cohen had never traveled to Prague…" And so, he very well could not have been there meeting with Russian intelligence officials, as had been alleged by the Clinton-paid dossier author, former British spy Christopher Steele. Page was not charged with anything. It was all fake. 
Even with the Mueller report's result, after it was released in 2019, a Reuters-Ipsos poll found 79 percent of Democrats remained convinced that "President Trump or someone from his campaign worked with Russia to influence the 2016 election…" including 53 percent who strongly agreed.
Wasn't that belief, widely reported by American news media outlets, challenging the "reported result" of the 2016 election?
Nor was that belief suppressed by social media. And to my knowledge, there was no legislation ever proposed that would have restricted that kind of speech. Plenty dealing with the fraudulent investigation by the Justice Department, but none designed to squelch speech from 2016 election deniers or those who falsely believed the Trump campaign were Russian agents.
Returning to 2020, it just so happens that while YouTube, Twitter and Facebook were shutting down user accounts that dared to suggest that the narrow 2020 election — won by President Joe Biden by a scant 23,000 votes in Wisconsin, 10,000 in Arizona and 10,000 in Georgia — was actually won by Trump, apps like Truth Social and Rumble, friendly to Trump, do allow that kind of free speech to occur.
The legislation would apply to "any person, or with respect to any property, subject to the jurisdiction of the United States…" And it need not be owned directly by a foreign government, like China, or one of its organs, like the Chinese Communist Party. Instead, a controlling interest, or "covered holding" is defined as "regardless of how or when such holding was or will be obtained or otherwise come to have been held, a controlling holding held, directly or indirectly, in an ICTS covered holding entity by… a foreign adversary…"
Again, it states "directly or indirectly," which opens the door for non-state-owned holdings.
The legislation currently has 13 Republican co-sponsors in the U.S. Senate, more than enough to put the bill over the 60 vote threshold needed to end debate assuming almost all of the Democrats vote in favor.
It can also further apply to any website or app that is found by the Secretary of Commerce to "undermine democratic processes and institutions or steer policy and regulatory decisions in favor of the strategic objectives of a foreign adversary to the detriment of the national security of the United States…"
That could be any speech that, say, opposes U.S. involvement in the war in Ukraine to repel Russia's invasion. You could even oppose it on grounds that in the words of Ronald Reagan that "a nuclear war cannot be won and must never be fought" because it poses an existential threat to humanity itself. Since that would technically "favor… the strategic objectives of a foreign adversary" though, it could qualify.
And so could any apps that allow that kind of speech, not just Truth Social or Rumble, but also Twitter, Facebook, YouTube, etc. since opposition to escalation of the war in Ukraine does not violate the various companies' terms of service — yet.
The point is that it is completely arbitrary. Obviously, as these are content-based restrictions, they clearly violate the First Amendment to the Federal Constitution that states, "Congress shall make no law…. abridging the freedom of speech, or of the press."
There are always going to be close, bitterly fought elections and when they are particularly narrow, allegations of fraud or corruption are almost always going to arise. Trump's opponents are no stranger to election challenges. And while the Justice Department and intelligence agencies, whose ill-founded investigations fostered the false belief that Trump was a Russian agent, should certainly be reined in via legislation, the American people's speech must never be, even if it's on an app the government doesn't like, whether Truth Social, Rumble or any other.
Robert Romano is the Vice President of Public Policy at Americans for Limited Government.