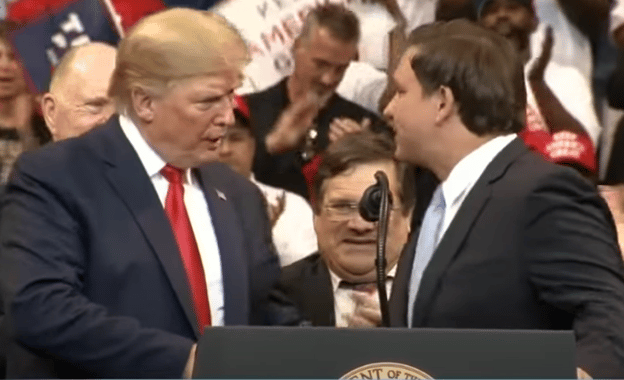 By Manzanita Miller
A new poll from Victory Insights conducted after the media feeding frenzy over former President Trump's indictment shows Trump soaring ahead of Governor Ron DeSantis in Florida.  
The poll shows Trump with a 15-percentage point lead over DeSantis (47% to 32%), a complete reversal from November when Trump trailed DeSantis by 10 percentage points in the same poll.
In a hypothetical scenario where DeSantis does not run, Trump emerges as the clear frontrunner with 65.9% of the vote. Other declared Republican candidates trail far behind, with Nikki Haley coming in a distant second with 7.8% of the vote. The survey also revealed that 90% of Florida Republicans believe Trump's indictment was politically motivated.
Victory Insights senior pollster Ben Galbraith told National Review this rise in support for Trump could be due to several factors, including the entry of other candidates into the race and Trump's recent indictment by the Manhattan DA. Trump's indictment appears to have only increased his popularity, and the Trump campaign has raised over $10 million in the days following the indictment.  
What's more, a new CNN poll has the left worried about the public's overarching belief that politics played a role in the decision to indictment Trump, while many do not believe that Trump broke the law. 
"Here are some truly frightening poll numbers", writes CNN's Marc Thiessen. "According to CNN, only 37 percent of Americans think that Donald Trump broke the law with his alleged hush money payments to adult-film star Stormy Daniels, while 76 percent think that politics played a role in the decision to bring charges against him."
Thiessen went on to lament independent voters' lack of concern over the indictment, noting that just 31% of independents say Trump's actions were illegal, while 76% say politics played a role in the decision to prosecute him.
As we pointed out last week, Trump appears to be getting a boost among Gen Z and Millennial GOP primary voters in addition to independents. According to the latest YouGov poll, Trump's approval rating is at its highest among younger voters, with a double-digit increase compared to the same poll conducted last October. Currently, Trump has a 46% favorability rating among millennials, which is an increase of 10 percentage points from 36% in October of the previous year. Similarly, his approval rating among Gen Z voters is at 49%, which is up by 14 percentage points from 35% in October of last year.
Recent YouGov polls also show Trump is more popular with younger voters than DeSantis. Over half of GOP primary voters aged 18-29 have a favorable view of Trump (51%) compared to only 43% for DeSantis. Among voters aged 30-44, Trump is favored by 49% while DeSantis has the support of 36%. For voters aged 45-64, Trump leads DeSantis by 7 percentage points. However, voters over 65 prefer DeSantis by 5 percentage points. Two-thirds of young GOP primary voters also support Trump becoming the GOP nominee, according to a recent YouGov poll. Among those who lean right and are under 30, 66% want Trump to become the GOP nominee in 2024, compared to 51-56% of older age groups.
Overall, recent polls suggest that Trump remains a formidable force in the Republican primary race, even in the face of legal challenges and a crowded field of candidates. If anything, Trump has consolidated support since the news of his indictment broke, and DeSantis has fallen in popularity as a bulk of GOP primary voters have consolidated their support for Trump. Independent voters who have less allegiance to Trump still largely believe Trump is innocent until proven otherwise and the vast majority say the indictment was politically motivated.
Manzanita Miller is an associate analyst at Americans for Limited Government Foundation.