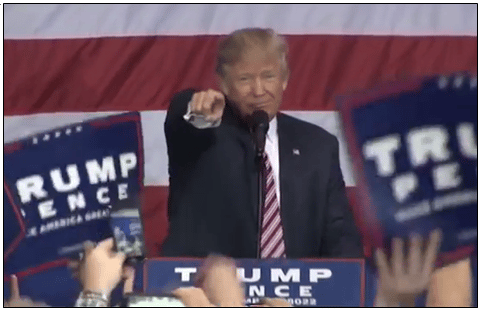 By Manzanita Miller  
Non-college white voters have supported Republicans at increasing rates in recent elections and their turnout rate rose to the highest in 20 years during the last presidential election.
However, analysis of the 2022 midterms shows that the non-college white vote declined in 2022 and fell by three percentage points compared to 2018. In key battleground states including Arizona, Ohio, and Georgia, the white-non college vote dropped even more.
This decline is an early warning to Republicans that a critical portion of their base is at risk of sitting out future elections. Whether this trend can be reversed remains to be seen. However, recent polls show the GOP base is decidedly in favor of restoring the policies of the Trump Administration, whether that involves reelecting the former president or another America First candidate.   
YouGov survey data shows a full 91% of non-college whites say restoring the policies of the Trump Administration is important to them, compared to 75% of college-educated whites. Eighty-seven percent of voters with income under $50,000 say it is important to restore the policies of the Trump Administration compared to 83% of higher-income voters.
However, it is possible non-college whites will sit out the 2024 presidential election if the GOP nominates a candidate who seeks to dismantle the policies of the Trump Administration. The non-college white vote declined three percentage points in the midterms from 42% in 2018 to 39% in 2022, and the decline was much steeper in battleground states.  
In Arizona, a ten-percentage point decline in the non-college white vote limited Republican margins and largely cost the GOP the Governor's race. Arizona saw one of the steepest drop-offs with the non-college white vote going from 48% in 2018 to 38% in 2022.  
White-con college voters in the rural counties largely sat out the election and contributed to Kari Lake's loss in the Arizona Governor's race. Our analysis shows in metropolitan Maricopa County, Lake and Hobbs received nearly identical shares of the vote that their 2020 party nominees did. However, the election was lost for Lake in Arizona's rural counties, where she failed to secure the same share of the Trump vote as Hobbs did with the Biden vote.
In Gila, a small, rural, and rightwing county that Hobbs should have lost by a significant margin, Lake was only able to pull 80% of the 2020 Trump vote while Hobbs pulled almost 86% of the Biden vote.  One of Lake's largest losses compared to Trump was Greenlee, a county she ended up winning against Hobbs but with just 63% of the votes Trump got in 2020. Hobbs won a full 78% of the Biden vote in Greenlee.
The non-college white vote also declined significantly in Ohio, going from 55% in 2018 to 46% in 2022, a nine-percentage point drop.   
Georgia and Wisconsin saw modest drops in the white non-college vote, five percentage points, and one percentage point, respectively. However, these are declines the GOP cannot afford.  
Nationwide the U.S. Census shows the share of white non college Americans has declined as a share of eligible voters from 45% in 2016 to 40% in 2022. However, a decline in their share of the population is not necessarily correlated to a decline in voter turnout.
The 2020 general election marked the highest turnout rate for white non college voters in over 20 years and contributed to an overall rise in the white vote from 65% in 2016 to 71% in 2020. Nationwide, the white non-college turnout rate increased 6 points, rising from 58% in 2016 to 64% in 2020.  
While it is true that non-college whites have declined modestly as a share of eligible voters due to demographic factors, what is missing from the conversation is the white non-college increase in turnout in the 2020 election.
In the 2020 presidential election, substantial increases in the white non college vote buffered Republican losses in battleground states. In Arizona, the white non college vote increased 10 points from 61% in 2016 to 71% in 2020. Georgia and Texas each saw a 9-point spike in white non-college voters, with Georgia rising from 57% to 66% and Texas rising from 54% to 63%. Pennsylvania saw an 8-point spike in the white non college vote from 57% in 2016 to 65% in2020. Wisconsin and Michigan saw a 5 and 4-point spike in the white non-college vote respectively, with Wisconsin rising from 68% in 2016 to 73% in 2020 and Michigan rising from 59% in 2016 to 63% in 2020.
Non-college whites continue to represent one of the largest voting blocs in the country at 44% of all U.S. voters, and they continue to vote overwhelmingly Republican. Despite a lackluster turnout in 2022, the GOP won white non college voters by 34 percentage points, up from 24 points in 2018. Those who turned out voted largely Republican, but turnout itself slipped as more stayed home. In 2020, Trump amassed 63% of their vote to Biden's 27%. In fact, when breaking down Trump's coalition of voters, almost 60% of Trump voters in 2020 were non-college whites.
For two presidential election cycles now, the white working class has played a critical role in Republican victories, contributing to former President Trump's historic 2016 win, and weakening President Biden's margins in 2020. However, their votes are not guaranteed. White non-college turnout rates have historically lagged those of college educated whites, and we saw this in the 2022 midterm election.  
What is more, Trump is hardly a typical GOP candidate, and a preponderance of data suggests that working class Americans were inspired to action specifically because of Trump's solutions to worsening economic conditions. Recent surveys show full 85% of likely GOP primary voters say restoring the policies of the Trump Administration is important to them. This does not necessarily mean the GOP base expects to re-elect Trump, but it does mean they demand an America First agenda.
Manzanita Miller is an associate analyst at Americans for Limited Government Foundation.