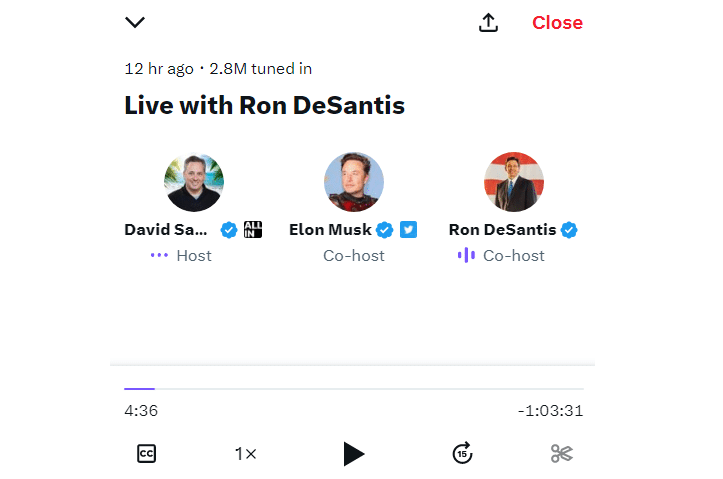 Florida Republican Governor Ron DeSantis tossed his hat into the ring for the 2024 Republican presidential nomination in an unusual Twitter Spaces announcement on May 24 on investor David Sacks' Twitter account, stating, "I am running for President of the United States to lead our great American comeback."
Governor DeSantis now challenges former President Donald Trump, who has been leading Republican nominating polls as he has run relatively unopposed — the latest RealClearPolitics.com average of national polls in the GOP contest has Trump ahead of DeSantis by 34 points, 54.9 percent to 20.9 percent — with several months to go before the first in the nation Iowa caucus and New Hampshire primary in early 2024.
DeSantis began his speech, which was not televised, on with a right track, wrong track analysis, citing an out of control southern border, rising crime, an increasing cost of living and attacking the incumbent President Joe Biden, who DeSantis said was not up to the task, stating, "Look, we know our country is going in the wrong direction, we see it with our eyes, we feel it in our bones. Our southern border's collapsed, drugs are pouring into our country, our cities are being hollowed out by spiking crime, the federal government's making it harder for the average family to make ends meet and to attain and maintain a middle class lifestyle, and our President, well, he lacks vigor, flounders in the face of our nation's challenges, and he takes his cues from the woke mob."
DeSantis added, "I don't think it has to be this way."
The Twitter Spaces announcement was originally on Elon Musk's Twitter account, but technical issues initially prevented the announcement from proceeding with technical glitches as DeSantis supporters and observers of the race flooded into the Twitter Space. After several minutes, the announcement was transferred to Sacks' account, who was co-hosting the announcement and the follow-up question and answer with DeSantis.
DeSantis' own announcement followed that of President Biden, who did so by launching a campaign video with no campaign appearance before supporters. That he did it via social media was an interesting move, but also a potentially risky one. Announcements provide a candidate with an opportunity to present himself publicly to the nation for the first time, introduce themselves and provide supporters with images of the candidate leading their campaign and potentially the nation.
The thought has to do with making a splash, whereas DeSantis chose an unorthodox low-key approach to entering the race, not with fanfare, but with a brief prepared statement and then what was effectively a digital townhall meeting. An immediate question will be whether DeSantis receives any bump in the polls against Trump, and if he does not, questions might then center on why he didn't do a formal announcement in the first place.
The saying goes that you never get a second chance to make a first impression. Whereas speeches via video are easy to share, and easy for press to then repackage, instead much of the initial press focused on the technical issues the Twitter Space was having. In a very real way, DeSantis was putting his political fortunes into a third party's hands that his campaign could not control. It might pay off, and it might not.
But it might not matter much in the end. Memories are very short in politics, and attention will quickly turn to actual campaign stops in early contests like Iowa and New Hampshire, where Trump is starting out the campaign with double digit leads on DeSantis, 47.7 percent to 25.3 percent in Iowa and 41 percent to 23 percent in New Hampshire, according to the RealClearPolitics.com average of polls in those states.  
Inasmuch as Trump is the frontrunner, but not an incumbent, the challenge stands in contrast to that of the incumbent President Joe Biden's own primary challenge from Robert Kennedy, Jr., where Biden leads by 46 points, 64.7 percent to 18.7 percent, in the latest RealClearPolitics.com average.
Unseating a sitting president for his party's nomination has never been done by a primary challenger, although a couple times a sitting president has stepped aside — Harry Truman and Lyndon Johnson being recent examples in 1952 and 1968, respectively, after both candidates had weaknesses exposed in New Hampshire (Truman lost in New Hampshire and Johnson barely won there) and then bowed out — leaving it to the Democratic National Convention to ultimately choose the party's nominee. In both cases, the incumbent party lost.
Whereas the Republican nomination is an open seat. While it is unusual for a former president who lost reelection to run for a third time, it is not without precedent, with Grover Cleveland winning the election of 1884, losing in 1888 to Benjamin Harrison and then winning again in 1892.
Normally, if Biden were a strong incumbent, perhaps DeSantis would have saw fit to just let Trump run relatively unopposed, but Biden is not a strong incumbent. Interestingly, the RealClearPolitics.com average of polls has Biden trailing both Trump and DeSantis, 44.4 percent to 43.6 percent in Trump's case and 43 percent to 42.9 percent in DeSantis', respectively, with Trump performing slightly better.
The reasons are easy to spot, and DeSantis cited a few of them in his campaign announcement, the rising cost of living, increasing crime and also, a weakening economy, which almost always disadvantages an incumbent president. As a result, Biden has a 54.1 percent disapproval rate in the RealClearPolitics.com average of polls taken. Only 42.3 percent approve. That's pretty crappy.
With Kennedy exposing Biden's weakness, plus Biden's consistent upside-down approval, the White House is very much up for grabs for whoever the Republican nominee is. Sensing that, DeSantis is making his move now. But to get there, first he has to get through Trump. Stay tuned.
Robert Romano is the Vice President of Public Policy at Americans for Limited Government Foundation.