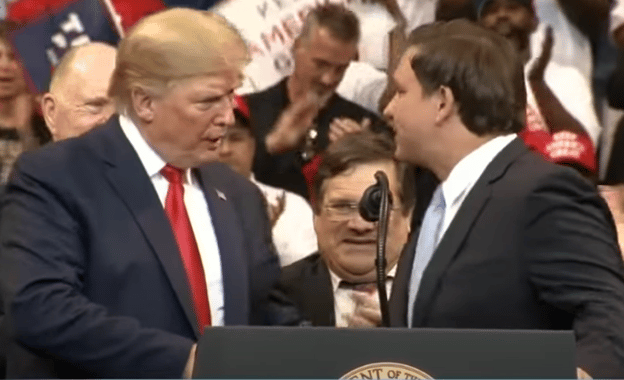 By Manzanita Miller
New polling from Real Clear Politics shows former President Trump leading Florida Governor Ron DeSantis by a full 37 percentage points ahead of rumors that DeSantis will officially announce his campaign for president next week. 
Trump has rapidly gained against DeSantis among GOP primary voters in the past two months, going from 43% of the vote in March of this year to 56% of the vote today. Meanwhile DeSantis has been slipping in polls, even though he has yet to officially announce his candidacy.
The most recent Real Clear Politics poll shows Trump securing 56% of the vote to DeSantis' 19.9% and Mike Pence earning 5.9% of the vote.
News of Trump's indictment in March for alleged hush money payments and the recent jury verdict finding him at fault for defamation and abuse have only increased his polling numbers, as Trump denies all wrongdoing. Polls show many voters view the legal issues as a political move to keep Trump from returning to office.
DeSantis is expected to officially announce his presidential bid next week, and it is possible in doing so he'll enjoy a bump in the polls, particularly in his home state of Florida. However, what modest support there was for DeSantis in Florida appears to have dwindled over the past few months.
Three weeks ago, a Florida poll from Victory Insights showed Trump with a 15-percentage point lead over DeSantis (47% to 32%), a complete reversal from last November when Trump trailed DeSantis by 10 percentage points in the sunshine state.
This comes on top of polling showing Trump is gaining ground with most groups within the Republican party, and leads DeSantis by wide margins with young people, minorities, independents and lower-income voters.     
YouGov polling conducted in late March compared to polling conducted April 15-18th shows Trump has gained 9 percentage points with voters under thirty since news of his indictment broke. He has also gained 7 points with lower-income voters and 6 points with Independents.
Even urban voters and moderates incrementally inched toward the former President, supporting him by 4 percentage points higher than they did close to two months ago. Trump has also gained incrementally with minorities, adding two points apiece with Black and Hispanic voters over the past month. 
YouGov polls also show over half of GOP primary voters aged 18-29 have a favorable view of Trump (51%) compared to only 43% for DeSantis. Among voters aged 30-44, Trump is favored by 49% while DeSantis has the support of 36%. For voters aged 45-64, Trump leads DeSantis by 7 percentage points. However, voters over 65 prefer DeSantis by 5 percentage points.
Two-thirds of young GOP primary voters also support Trump becoming the GOP nominee, according to an April YouGov poll. Among those who lean right and are under 30, 66% want Trump to become the GOP nominee in 2024, compared to 51-56% of older age groups.
What is more, the average of two April polls by CNN/SSRS and Quinnipiac University showed Trump leads DeSantis by approximately 29 percentage points (55% to 26%) with voters of color and 22 points among voters earning less than $50,000.  
YouGov polling in April also showed Americans trust Trump more to handle core issues going into the next election, including the economy, inflation, immigration, and foreign policy. DeSantis is viewed as better at handling the coronavirus pandemic, but that is receding as an issue for most voters. 
While the GOP primaries are still months away and DeSantis could arguably consolidate more support, Trump is the frontrunner with most GOP voters, only edged out by DeSantis among voters over 65 and wealthier GOP voters.  
The Democratic primaries on the other hand, are looking to be far messier, with alt-left candidates like Robert F. Kennedy Jr and Marianne Williamson doubling their support in recent polls as they look to challenge President Biden.
Manzanita Miller is an associate analyst at Americans for Limited Government Foundation.