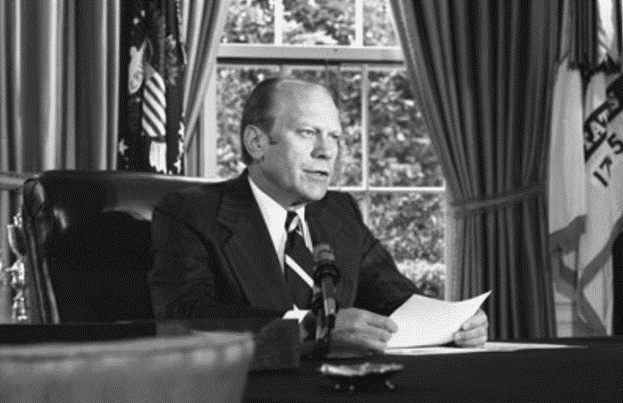 "It's Actually Common to Indict Leaders of Democracies."
That was the headline of a piece from Foreign Policy's Ashley Ahn and Brawley Benson on July 18, outlining a sort of categorical imperative for democracies to prosecute their former leaders in a bid to preserve the rule of law, often times when the prosecuting force is from the opposing party.
The context of course are three indictments now leveled at former President Donald Trump, one from New York City and two from President Joe Biden's Justice Department and Special Counsel Jack Smith, over alleged campaign finance violations, receiving classified documents while he was president and retaining them upon leaving office and most recently, using legal means via state and federal courts, Congress and the Vice President to overturn the results of the 2020 presidential election.
Now a fourth indictment could be in the offing, this time from the Fulton County, Ga., similarly tied to Trump's 2020 bid to overturn the result in Georgia, which was awarded to President Joe Biden in the Electoral College.
In it, Ahn and Brawley argue, "the indictment and conviction of former leaders in democratic and semi-democratic countries around the world is, in fact, quite common," citing 48 heads of state convicted in 32 countries, included in a larger subset of 78 leaders indicted in 53 countries.
In other words, argue Ahn and Benson, it's normal in democracies to throw your opponents in jail.
But not in the United States, arguably the world's longest running democracy, or better put, constitutional democratic republic.
In 2020 Paul Musgrave, assistant professor of political science at the University of Massachusetts Amherst, complained in Foreign Policy complained about that fact in another piece, "America Needs to Prosecute Its Presidents".
In it, Musgrave notes the example of former presidents John Tyler and Richard Nixon, who were never prosecuted or disgraced after leaving office, in Tyler's case, for participating in the Confederacy (he died before the end of the war), and for Nixon, over the break-in of the Democratic National Committee at the Watergate Hotel in Washington, D.C. in 1972 and his alleged role in covering it up and obstructing Congress' investigation of the scandal.
Musgrave argued in his 2020 Foreign Policy piece, wrongly as it turned out, "an investigation of the Trump administration is unlikely to be politicized in any meaningful sense…" Trump continues to lead all national polls for the Republican Party's presidential nomination in 2024 by a lot and remains very competitive against Biden in head-to-head matchups. Democrats use the indictments to attack Trump, Republicans to defend Trump. It's being politicized.
In Nixon's case, upon resigning the presidency in Aug. 1974, then-President Gerald Ford promptly pardoned him in Sept. 1974 for any crimes that might have been committed. When he did so, Ford warned of a vicious cycle that would ensue if Nixon were prosecuted after leaving office, calling it "an American tragedy in which we all have played a part. It could go on and on and on, or someone must write the end to it. I have concluded that only I can do that, and if I can, I must."
Ford argued it was not possible for a former president to get a fair trial, one way or another, stating, "a former President of the United States, instead of enjoying equal treatment with any other citizen accused of violating the law, would be cruelly and excessively penalized either in preserving the presumption of his innocence or in obtaining a speedy determination of his guilt in order to repay a legal debt to society."
In the case of Trump, it is easy to see how that is already taking shape. While Special Counsel Smith looks to expedite the trials against Trump, and move jurisdiction to Washington, D.C. where jury pools will be heavily Democratic — tying them up on the 2024 presidential campaign that Trump is running in — with Democrats in public opinion polls convinced of his guilt, and Republicans convinced of his innocence.
Ford added, "During this long period of delay and potential litigation, ugly passions would again be aroused. And our people would again be polarized in their opinions. And the credibility of our free institutions of government would again be challenged at home and abroad… [I]t is not the ultimate fate of Richard Nixon that most concerns me, though surely it deeply troubles every decent and every compassionate person. My concern is the immediate future of this great country… As President, my primary concern must always be the greatest good of all the people of the United States whose servant I am."
And Ford warned that domestic tranquility was at stake and threatened if America turned to the practice: "My conscience tells me clearly and certainly that I cannot prolong the bad dreams that continue to reopen a chapter that is closed. My conscience tells me that only I, as President, have the constitutional power to firmly shut and seal this book. My conscience tells me it is my duty, not merely to proclaim domestic tranquility but to use every means that I have to insure it."
Because, as he stated it would "go on and on and on…" seeing clearly how matters could only escalate in such an environment, at one point saying potential trials "hang like a sword over our former President's head," a reference to the ancient Sicilian tale of the Sword of Damocles, popularized by Cicero, wherein Dionysius let Damocles be king for a day, provided that he sit on a throne underneath a sword dangling by a single hair of a horse's tail, illustrating the fear Dionysius felt every day for his life and why he had to rule so cruelly in order to maintain the throne. In the end, Damocles begs to be allowed to cede the throne.
It is now easy to fast forward from the Trump impeachments of 2019 and 2020 to see how Ford's warning of a never-ending cycle is true, with House Republicans firing up their own potential impeachment inquiry against President Joe Biden.
Would they be doing that if Trump had never been impeached? It might be a good question, for if not, the implication is that prosecutions, whether in Congress or by the Justice Department, of sitting and former presidents do not necessarily deter, but rather provoke retaliations and escalations as both parties vie for power.
Which is why the Framers ruled out — articulated in Alexander Hamilton's Federalist No. 70 — distributing executive power among several officials or the concept of a co-presidency, similar to ancient Rome's constitution that provided for two consuls to serve to check each other's power out that, ultimately, led to civil wars and the dissolution of the republic and rise of the emperors.
It is also why the Framers made the threshold for conviction in an impeachment so difficult to attain — two-thirds of the Senate must vote to convict a sitting president — to ensure that if something so serious had occurred, it would take a super majority of the several states' senators, which would include members of the President's own party, to remove and disqualify the president.
This is the classic problem of republics but also other forms of government, and so the entire constitutional structure was in order cure James Madison called the "mischiefs of faction" in the Federalist No. 10, warning of "the violence of faction," adding, "The friend of popular governments never finds himself so much alarmed for their character and fate, as when he contemplates their propensity to this dangerous vice." Madison also hypothesized that the U.S. Constitution could prevent such recurring, reciprocal political strife and civil wars that were well documented to have brought down republican forms of government in antiquity. It turned out not to be true, as less than a century later in 1860 the Civil War began.
Meaning, even under the U.S. Constitution, with due process and other protections of the accused explicitly written in, the wider body politic is always at risk of tearing itself asunder, with factions imprisoning one another being an obvious, predictable cause.
In the current case, the essence is in the state of nature, parties might never agree to a social contract exiting the state of nature if there was not an assurance that standing for election in opposition to an incumbent president, or losing an election would not be grounds for imprisonment. If Trump had won in 2020, there would be no indictments.   
When it comes to prosecuting political opponents, the problem isn't that we aren't doing that enough. It might be that we're doing it too much. And doing it more might appear to ensure an equal implementation of those prosecutions, but as has already been seen, it does not appear to act as a deterrent as intended. Instead, it appears to lead to further escalations.
Biden as of yet has not issued any pardon of the former president, leaving the matters to state and federal courts to adjudicate, and ultimately, perhaps, the Supreme Court, where Trump's attorneys will ultimately seek redress on First Amendment and other grounds. Would the Supreme Court take domestic tranquility into account, as Ford did?
No matter how just partisans might claim all these prosecutions and investigations are, this is not equal justice under the law, it is mutually assured destruction. Ford warned, "I, not as President but as a humble servant of God, will receive justice without mercy if I fail to show mercy." He was right. But nobody seems to be listening.
Robert Romano is the Vice President of Public Policy at Americans for Limited Government Foundation.