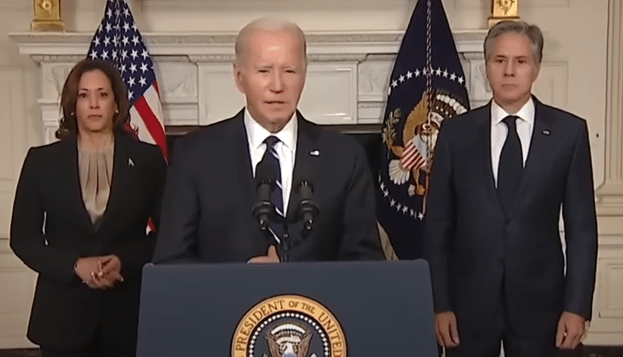 10 Senate Republicans in an Oct. 10 letter urged President Joe Biden to convene the G7 to "take coordinated action to further isolate Iran with severe sanctions and action that will strike directly at the wealth that this evil brings to the Ayatollah and the Iranian mullahs" after Hamas and Hezbollah terrorist attacks in Israel has seen more than a thousand Israelis murdered, accusing Tehran of being "the evil behind these attacks."
The letter signed by Sens. Rick Scott (R-Fla.), Chuck Grassley (R-Iowa) and eight others, also urged to cancel a "decision to unfreeze $6 billion of Iranian oil revenue," a ransom that was paid to release American hostages that, sadly, has resulted in even more hostages being taken in the region amid warnings from former President Donald Trump, Biden's opponent in the 2024 presidential campaign, who predicted more kidnappings in September.
On Sept. 11, Trump wrote, "Can you believe that Crooked Joe Biden is giving $6 Billion to the terrorist regime in Iran? That money [will] be used for terrorism all over the Middle East, and, indeed, the World. This incompetent FOOL is absolutely destroying America. He had the audacity to announce this terrible deal today, September 11th."
Ominously, Trump warned, "To pay for hostages will lead to kidnapping, ransom, and blackmail against Americans across the globe. I freed many dozens of our people from various unfriendly countries and never paid a dime!"
And in less than a month, that's exactly what happened, with a wider war now brewing in the Middle East.
The question is whether to continue to send money to the country that supports and sponsors Hamas and Hezbollah, that is, according to Biden's own State Department. In the 2021 Country Reports on Terrorism, the State Department states it took action against Iran as the world's leading sponsor of terrorism: "Iran continued to be the leading state sponsor of terrorism, facilitating a wide range of terrorist and other illicit activities around the world. Regionally, Iran supported acts of terrorism in Bahrain, Iraq, Lebanon, Syria, and Yemen through proxies and partner groups such as Hizballah and Hamas."
On the $6 billion transfer to Tehran, the Senate Republican letter warned, "Mr. President, money is fungible and if you truly believe that this decision did not play a role in the brutality Hamas unleashed on Israel last weekend, you are gravely mistaken. We urge you to immediately reverse your decision regarding these funds and, as the leader of the free world, lead America's partners and allies in securing agreements from as many nations as possible to take the most severe economic and diplomatic action against Iran possible under law."
During the Trump administration, sanctions against Iran were used to restrict its oil wealth, which instead have quadrupled since 2020 under Biden amid increased shipments to China as oil prices skyrocketed thanks to the inflation, and as the Biden administration continued to pursue the Obama-era nuclear deal with Tehran that so far has appeared ineffective at curbing Iran's nuclear ambitions.
This gives the appearance of the U.S. funding both sides of the conflict, despite additional tools at the President's disposal for more than twenty years following the terrorist attacks of Sept. 11, 2001 to take economic action against state sponsors of terrorism, and laws that predate those attacks.
Those are economic and diplomatic actions that could be taken immediately — presuming President Biden is sincere in opposing the terrorist attacks directed at Israel — especially since Congress has already authorized them, giving the President discretion to pressure Iran, target their oil sales and send a clear message, even if politically, it might be more difficult within the President's party and amid the State Department's ambitions for a grand deal with Iran, a country Biden promised to "free" in 2022 during a Congressional midterm campaign stop in Oceanside, California.
Sanctions should still be easy to do, and might be cheaper than the alternative of sending the $6 billion in spite of the attacks as if nothing happened. The problem with ransoms is the more you pay them, the higher the price gets, and now the cost is becoming quite great and could even be destabilizing the region.
Robert Romano is the Vice President of Public Policy at Americans for Limited Government Foundation.