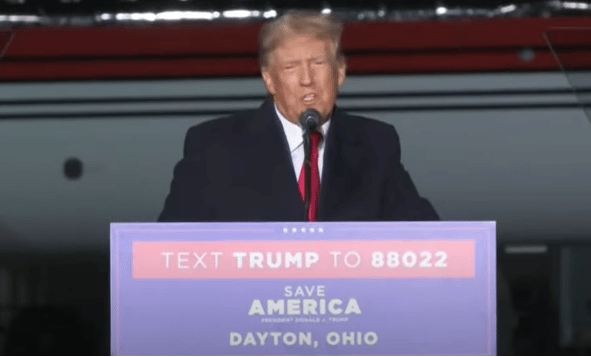 The state of Ohio ratified a proposed state constitutional amendment on Nov. 7 that protected a woman's right to an abortion, 56.6 percent to 43.4 percent, in a state former President Donald Trump carried by eight points in 2020, 53 percent to 45 percent.
Trump ran as a pro-life candidate in 2016 when he won the state, and was instrumental in cementing the Republican-appointed Supreme Court majority in 2020 that ultimately overturned Roe v. Wade in 2022.
Did Democrats suddenly paint Ohio red for 2024? Is it all over? No Republican has ever been elected without winning Ohio.
A key factor to consider is turnout in an off-year election: 3.8 million ballots were cast. Whereas, in 2020, when everyone was turning out to vote for president, 5.9 million voters turned out.
Another is that Ohio just easily reelected a Republican governor in that state in 2022 and also elected Republican Sen. J.D. Vance after the Supreme Court's ruling that returned abortion law to the states. That election had 4.1 million people turn out.
Similarly, in 2022, Kansas simultaneously reelected Republican Senator Jerry Moran and defeated a pro-life amendment that would have removed state constitutional protections of abortions, both by very wide margins. Kansas voted pro-choice 59 percent to 41 percent and yet was still quite red from a political standpoint nationally, with Moran defeating Mark Holland 60 percent to 37 percent. Whereas, at the state level, Democrats reelected Gov. Laura Kelly by a narrow margin, 49 percent to 47 percent.
Trump still appears to be in a commanding position vis a vis polls over Biden in the Buckeye State, the most recent from Emerson in October showing a 12-point lead for Trump, 45 percent to 33 percent.
So far, if the abortion issue is yielding any advantage for Democrats, it is in state-level politics, where Democrats held onto the governor's office in Kentucky and reclaimed the Virginia House of Delegates while holding the Virginia Senate.
It demonstrates some limits of Democrats' abortion-only campaign strategy on display in 2023, but also in 2022, when Republicans managed to reclaim the House of Representatives, winning the popular vote by 3 million votes, in spite of the Supreme Court ruling.
The reason is a significant number of pro-choice voters voted Republican — without whom they could not have possibly won — about 11.8 million.
The 2022 CNN exit poll found voters believed abortion should be legal by a 60.6 percent to 37.9 percent margin. But that's just who showed up for the midterms, when turnout was 107.7 million. Whereas, in the 2020 CNN Exit poll, when turnout was 159.7 million, the margin was 51 percent to 42 percent in favor of abortion.
In a similar vein, in Ohio in 2020, the electorate was 52 percent pro-choice versus 44 percent pro-life, but Trump still won easily. In 2022, it was 58 percent pro-choice and 37 percent pro-life in Ohio in the exit poll, and Republicans still won.
Therefore, in 2022, the electorate was disproportionately pro-choice, as it appears to have been the case in 2023. But as abortion law reverts to the states, the question going forward will be once state laws are settled one way or another, without abortion on the ballot, can Democrats still capitalize on the issue in 2024 nationally?
Or will it be a cycle of diminishing returns? Stay tuned.
Robert Romano is the Vice President of Public Policy at Americans for Limited Government Foundation.