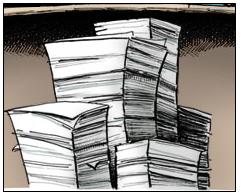 By Robert Romano
$54 trillion.
That would be the size of the economy today if regulation had remained at its 1949 level, a Jan. 2013 study on excessive federal regulations has found.
The study is by Appalachian State University economics professor John Dawson and North Carolina State University economics professor John Seater and was recently highlighted by the American Enterprise Institute's Mark J. Perry.
Overall, federal regulations have reduced the Gross Domestic Product (GDP) by 2 percentage points a year from 1949 through 2005, leading to "an accumulated reduction in GDP of about $38.8 trillion as of the end of 2011. That is, GDP at the end of 2011 would have been $53.9 trillion instead of $15.1 trillion if regulation had remained at its 1949 level."
In other words, the economy would be 256 percent larger than it is today but for the regulations. Even if the amount of regulations had been half of what it was, the economy would still be twice as large as it is today.
To reach the measurement, Dawson and Seater use the overall length in pages of regulations as a proxy for how pervasive and costly they are on the private sector. It proceeds from the well-reasoned assumption that the length of a regulation is predictive of its complexity relating directly to the cost of compliance.
Thus, the more complex economic regulations by government are, the slower the economy will grow. In that respect, they are a lot like if there were speed bumps constructed on the highway.
Of course, the content of regulations, which the study does not consider per se, is undoubtedly a critical factor. If regulations were issued that decreased the cost of doing business, instead of increasing it, the study would have measured the opposite effect.
Therefore, implicit in the findings is that the regulations that have been issued over the past 60-plus years have in fact increased the cost of doing business in the U.S. — eating growth in the process.
The study is significant because it cuts across all industries, and considers the overall impact of the administrative state on output. So, while one cannot draw conclusions about individual regulations on particular industries, it shows that regulations will be costly regardless of the sector.
But what can be done about it?
George Washington University professor Jonathan Turley recently found that federal agencies issue about 3,000 regulations a year, compared with Congress only approving about 140 laws annually.
A simple reform that might slow down this regulatory overkill would be to require congressional approval for all regulations. This would differ from the Clinton era Congressional Review Act that allows Congress to overturn a regulation with majorities in both houses and the President's signature.
Since 1996 when the Congressional Review Act was made law, there have been about 50,000 regulations issued. Just one was overturned in 2001: a Labor Department regulation on ergonomics. That is an appalling disapproval rate of 0.002 percent — giving executive agencies vast discretion and insulation against oversight.
In contrast, requiring congressional approval of regulations would force agencies to prioritize their requests. Very few regulations would be approved without bipartisan assent, restoring Congress' proper role as the primary lawmaking body in the republic, and make the regulatory process once again accountable to the elected branches.
An unintended consequence of such a change to law, however, might be for Congress — in order to avoid making controversial, politically difficult decisions — to simply give department and agency heads arbitrary grants of authority to make policy without any process whatsoever.
Meaning that any reform in this area must also be accompanied by vigilance on the part of the people to hold lawmakers accountable that cede legislative authority to the executive — a dangerous concentration of powers.
In short, the solution is to make certain that the regulatory state is never created to begin with. Now that it has been, however, urgent action is required to restore the separation of powers.
Robert Romano is the Senior Editor of Americans for Limited Government.