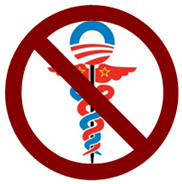 By Robert Romano
8 million people.
That is the number of people 25 years or older with either a college degree or some college who are unemployed or have simply given up looking for work all together in this economy.
Collectively, they have hundreds of billions of dollars of student loans to pay back with no means at their disposal. And while that will likely remain their greatest financial burden for the foreseeable future, come 2014, they will have another one to contend with.
It is the individual mandate under Obamacare to purchase or otherwise obtain health insurance.
Because they do not have full-time jobs, these millions of young Americans will be unable to obtain insurance through an employer.
Because, by this time next year, they will be 26, they will no longer be able to stay on their parents' health plans.
So, they will likely wind up on Medicaid. Why? It's either that are begin getting fined under the individual mandate, starting at $95 per person in 2014, ratcheting up to $695 per person in 2016.
According to Medicaid.gov, "Beginning in January 2014, individuals under 65 years of age with income below 133 percent of the federal poverty level (FPL) will be eligible for Medicaid. For the first time, low-income adults without children will be guaranteed coverage through Medicaid in every state without need for a waiver, and parents of children will be eligible at a uniform income level across all states."
Currently under Medicaid, applicants need to be either low-income children, pregnant women, the elderly, individuals with disabilities, and parents meeting specific income thresholds to qualify. Now, everyone without a job will qualify. Ranging from the most educated — as stated above about 8 million — to everyone else.
All told, right now, 21.8 million people cannot find full-time work in the Obama economy or have given up looking since 2009. They will likely wind up on Medicaid too, if an estimate by the Kaiser Family Foundation is correct. It anticipates anywhere from 16 million to 23 million new enrollees in Medicaid thanks to Obamacare.
Add that to the 27 million adults and 31 million children already dependent on the program, and suddenly as many as 81 million people will be on health care completely subsidized by taxpayers. Many of the other millions of people who are working will get subsidies as well through insurance exchanges.
Individuals up to 400 percent of the poverty level, or making approximately $45,960 or less annually, will be eligible for some level of health coverage through the insurance exchanges or Medicaid. There's a small problem. As of 2011, there were approximately 112.9 million people aged 25-64 who fell into that income bracket, according to the U.S. Census Bureau.
Factor in the 31 million Medicaid children, and that all adds up to 143.9 million Americans. But wait, that's not even counting Medicare's 49 million enrolled. If you add them in, then you have 193 million Americans who will be on government-run health care — a clear 61 percent majority of the 316 million population.
That is not only a majority of those with health coverage, but a majority of all Americans, those with and without college educations. Almost everyone will be dependent on the government for all issues covering life and death. After that, the more people that lose full-time work because of the law's employer mandate, that number will only grow.
Meaning, if Republicans are planning on defunding Obamacare, they had better do it this year — before the benefits kick in. After they do, politicians will fear that beneficiaries will become as solid a voting bloc as seniors are thought to be in defending the status quo of Social Security and Medicare. Time is running out to stop this.
When you get down to it, Obamacare really was a public option after all. Welcome to the brave new world.
Robert Romano is the Senior Editor of Americans for Limited Government.