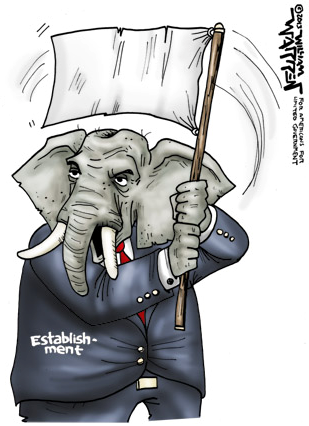 By Robert Romano
Update:  The Senate has advanced the budget deal by a vote of 67 to 33, with 12 Republicans voting in favor.
Senate passage of a two-year budget deal brokered by Rep. Paul Ryan (R-Wis.) and Sen. Patty Murray (D-Wash.) appears all but certain, with at least six Senate Republicans planning on voting in favor of cloture, reports the Washington Post.
The six include Sen. Orrin G. Hatch (R-Utah), Sen. John McCain (R-Ariz.), Sen. Ron Johnson (R-Wis.), Sen. Susan Collins (R-Maine), Sen. Jeff Flake (R-Ariz.),  and Sen. Richard Burr (R-N.C.). Update: Senator Burr voted no to cloture, contradicting the Post report.
Senate Democrats have 55 seats (including two independents that caucus with them) and need 60 votes to close off debate on the proposed bill. These six Republicans appear to be doing just that.
But some Democrats may end up being opposed, reports Senate Majority Whip Dick Durbin (D-Ill.), "The struggle is still on in the United States Senate. We will need about eight Republicans to come our way." Will Democrats lose three of their own on cloture?
Even if they do, it is hard to imagine Senate Republicans now blocking a measure to keep the government open. To them, almost anything is better than a government shutdown.
Which is too bad, really, since it puts them in a position to be rolled over in every budget showdown from now on.
The legislation itself increases spending beyond the sequester limits by $63 billion over the next two years, increases revenues and fees by $32 billion over the next ten, and will remove a point of order that previously allowed Senate Republicans to require 60 vote thresholds for proposals that breached the sequester spending caps.
In an exclusive interview with radio host Mark Levin, Sen. Jeff Sessions (R-Ala.) explained the arcane change to budget procedure, "In the legislation that came over, it would eliminate the 60-vote requirement when you spend more money than the budget control act approves for spending. Even if you offset it with a fee or a tax. I've used that three times and three times the Republican Senate stood firm and voted not to waive the budget. Kept them from spending more and taxing more."
He added, "So that has been eroded in this legislation, I think there's no question about it. I wish that this hadn't happened."
Levin asked how it could have happened, wondering why House Republican negotiators would have ever agreed to it.
"I don't think Republicans in the House understood the significance of it. It's a rule that would only impact the Senate. If I and my staff had been aware of it, we perhaps could have pushed back," Sessions responded.
But why weren't Senate Republicans included in the negotiations? "I think it ceased to be operating as a conference committee. It began to be operating in really sort of a negotiation between the two chairmen. And the senators who were on the budget conference committee were never consulted about the details of the agreement or shown the legislative language until the deal was done," Sessions explained.
You read that right. Major rules changes affecting Senate budgeting procedures were not brought to Senate Republicans' attention until after the deal had already been struck.
That alone should have been reason enough for the proposal to have been shelved in the House. Instead, less than 48 hours after it was revealed, it passed overwhelmingly 332 to 94. Just 62 Republicans voted no.
But, as Sessions noted, House members really did not understand the significance of the Senate rules change. Senators, on the other hand, would have little excuse for voting to limit their own voice in that body.
For what? To avoid a temporary government shutdown? If so, congressional Republicans are setting up a terrible precedent where they will vote for a deal, no matter how bad, in order to avoid the political downside of any shutdown.
It's incredibly short-sighted, creating a ready-made vehicle for Senate Majority Leader Harry Reid (D-Nev.) to push through his party's agenda.
"It's a bad deal," Americans for Limited Government President Nathan Mehrens said in a statement. "Taxpayers would be better off with a basic continuing resolution that changed nothing."
Robert Romano is the senior editor of Americans for Limited Government.