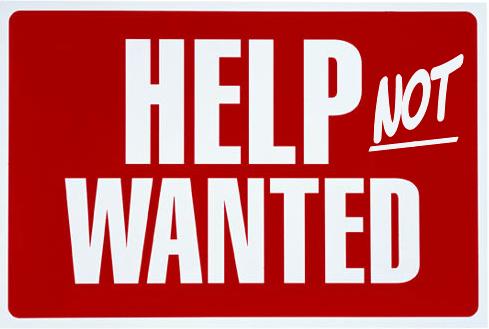 Find out why young people can't find work!
Since March 2007, right before the Great Recession began, the population of those aged 20-34 — so-called millennials — has increased by almost 4.3 million to 64 million according to data compiled by the Bureau of Labor Statistics.
Only 44,000 of the 4.3 million — a little more than 1 percent — have found jobs on a net basis.
I'm one of the lucky ones in that age demographic who did find work. And every month, one of my jobs is to look at these depressing numbers, watching in slow motion as a generation of opportunity is lost — seemingly irrecoverably.
Taking into account the March 2007 employment-population ratio for this age bracket — that is, the percentage of the population working — of 76.38 percent, 3.25 million of them should have found jobs, but didn't. As a result, that ratio has dropped to 71.36 percent.
Those with jobs now total 45.861 million. In 2007, it was 45.817 million.
Some perspective on these numbers. By October 2009, this age group had lost 3.6 million jobs. It has taken five years since, then, just to get back to where we were before the recession on a quantitative basis prior to taking into account population growth.
But at its current rate of growth since January 2010, the employment-population ratio for 20-24 year olds will not return to its March 2007 levels for another 8 years approximately.
For 25-34 year olds, it will take longer, almost 12-and-a-half years. So, sometime in, say, 2026? Suffice to say, that is longer than these people will even be included in the applicable age range.
Consider how precious the labor market really is. Two years to lose the jobs, and about a decade-and-a-half to get them back. And that's assuming the current rate of growth continues with no more bumps in the road. That is, no more major recessions, and the labor market continues to grow fast enough to get us back to previous levels seen.
But the current growth trend in job creation for young people may simply be reverting to what is a diminishing mean. Meaning, this ratio may in all likelihood level off long before it ever reaches pre-recession levels — and, then, we'll never get back to where we were.
The fact is the employment-population ratio for young people has been dropping steadily for far longer than since the Great Recession. The decline began in 2001.
In January 2001, 44.725 million Americans aged 20-34 had jobs, just 1.1 million fewer than today. Back then, those with jobs totaled nearly 78.4 percent. But since then, again, the ratio has dropped to 71.36 percent.
All told, that represents 4.5 million younger Americans in the past 12-and-a-half years who should have entered the workforce, but never did. These are people who are in the prime working years of their lives either failing to enter the labor force, or have lost their jobs and gave up looking for another one.
That is beyond pathetic. It is a national tragedy — the effects of which may be reverberating for generations to come.
In short, millions of young people are piling up as the economy fails to grow fast enough to even keep up with the growth of population. This is a land of diminishing opportunity. We are a generation lost.
Robert Romano is the senior editor of Americans for Limited Government.