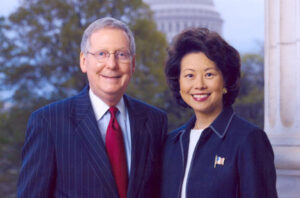 By Rick Manning
I'm tired of the racist double standard.
A Democratic operative in Kentucky attacked Senate Minority Leader Mitch McConnell's wife's ethnicity again, and somehow the offending political operative continues on.
To be clear, McConnell's wife, Elaine Chao, has been Asian her whole life. It is not a secret. She did not even change her name to her husband's surname.
Chao has not even been shy about being in the public eye, having served for eight years in the grueling job of Labor secretary, fighting to reform a department that has been a wholly owned subsidiary of Big Labor since its inception.