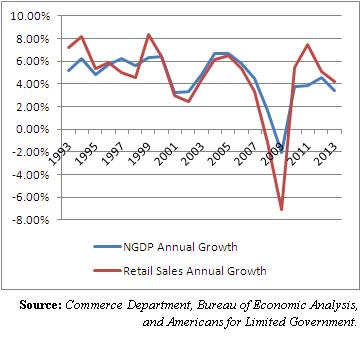 The old saying, "So goes retail, so goes the economy" is not without its rationale. A primary indicator of consumer confidence, retail spending has been rather predictive of overall economic performance since the Commerce Department began publishing the figures in 1992.
When spending is up, consumers are confident, and the economy is performing better in nominal terms. When it slows down, that demonstrates weakening confidence, and thus predicts a weaker economy.
But it is more symptomatic than causative. It tells us what the economy is doing, but not necessarily why it's moving in any particular direction.
So what are retail numbers telling us right now?
Consumer spending is once again slowing down, and this time there is no bad weather or cold spell to account for it.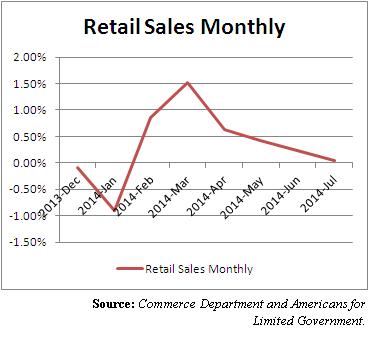 In fact, retail growth is doing worse now than it was during the first three months of the year. That is to say, the first quarter was actually better than the second quarter: 1.46 percent growth versus 1.29 percent.
This matches the experience of mega retailers Wal-Mart and Kohl's, which posted flat and declining same store sales year over year in the second quarter, respectively.
Retail's third quarter is off to an even worse start, where it barely grew at all in July, according to the Commerce Department, which was the worst month since January.
What does this portend for the overall economy? Not much. So far this year, the economy is only growing at 0.95 percent in real terms, that is, after adjusting for inflation. And that's including the second quarter's 4 percent dead cat bounce.
Just to get to the Federal Reserve's projected 2.1 to 2.3 percent growth for the year, we still need to see about 3.6 percent growth each of the next two quarters. And that's not assuming any potential downward revisions for the second quarter.
If retail keeps going the way it is, there may be no way to get there.
It's a grain of salt. But if retail is this weak right now, why would anyone think the economy was so strong?
Robert Romano is the senior editor of Americans for Limited Government.