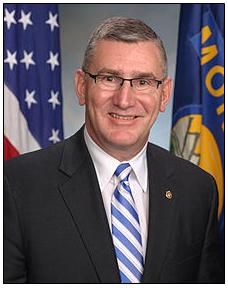 By Rick Manning
The Republican run of good luck continued in Montana last week, as the presumed squeaky clean hand-picked Democrat who replaced the venerable Max Baucus went down in flames this week under charges of plagiarism.
Just a few months back, D.C. Democrats were feeling proud of themselves as they orchestrated the appointment of John Walsh to fill the seat and run in November.  Walsh was supposed to be able to run as a western populist without any baggage related to Obama's highly unpopular policies.
Now, less than three months before election day, Walsh is out, and Dems face a certain loss of the Montana seat.
Don't you just love it when a plan collapses under its own weight into rubble?
Now Harry Reid has almost assuredly lost three of the six seats Republicans need to pick up to displace him from his Majority Leader perch with Montana joining South Dakota and West Virginia as near certain shifts from the Democrat to Republican column.
What everyone in D.C. should learn from the Walsh flame out, is that the primary and special election process is the best vetting mechanism.
Republicans in South Carolina, Tennessee and elsewhere, had the chance this election season to choose between alternatives and made the decision to stay the course with incumbents.  Those incumbents now head into the general election with all of their political baggage aired stronger because of the process, facing relatively weak Democratic Party opposition.
Notwithstanding Mississippi which remains a big mess due to Republican incumbent Thad Cochran's choice to solicit Democrats through false racist accusations of his tea party opponent, and the potential that Cochran won due to illegally cast ballots, the Republican Party is situated for a landslide victory if they just don't mess it up by.
Democrats are in the sixth year of a presidency with all of that historic negative electoral precedent.  In addition, they have really difficult seats to defend in Arkansas and Louisiana where the Democratic incumbents are both progeny of political icons in their states, but face an electorate that is dramatically shifting to the right.
In Alaska, the incumbent Democrat won because of federal prosecutor malfeasance in bringing a trumped up case against incumbent Ted Stevens with the D.C. jury dutifully rendering its overturned guilty verdict days before the election.  You'd think Senator Begich would have had six years of legislative record to prop him up, but instead he is publicly complaining that he has not had a single amendment voted upon on the Senate floor in his entire six years in office.  Hard to make an effectiveness for Alaska argument, when your own Senate Majority Leader won't even let you make a floor amendment.
In Iowa, the Democrats thought they had it right in nominating Rep. Bruce Braley to replace retiring Democrat Senator Tom Harkin, but then Braley went to Texas trial lawyers and bragged that they would have someone who represented them in the Senate, attacking Iowa farmers in the process.
Now, Braley doesn't seem to be able to get out of his own way, and he faces an able and aggressive female opponent who knows how to wield a castration knife.  You know Harry Reid is sweating this one out.
Other Democrats in the general election cross hairs include North Carolina's Kay Hagan, Minnesota's Al Franken, and Colorado's Mark Udall with seats in New Hampshire, Michigan and Oregon also all in danger of tipping.
All of this magnifies the Walsh situation in Montana.  Montana has a history of electing Democrats statewide, with both U.S. Senate seats and the Governorship all held by Democrats.
Now, with this difficult state effectively out of the way, Republicans can focus on running up the score and taking a majority that might have been at 51 votes up to a more manageable 55 seats.
And the Democrats who happen to be on the ballot this year, just need to fight to ensure that they are not part of the steamroller that is headed their way.