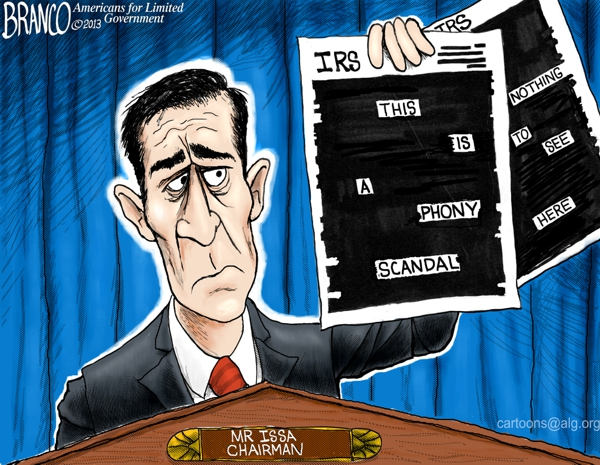 National Review's Kevin Williamson had an interesting analysis of the Obama administration's continued stonewalling of Congressional subpoenas and other federal investigations, pointing to a letter from 47 inspectors general to Congress complaining of agency obstruction of lawful internal investigations.
"Section 6(a)(1) of the Inspector General Act of 1978 (IG) Act reflects the clear intent of Congress that an Inspector General is entitled to timely and unimpeded access to all records available to an agency that relate to that Inspector General's oversight activities," the letter reads.
Yet, inspectors general have routinely been subjected to "restrictions on their access to certain records available to their agencies that were needed to perform their oversight work in critical areas. In each of these instances, we understand that lawyers in these agencies construed other statutes and law applicable to privilege in a manner that would override the express authorization contained in the IG Act."
To get around the obstruction, inspectors general have had to go to department secretaries just to obtain production of requested documents. In some cases, these requests are fulfilled, but in others they are not, despite the fact that the law in question provides for inspector general "access to all records, reports, audits, reviews, documents, papers, recommendations, or other material."
Similar encounters have occurred with Congressional subpoenas, such as the IRS targeting of the tea party and other 501(c)(4) organizations, or the Fast and Furious gun-running scandal that got a Border Patrol agent and hundreds of Mexicans killed.
In Fast and Furious, the administration has even claimed executive privilege of documents from low-level Justice Department officials, a move that prompted the House Oversight Committee to take the administration to federal court.
Judge Amy Berman of the U.S. District Court for the District of Columbia has since ordered the Justice Department to "produce the non-privileged documents and detailed list of documents being withheld as privileged to the Committee." But no resolution yet as to whether the documents even fall under the supposed privilege.
And don't forget all of the pending Freedom of Information Act (FOIA) requests that have gone unfulfilled by the Obama administration. Conservative watchdog Judicial Watch in November sued the Internal Revenue Service in court over unfulfilled requests for documents, including the missing Lois Lerner emails.
All of which raises a potential question for Congress. Why can't inspectors general just go to federal court to satisfy production of legitimate document requests, as filers can under FOIA? Or as Congressional committees can inherently under their constitutional oversight responsibilities?
Yes, Congress can define who has the standing to go to court. It does it all the time, in the aforementioned FOIA. It also has done so under the Clean Air Act, wage and hour laws, the Fair Housing Act, and the Anti-trust Acts. A separate process under the National Labor Relations Act allows labor unions to take small businesses before the National Labor Relations Board.
All it would take is for the Congress to define a cause of action for the inspectors general to go to court, too, if, say, the documents requests were not fulfilled within certain time increments. It might not be the most efficient way to get the documents, but what else can be done when an administration simply refuses to comply with lawful requests by agency inspectors general?
Branching outward, in principle Congress could also define limited individual causes of action for certain separation of powers cases where there is no apparent standing for anyone to sue, in order to compel a reluctant administration to enforce the law. Whether on Obama's deferred action for deporting illegal immigrants or delaying implementation of the employer mandate under the health care law, it is easy to see how such a judicial route might be useful at present.
Certainly, the House has filed its own lawsuit on the employer mandate case, and is currently testing the standing to sue question. Perhaps they will prevail, but what about those times when one party controls all three elected branches of government and/or Congress has no desire to assert its own prerogatives under the Constitution?
These would all take acts of Congress, but the point is that Congress does have the power to define who gets to go to court, and under what circumstances. It does it all the time. Often these have been in the aid of progressive causes, but the thing to keep in mind is that it can cut both ways, and could be made from the limited government perspective as well.
Robert Romano is the senior editor of Americans for Limited Government.