By Rick Manning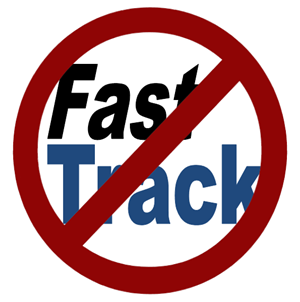 Yesterday, on Capitol Hill at the Cannon House Office Building I was joined by national security, faith-based and limited government leaders who have come together to oppose Congress giving President Barack Obama fast track trade authority to negotiate the Trans-Pacific Partnership.
Fast track means that Congress would cede its right to amend the trade deal. Instead, it would be granted an up or down vote — even if it needed to be fixed — and that is the primary reason why Congress must say no.
The alternative is to risk Obama making a bad deal for American workers and for our economy.
Congress ceding their Constitutional prerogatives to the President on this issue is no small matter.  In fact, Senate Majority Leader Mitch McConnell himself recently admitted, "It's an enormous grant of power, obviously, from a Republican Congress to a Democratic president."
At a time when the President has for all intents and purposes declared war on the constitutional separation of powers, it makes zero sense for Congress to voluntarily weaken its treaty ratification prerogatives. Why not make Obama go through the process under regular order, with amendments allowed?
Also, when considering this issue, we asked ourselves a simple question. Do we trust President Obama to present a deal to the U.S. Congress that is in America's interests?
We don't take this stand lightly.  However, this is a President whose Internal Revenue Service has targeted conservative groups solely based upon political ideology, whose Justice Department has targeted and is prosecuting journalists for simply doing their jobs, and whose Environmental Protection Agency has enacted through regulation the bulk of cap and trade legislation that was rejected by a Democrat-controlled Congress.
This is a President who has shown that he is intent on finishing his stated goal of fundamentally transforming America, and Congress should not enable him in his mission.
Obama should have to explain and where necessary defend every word in any treaty he agrees to, with it being held to the highest level of scrutiny.  That is Congress' job.  It is also their job to amend or defeat any treaty that falls short of being in America's interests.
If Obama produces a good trade deal for America, whether or not there is fast track authority granted him, it can be ratified intact.  But it would be foolhardy for Congress to not reserve the right to amend the Trans-Pacific Partnership given the experience of the past six years.
Not giving the President trade promotion authority is not anti- trade.  In fact, the United States already exports $861 billion to the trans-Pacific trade partners, accounting for almost 40 percent of the $2.2 trillion of U.S. exports worldwide in 2012.
That includes $48 billion of goods and services to Australia, $559 million to Brunei Darussalam, $354 billion to Canada, $22 billion to Chile, $116 billion to Japan, $15 billion to Malaysia, $243 billion to Mexico, $5.2 billion to New Zealand, $9.4 billion to Peru, $43 billion to Singapore, and $5 billion to Vietnam.
As a result of this continued trade, our economic bonds with these nations are tight.
However, opposition to fast track is a recognition of the need for Congress to exert its constitutional prerogatives so they can play their proper role in the treaty ratification process.
It is for the reasons enumerated and many more that we urge Congress to reject giving President Obama fast track trade authorization. Americans for Limited Government has been joined by Eagle Forum, the Center for Security Policy, Tea Party Patriots, Tea Party Nation, TheTeaParty.net, and Obamatrade.com in taking this stand.
Now it is time for Congress to step up and fight for the constitutional separation of powers — not give more executive powers to Obama to negotiate a bad deal for the U.S. economy.
Rick Manning is the President of Americans for Limited Government.