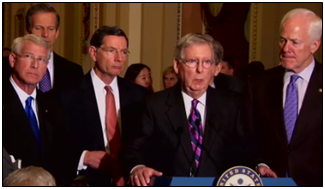 "We're going to try to pass it."
That was Senate Majority Leader Mitch McConnell's (R-Ky.) January 15 take on House-passed legislation to fund the Department of Homeland Security this year while prohibiting the Obama administration from granting executive amnesty to 4.5 million illegal immigrants with U.S.-born children.
McConnell did offer that passing the House bill would "be our first choice," but that "If we're not able to do that, then we'll let you know what's next," indicating the measure might not garner 60 votes needed to reach cloture and overcome a filibuster.
Have Senate Republicans already given in to Obama's executive amnesty before a single vote has been held in that chamber?
The statement prompted Rep. Raúl Labrador (R-Idaho) to blast Senate leadership at a January 21 meeting of conservative lawmakers.
"It's uncanny to me that our leadership… is already sending the message that we've already lost this battle," Labrador said.
Labrador drew distinction from 2014 election campaign promises to what is now taking place on the ground: "Last year the message was, 'We cannot get our way because we don't have a Senate [majority].' Now this year's message is, 'We cannot get our way, because we only have 54 votes.' That's not leadership. That's not why the American people voted for us."
Most recently, on January 22, McConnell told reporters, "It's an important piece of legislation and we'll decide in February how to handle it but at the end of the day we're going to fund the department, obviously."
In the meantime, this is probably not how now-Senate Minority Leader Harry Reid (D-Nev.) might have approached a similar issue when he ran the Senate.
In 2010, when it came to passing the Dodd-Frank financial legislation, Reid just kept holding cloture votes to get on to the bill as Senate Republicans attempted to mount a filibuster.
On April 26, 2010 a cloture vote on a motion to proceed failed. So did one on April 27. And on April 28, until finally, the same day Senate Republicans relented and allowed the bill to come to the floor via consent.
The same thing happened on the cloture votes to bring Dodd-Frank up for a final vote. On May 19 the vote failed. So on May 20 Reid held another vote, and won.
McConnell might learn a thing or two from Reid, who just kept bring it up over and again until he got what he wanted, which was an up or down vote on the legislation.
That's the argument Senate Republicans need to make. And if Reid wants to amend the bill, then Senate Democrats can file an amendment under normal order and try to find a majority or supermajority as the case may be to fund Obama's executive amnesty.
But, if Senate Democrats never proceed to the bill, and instead mount a filibuster, they can never offer such an amendment. And they would be the ones left defending a partial shutdown of the Department of Homeland Security come February 27.
Besides, according to a 2013 Congressional Research Service report, 85 percent of the Department including all mandatory and essential functions would continue to be funded even if Congress and the President cannot immediately agree on legislation.
Those functions that would continue according to the report include the Office of Biometric Identity Management, Federal Protective Service, the Federal Emergency Management Agency (FEMA), Radiological Emergency Preparedness Program, Chemical Stockpile Emergency Preparedness Program, Disaster Relief Operations, National Flood Insurance Program, under U.S. Citizenship and Immigration Services (USCIS) all programs except for E-Verify, under Customs and Border Protection (CBP), Border Security Programs, and Ports of Entry Operations, under Immigration and Customs Enforcement (ICE), Immigration Enforcement and Removal Operations and Immigration and Customs Enforcement Homeland Security Investigations, under Transportation Security Administration (TSA) Transportation Security (including passenger screening) and the Federal Air Marshal Service, under U.S. Coast Guard (USCG) Military/Defense Operations, Maritime Security and Maritime Safety, under Secret Service (USSS) Protection of Persons and Facilities, under National Protection and Programs Directorate Cyber Security, Under Analysis & Operations (A&O), State and Local Fusion Centers, National Operations Center Watch Operations and DHS Intelligence Operations, and under the Office of Health Affairs, BioWatch.
Robert Romano is the senior editor of Americans for Limited Government.