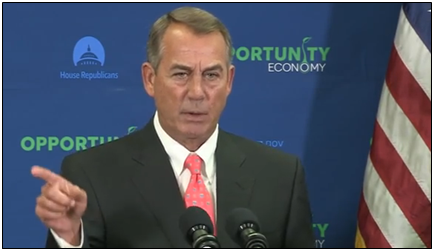 As the end of February fast approaches, pressure is beginning to mount internally on Senate Democrats who are blocking legislation that would fund the Department of Homeland Security and prohibit Barack Obama's unconstitutional amnesty of 4.5 million illegal immigrants with U.S.-born children.
House Speaker John Boehner (R-Ohio), ratcheting up the pressure, hinted that a partial shutdown of the Department may be in the offing.
"If funding for Homeland Security lapses, Washington Democrats are going to bear the responsibility," Boehner told reporters on Thursday.
In response, Senate Majority Leader Mitch McConnell (R-Ky.) is planning on holding another vote for the House legislation on Monday.
This would be the fourth time the legislation has been voted on so far, with Senate Democrats blocking it each time. The measure, which requires 60 votes, failed 51-48 on February 3, 53-47 on February 4, and 52-47 on February 5.
For his part, in keeping pressure on the Senate, Boehner is sticking to his conference's plan that he had outlined on December 4, 2014.
The strategy included only funding those agencies that would be implementing the executive action in the Department of Homeland Security through February 27, enabling the House and Senate, now both with Republican majorities, to then defund and/or prohibit the action in 2015.
"[T]he House will work to keep the government open while keeping our leverage, so that when we have reinforcements in the Senate, we're in the strongest position to take additional actions to fight the President's unilateral actions," said Boehner at the time.
Now that the reinforcements have arrived in the form of the Senate Republican majority, House members are now setting their sights on vulnerable Senate Democrats on the issue.
Rep. Ryan Zinke (R-Mont.), a freshman and retired Navy SEAL commander, took on Senator Jon Tester (D-Mont.) for voting to filibuster the legislation, protecting Obama's usurpation of legislative powers.
"It isn't just about immigration. It's about the unconstitutional overreach of the president, to disregard Article I or Article II of our Constitution. The bill, I think it's an appropriate bill. I would encourage Sen. Tester to pass the bill and uphold his duty," Zinke said in an exclusive interview with Breitbart.com's Matthew Boyle.
Zinke said Tester is "in a tough spot" as chairman of the Democratic Senatorial Campaign Committee (DSCC) as it forces him to choose between his national party's agenda and where Montanans stand on the issues.
"[H]e's raising money for Elizabeth Warren [and for] many in the Democratic Caucus who don't represent Montana values," Zinke told Boyle.
Although Tester does not stand for reelection again until 2018, Zinke indicated his state has a long memory, concluding, "I'm hopeful that Sen. Tester ends up sticking up for Montana and that does his duty to Montana values. And I would guarantee you, Montanans respect the Constitution of the United States."
Now it is up to Zinke and Boehner's colleagues in the U.S. Senate to keep the pressure on Tester and other red state Democrats.
As Boehner declared to reporters on Wednesday, "The House has done its job. Why don't you go ask the Senate Democrats when they're going to get off their ass and do something—other than to vote no?"
Robert Romano is the senior editor of Americans for Limited Government.