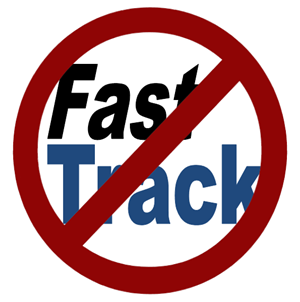 First, the bill was supposed to be released on Monday. Then, it was supposed to be released on Tuesday.
Now, it is Wednesday, and maybe it will be released, and maybe it won't.
But come Thursday, Senate Finance Committee Chairman Orrin Hatch (R-Utah) tells Politico that he will hold a hearing "regardless" of whether legislation granting trade promotion authority to President Barack Obama to negotiate the Trans-Pacific Partnership has been introduced.
Yet, not if you look at the committee's website, since the hearing has not technically been officially announced yet.
As of this writing, the only upcoming meeting is an April 23 subcommittee hearing, "A Fresh Look at the Impact of the Medical Device Tax on Jobs, Innovation, and Patients." Don't think that one's on trade.
So, maybe there will be a hearing, and maybe there won't. When we called the committee to see if there actually was any hearing being held tomorrow, we received no confirmation from staff there. Instead, we were told when it is announced — if it is ever announced — it would be posted.
You call this is a democracy?
A heretofore secret hearing may or may not be held on a secret bill to enable expedited passage of a secret treaty that has been the subject ​of secret negotiations for almost five years. Only in D.C.
"It is shameful that Republicans have not only backed away from requirements to have bills posted in advance of votes so the public has the opportunity to read them, but this new blind committee hearing process rivals the opaqueness of the Pelosi-Reid reign," Americans for Limited Government President Rick Manning said of the unconfirmed hearing.
As far as the trade agreement goes, the only way Congress gets to see ​it is by agreeing — in advance — not to filibuster it. And ​Congress has to cede its right to amend it, too.
Instead, it would automatically be granted an up or down vote — a fast track if you will — even if it needs to be fixed.
Such is the nature of fast track, a process where you have to pass the bill to find out what's in it.
Nancy Pelosi must be so proud.
Robert Romano is the senior editor of Americans for Limited Government.