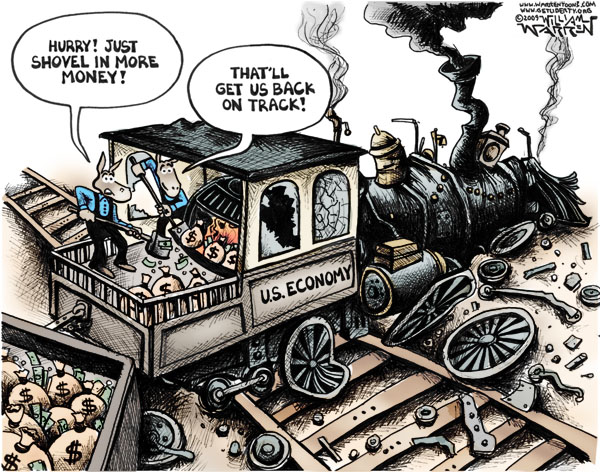 The consumer price index fell 0.2 percent in September, the Bureau of Labor Statistics reported last week, led by continued energy price declines.
All told, energy is down 18.4 percent in the past year, says the Bureau. Gasoline was off almost 30 percent. So is electricity, slightly, down 0.4 percent. And piped gas service, which fell 12.1 percent.
But the tale is not solely told by energy.
Even commodities besides food and energy are down the past year, by 0.5 percent, according the Bureau of Labor Statistics.
Meaning the worst may be yet to come as the continued correction in Asia and other emerging markets reduces global demand for commodities.
For certain, West Texas intermediate oil stood at an average $45 a barrel in September, still near its Feb. 2009 low of $39.
But food is dropping too, not yet seen in the U.S. Consumer Price Index. Rice dropped down to about $359 per metric ton in August. The last time it was that low was Nov. 2007, when the price was still rising. Wheat was down to about $173 in September, getting near its June 2010 low of $157.
Beef remains elevated, but its shift downward is visible, now down 25.7 percent from its Sept. 2014 high.
Gold is off its Sept. 2011 high of $1,770 an ounce by 36.5 percent, down to about $1,124 in September. Silver too is 65.5 percent off its April 2011 high of $42.79 per Troy ounce, all the way down to $14.75 in August.
So far, the emerging market rout has stalled Federal Reserve plans to hike interest rates, which have stood at near-zero percent since the financial crisis began in 2008. The central bank had been expected to hike rates in September, but now that move might not come until next spring, if at all.
Throw in the continued depression in Europe, and it's hard to find much to be optimistic about.
Goldman Sachs in a note earlier this month told clients the financial crisis never really ended, and that the slowdown now is actually just its next stage: "Increased uncertainty about the fallout from weaker emerging market economies, lower commodity prices and potentially higher U.S. interest rates are raising fresh concerns about the sustainability of asset price rises, marking a new wave in the Global Financial Crisis."
All of which speaks to the current weakness of the global economy. Meaning, don't expect robust economic growth any time soon. If anything, all the data could mean that the next recession is at hand. Buckle up.
Robert Romano is the senior editor of Americans for Limited Government.