By Robert Romano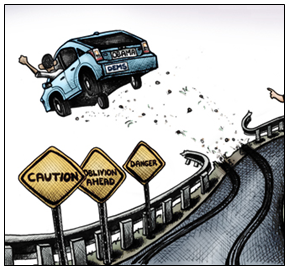 "[E]conomic growth slowed late last year."
That was the Federal Reserve in its most recent statement, published Jan. 27 at 2PM.
At that point in the day, markets had been relatively unchanged. After that, the great sell-off of 2016 continued, with the Dow Jones and S&P 500 shedding another 1 percent.
We suppose fundamentals do actually matter after all. That is, once the irrational exuberance has been taken out of the equation.
The truth is, economic growth was already slow for 2015 through the first three quarters of data recorded by the Bureau of Economic Analysis, averaging just 2.17 percent for the year.
On Jan. 29, the Bureau of Economic Analysis will be publishing its number for the fourth quarter. If the Fed is right, and the economy really did slow down at the end of the year, then this may not be a very good number at all.
Which would be pretty bad news all around.
After all the economy has not grown above 3 percent since 2005. And not above 4 percent since 2000.
Another lackluster number like that again, and 2006 to 2015 could very well end up being the slowest 10-year period of economic growth since 1930 to 1939, which clocked in at an average annual 1.33 percent growth rate. 2006 to 2014 is actually weaker at 1.29 percent, the worst readings since the GDP was invented as a measure in 1934.
Given the Fed's gloomy forecast, the only question may be which was worse, and that's saying something.
8 years after the financial crisis, and the economy still has not really recovered. Or if there was a recovery, it was a hollow one. There was no boom that really followed the previous bust.
Oh sure, equities got a really nice spike off its 2009 lows. Bonds have technically rallied as interest rates have plunged. Housing prices have largely recovered much of their losses.
Even unemployment is technically lower, but one of the major reasons for that is lower labor participation.
The number of people aged 16-64 with jobs averaged 140.43 million in 2007, and in 2015, it averaged 140.37 million, even though the population of 16-64 year olds increased 8.9 million, according to data compiled by the Bureau of Labor Statistics. As a result, the employment population ratio of 16-64 year olds — those in the prime working years of their lives — has dropped from an average 71.8 percent in 2007 to 68.7 percent in 2015.
If that ratio had stayed where it was, or even just recovered to where it was, 6.3 million 16-64 year olds would have had jobs in 2015.
Instead, 6.5 million fewer 16 to 64 year olds were included in the labor force — those working or looking for work — and so have not counted toward the unemployment rate.
If labor participation for 16 to 64 year olds had remained the same — at 75.8 percent instead of 72.6 percent — the overall unemployment rate would be 8.9 percent, rather than the reported number of 5.3 percent average in 2015.
Note, we've removed Baby Boomer 65 years and older from the equation. So the problem is not retirees.
It casts a lot of doubt on the Fed's proclamation that "labor market conditions improved further" a lot of context. Sounds more like happy talk.
In truth, the economy's so bad more than 6.5 million working age adults have given up looking for work all together the past 9 years.
And if another recession is on the horizon, then one should expect these numbers to get worse, not better, over the near-term. More pain then should be expected on the horizon.
Correction: An earlier version of this article stated an adjusted unemployment rate of 9.5 percent if out of labor force 16-64 year olds were included. The correct number is 8.9 percent.
Robert Romano is the senior editor of Americans for Limited Government.