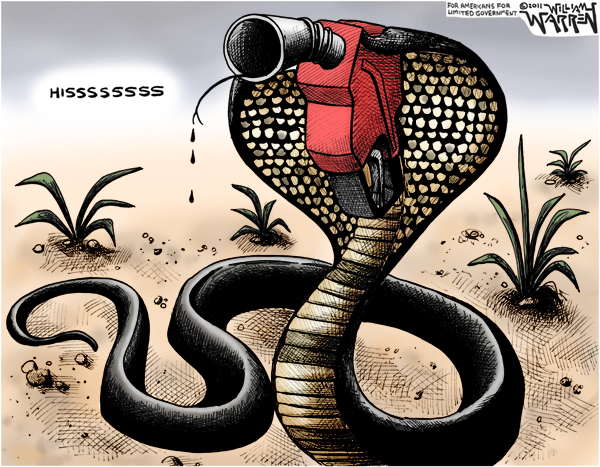 With oil down to about $33 a barrel and oil producers losing money left and right, the question has shifted to when, not if, oil exporters like Saudi Arabia, Russia and others will begin slowing down production.
Russian Energy Minister Alexander Novak said Saudi Arabia had proposed a 5 percent cut to global production: "[T]hese parameters were proposed, to cut production by each country by up to 5 percent." But, Novak added, "This is a subject for discussions, it's too early to talk about."
Yet, there is no such meeting planned, and Saudi Arabia has offered no such proposal, OPEC oil ministers told Bloomberg News in response, throwing cold water on the idea for now.
All the while, crude oil inventories reached an all-time high of 494.9 million barrels on Jan. 22 amid weak global demand and the continued correction in emerging markets like China.
So much for peak oil.
There's so much we cannot even consume it all at a rapid enough click to bring inventories down.
The first to blink may be U.S. oil shale producers, who have much higher production costs than conventional crude, with the leading North Dakota Bakken oil fields driller Continental Resources announced a 66 percent cut to its budget in 2016. As for production, that will average about 215,000 barrels a day before being cut 13 percent in the fourth quarter to 185,000.
Continental Resources said its break-even on shale right now is with West Intermediate Crude selling about $37 a barrel, a good benchmark to keep one's eye on this year.
Although that may depend greatly on the rate of production. Just as recently as September, Continental resources was saying that the break-even would be in the high-$50s for 2016 and perhaps down to $50 in 2017, and that production was supposed to remain flat. Now, production's actively being cut, and the break-even price is much lower.
Indicating the lower oil goes — and the longer it stays there — the more production cuts could be on the horizon, particularly out of the shale fields.
So how low could the price of oil go?
Market analyst and Forbes.com columnist Jesse Colombo, who presciently forecasted the crash of oil prices in June 2014 and the housing market crash of 2007-08, warned his followers on Twitter on Jan. 27, "Commercial oil hedgers 'smart money' are still short" and "The 'dumb money' crude oil longs haven't capitulated yet."
Colombo added, "There's no telling how low oil can go when the 'dumb money' finally liquidates their longs. Craziness may ensue."
How bad could it be? On Jan. 20, Colombo warned, "There's a very real risk that crude oil will experience a final violent wash-out that takes prices much lower."
If Colombo's final, dire prediction of a wash-out in the prices comes to pass, even Saudi Arabia will have to take notice. The production cuts may not be too far behind after all.
Robert Romano is the senior editor of Americans for Limited Government.