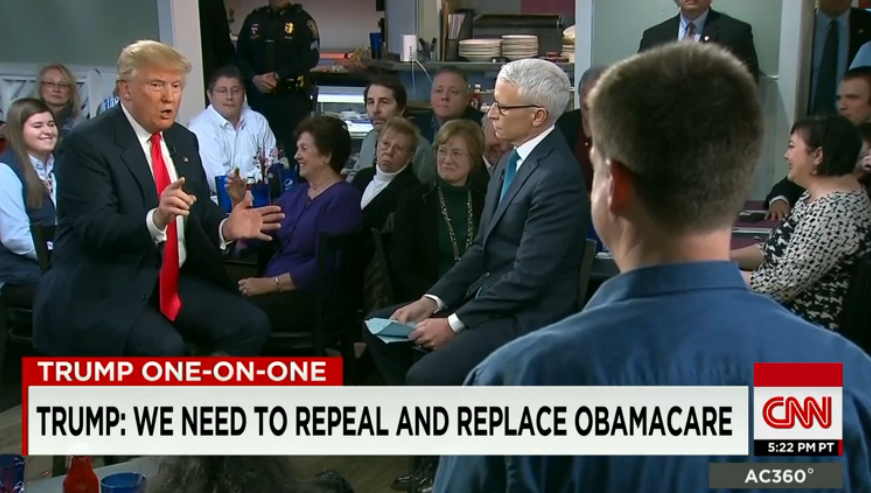 By Brian Tilton
Americans for Limited Government's Rick Manning recently asked the question in a Breitbart column, what is Donald Trump's plan to replace Obamacare?  Upon reading that question, I realized that Trump and very few others have detailed a plan to replace Obamacare.  Fortunately, I live in New Hampshire.  And when someone in New Hampshire has a question, they don't have to go far to find a presidential candidate to ask it.  So, when CNN invited me as an undecided voter to a Trump town hall forum hosted by Anderson Cooper, I took that question with me.
While Trump's answer was light on many details, he did touch on two major points: break the insurance monopolies by zip code through allowing interstate commerce of purchasing a customizable product for an individual's own needs.  The second part (that CNN did not show), was negotiating drug prices.  Thanks to Obamacare, the federal government is prohibited from negotiating drug prices.  Why?  As Trump pointed out, because the politicians are controlled by the pharmaceutical lobbyists.  Trump touts hundreds of billions of dollars in savings.
I could not tell if he was only referring to Medicare drug pricing or some other way the government can get prices lowered on the free market.
As CNN pundits analyzed the forum, they said New Hampshire voters demand answers, they want details.  Yes we do.  But in my case, it wasn't for my own self aggrandizement.  It was because I'm tired of losing.  I got to talk with Mr. Trump after the forum and said I'm pressing for details because I don't want to see Republicans make the same mistakes in 2012 by not being able to articulate a reform plan. The left's mantra in 2012 was "Republicans want to return to the days of insurance companies putting profits over people."  And it worked, Mitt Romney was defeated.  When I pointed this out to him, Trump simply reiterated how much money we would save in the negotiation of prices.
I consider myself to be above average on political speak since I have interviewed a lot of politicians when I worked in the broadcasting industry.  If I could not make sense of Trump's answer, how can the average voter?  This is the same problem for all Republican candidates for president.  Can you name one candidate's Obamacare reform agenda?  I can't.  That's a problem.
It's amazing how little Obamacare is an issue in this campaign.  I'm glad that CNN let me ask the question.  We'll see if anyone learned any lessons from 2012.  Right now, I won't hold my breath.
Brian Tilton is a former radio talk show host and resides in Hooksett, N.H.