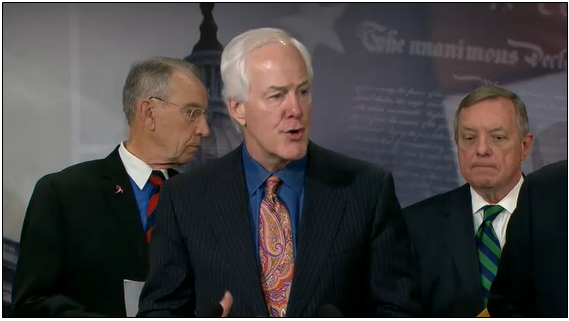 By Rick Manning
"Because of the objections we've heard from some of our colleagues, we introduced in this amended version of the bill a categorical exclusion of those who have committed a serious crime as defined by federal law at any point in their life."
That was Sen. John Cornyn claiming, with a straight face, that legislation he supports, which will release thousands of federal prison inmates, won't in the process wind up result in violent criminals also being released early.
But it's a lie.
To be clear. The Senate mass prison break bill will allow thousands of violent felons who committed assault to be eligible to leave jail early. It's right there in the bill. Those who commit assault are only barred from leaving prison early if it was a "serious violent felony" under federal law, just as Cornyn said.
And that's the problem. A "serious violent felony" assault only means sentences that carried a maximum of 10 years or more. Everybody who committed assault that carried a maximum of less than 10 years, including under state laws, will remain eligible for early release.
Including Wendell Callahan, the suspect in the Columbus, Ohio brutal triple murder of a mother and her two young daughters, who was deemed eligible for early release for his drug release under the 2010 Fair Sentencing Act that was retroactively applied by the U.S. Sentencing Commission.
Callahan had committed felonious assault in Ohio in 1999, but because it only carried a maximum five-year minimum at the time, it is not a "serious violent felony" under federal law, and he still would have been eligible for early release under the new bill.
This is not surprising. After all, the new bill is neither designed to revisit the 2010 Fair Sentencing Act nor the Commission's retroactive application of it, it is only supposed to build upon it, letting additional classes of criminals go free beyond those already freed under the prior law.
In fact, the new bill will affirm the Commission's retroactive sentence reductions under the 2010 law. Meaning, it will affirm Callahan's early release.
Which is something members should know. If they vote for this bill, they are in effect affirming that releasing Callahan early was the right thing to do. No matter what Cornyn says, the unmistakable result of this "revised" legislation is that more people will become victims of early released criminals, and anyone who votes for the bill will be directly responsible for all their pain and suffering.
Rick Manning is the President of Americans for Limited Government.