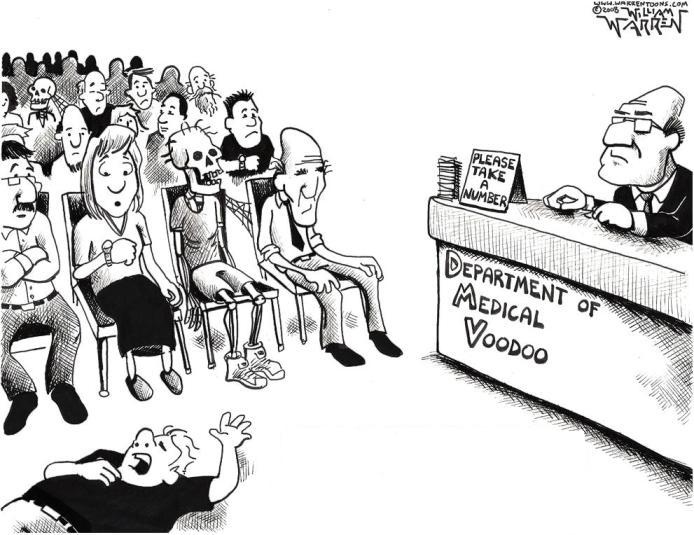 By Rick Manning
The Secretary of the Veterans Affairs (VA) Robert McDonald needs to be fired by the President or impeached by Congress.
While you may have heard what he told a Christian Science Monitor breakfast with reporters on May 23 but here is a recap of what he said: "When you got to Disney, do they measure the number of hours you wait in line? Or what's important? What's important is, what's your satisfaction with the experience?"
Secretary McDonald then followed with, "And what I would like to move to, eventually, is that kind of measure."
Subsequently, McDonald walked back the remarks, but not before the damage was done. When the bureaucracy of a Department that has come under intense scrutiny due to their failure to provide basic health services to our nation's veterans hears their boss say wait times don't matter, any urgency to reduce them gets lost.
Senator Ted Cruz got it exactly right in a statement he released today stating: "Veterans Affairs Secretary Robert McDonald's recent remarks show a fundamental lack of respect for the veterans he's been tasked to serve.
"Our nation's veterans fought, bled, and sacrificed for the freedom of each and every American, and they deserve nothing but the best care — delivered in a timely fashion — once they return home. For Secretary McDonald to compare the long wait periods, during which far too many of our nation's finest passed away, to the lines at Disney is simply unacceptable.
"At this point, there can be no doubt there is a deep corruption within the VA, and we should not rest until it is rooted out, and our heroes receive the care that they earned. Secretary McDonald's recent comments make clear that he is not the man to ensure that happens, and as a result, he should resign."
Two years after the VA scandal broke showing that in many VA facilities veterans were merely being left to die while waiting to get medical help, which led to McDonald's appointment.
So how has the VA been doing?
In April of 2016, the USA Today reported that internal VA analysis they received by FOIAing the Agency showed, "Employees at 40 VA medical facilities in 19 states and Puerto Rico regularly 'zeroed out' veteran wait times… In some cases, investigators found manipulation had been going on for as long as a decade. In others, it had been just a few years.
"In many cases, facility leaders told investigators they clamped down the scheduling improprieties after the Phoenix scandal, but in others, investigators found they had continued unabated. The manipulation masked growing demand as new waves of veterans returned from wars in Iraq and Afghanistan and as Vietnam veterans aged and needed more health care."
USA Today continues by noting that, "more than 480,000 veterans were waiting more than 30 days for an appointment."
Since the scandal broke, the White House Office of Management and Budget reports that VA spending has increased by 28 percent from FY 2013 to the projected FY 2016 levels — a whopping $39 billion.  For those thinking that the VA was sequestered into long wait times, they would be wrong as the Agency saw its budget increased from FY 2001 to 2013 from $45 billion to $138 billion.
Money has not been the problem at the VA, it has been management, and that is why Congress needs to hold VA Secretary McDonald accountable for both his callous comparison to sick veterans being put on seeming permanent hold when they most need help to standing in line for Space Mountain.
Today, nearly half a million veterans still wait to see a VA doctor. According to USA Today, more than 480,000 veterans were waiting more than 30 days for an appointment.
House Veterans Affairs Committee Chairman Jeff Miller summed up Congress' frustration with the Obama Administration saying, "Unfortunately, nearly two years after McDonald took over at VA, the department's wait-time rhetoric doesn't match up with the reality of veterans' experiences. But given the fact that VA has successfully fired only a handful of employees for wait-time manipulation while letting the bulk of those behind its nationwide delays-in-care scandal off with no discipline or weak slaps on the wrist, I am not at all surprised these problems persist. And until the department takes steps to remove all who caused VA's wait-time manipulation problems from the payroll, efforts to reform the agency will never succeed. In the meantime, attempts among department officials to downplay the significance of wait times for VA medical care will only further erode the trust of the veterans the department is charged with serving."
What McDonald's comment reveals is a simple truth. Veterans wait lines was a political problem that the Obama Administration wanted to go away out of the public light, and now that it has, it is back to business as usual.
Our nation's veterans deserve better.  McDonald needs to go.
Rick Manning is president of Americans for Limited Government.