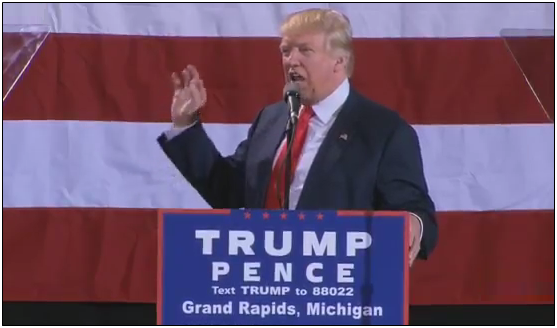 Donald Trump is attempting to stretch the presidential campaign map with two speeches in Michigan on manufacturing jobs lost to bad trade deals on Oct. 31 after campaigning in New Mexico and Colorado over the weekend.
Trump has additional appearances in Wisconsin, Pennsylvania and North Carolina throughout the rest of the week, according the campaign's published schedule. It demonstrates that Trump is feeling increasingly confident about his prospects in Ohio and Florida as the campaign is now focused on states that could put him over the top on Nov. 8.
Meanwhile, Hillary Clinton campaigned in Ohio, and will be in Florida, Arizona and North Carolina this week. But all eyes are once again on her email server as the FBI has reopened its investigation into Clinton and obtained a warrant as thousands of more Clinton emails were discovered on former Congressman Anthony Weiner's computer linked to his wife, top Clinton aide Huma Abedin.
These disclosures could be devastating for Clinton.
Since the scandal has resurfaced again, Trump appears to be up in Florida, by 4 points in both the New York Times/Siena and Remington polls. And in Ohio, Remington has him up by 5 points while Emerson, which had Clinton leading in recent weeks, said that it is tied there. There is a caveat, the New York Times/Siena and Emerson polls were conducted prior to the latest FBI disclosures against Clinton.
Which, if Trump wins everything Mitt Romney won, plus Ohio and Florida, that puts Trump at 253 electoral votes. If he picks up Iowa and Nevada, too, that would bring him up to 265 electoral votes, right on the cusp of the 270 needed to win. Then, a Colorado or a Michigan or a New Mexico or a Pennsylvania could put him over the top.
The renewed FBI probe — which probably will not be complete prior to Nov. 8 — should help Trump politically just with the appearance of impropriety. Combine Trump surging with Clinton faltering amid the FBI inquiry — and then there's Wikileaks which might have another scoop — and suddenly Clinton could be in big trouble.
Do the American people really want to take the chance of electing somebody who might be facing trial for illegally putting classified material onto a private server, and then deleting emails that were under subpoena in an obstruction of justice case?
FBI agents must be asking themselves the same question. How will they work for someone who skated despite all the damning evidence of illegality? The agency is practically in a mutiny against the Obama administration.
For all of the Clinton campaign's bluster that the top law enforcement agency in the country is trying to influence the election, wouldn't it have been an even greater influence on the election if the investigation had been covered up, only to be found out about after the election? It is hard to reconcile these disclosures occurring now if there was not something to be found in these new emails.
Is running for president a get out of jail free card or something? We may be about to find out on Nov. 8.
In the meantime, Trump continues to press his case on trade and immigration, undoing NAFTA and scrapping the 12-nation Trans-Pacific Partnership in the rust belt states of Michigan and Wisconsin. Despite Clinton's corruption, if Trump cannot get to 270 electoral college votes one week from today, we may be stuck with her.
Robert Romano is the senior editor of Americans for Limited Government.