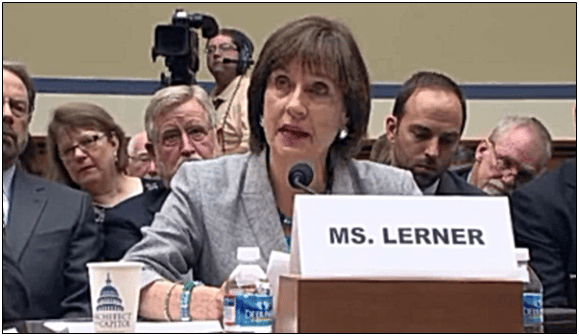 By Natalia Castro
From Feb. 2010 until May 2012 the IRS showed Americans exactly what the weaponization of executive agencies looks like when the Obama administration directly targeted the tea party and other conservative 501(c)(4) groups for political reasons. Now over three years later, justice still has not been served.
Luckily, Congressman Peter Roskam (R-Ill.) and Kevin Brady (R-Texas) are seeking closure for the American people to eliminate the corruption Obama left in our country.
In a letter to Attorney General Jeff Sessions this month, Roskam and Brady explain, "On April 9, 2014, the House Committee on Ways and Means voted to send a letter to the Department of Justice referring former IRS Exempt Organizations Division Director Lois G. Lerner for criminal prosecution… Despite this fact, and for what many believe were purely partisan reasons, the prior administration refused to review Ms. Lerner's misconduct."
The congressmen are calling for an investigation once again to finally hold the IRS accountable for their actions.
The investigation by the House Committee on Oversight and Government Reform in 2014 clearly found not only that the IRS "targeted conservative-oriented applicants for tax-exempt status" but also that, "[t]he Obama administration exhibited a lack of accountability for the IRS misconduct" and "Lois Lerner's refusal to testify hindered the Committee's investigation." Yet despite being declared in contempt of Congress, Lerner was not prosecuted at all.
In fact, the report even finds that, "as weeks wore on and the initial outrage faded, a deliberate effort emerged to minimize and obfuscate the misconduct. The administration claimed the misconduct was the responsibility of rogue line-level agents in the IRS Cincinnati office. A senior Congressional Democrat proclaimed the 'case is solved' just as the investigation began."
Unsurprisingly, the Obama Administration voted to protect their image and let corruption fester.
Now with a new administration present, Roskam and Bradly are demanding action, reminging Sessions that three years ago the House committee found that Lerner had "used her position to improperly influence IRS action against conservative organizations, denying these groups due process and equal protection rights under the law… she impeded official investigations by providing misleading statements in response to questions from the Treasury Inspector General for Tax Administration.  Finally, Lerner risked exposing, and may actually have disclosed, confidential taxpayer information, in apparent violation of Internal Revenue Code section 6103 by using her personal email to conduct official business."
The Committee on Ways and Means found in April 2014 that that the IRS's Determinations Unit "began searching for other requests for exemption involving the Tea Party, Patriots, 9/12 and IRC § 501(c)(4) applications involving political sounding names, e.g., 'We the People' or
'Take Back the Country.'"
Lerner even continued to tell students at Duke University in October 2010 that 501(c)(4) organizations were spending money on campaign activity in the wake of the Citizens United decision and claimed, "[E]verybody is screaming at us, 'fix it now before the election." In an email to her own IRS employees, Lerner noted that "Tea Party Matter very dangerous ….Cincy should probably NOT have these cases."
By June 2011 Congressional investigations began at a slow pace, and in November 2012 Lerner began to mislead the U.S. Treasury Inspector General for Tax Administration (TIGTA).
Lerner deliberately sent emails regarding this issue on a private server in violation of Internal Revenue Code section 6103, which maintains that in order to mitigate the risk of exposing confidential taxpayer information all official business must be conducted on protected servers. These emails were deleted and covered up by the IRS, despite a subpoena from Congress.
The House Oversight report explained, "Despite knowing about the missing e-mails, [IRS] Commissioner [John] Koskinen failed to mention anything about the e-mail problems during his sworn testimony on March 26, 2014. Instead, he affirmatively promised the Committee that the IRS would produce all of Lerner's e-mails. The fact that both Commissioner Koskinen and his chief lawyer, Catherine Duval, failed to inform the Committee about the problems with Lerner's e-mails on separate occasions suggests a deliberate attempt to mislead the Committee."
Commissioner Koskinen also testified that all backup tapes from Lerner's emails were destroyed pursuant to normal IRS policy. Only later did the committee learn the back-up material might still exist — but remains missing.
Beginning with Lerner's misconduct, the IRS targeted conservative groups and then attempted to cover up the crime. This violated the trust of the American people and the First Amendment rights of the groups targeted. The House oversight committee found, "The IRS's misconduct had real consequences, and its leadership's knowing failure to be fully candid with Congress exacerbated the injuries of the groups awaiting a resolution. The targeting silenced conservative non-profits during the 2012 election cycle. As the IRS ignored tax-exempt applications, donors stopped giving to the groups, overall interest waned, and some groups even stopped their operations."
This was not just a political ploy between low level IRS officials, it was an assault against the right and threatened the legitimacy of our election process.
As Americans for Limited Government President Rick Manning made clear in a statement, "President Obama weaponized government, and Lerner was the face of that weaponization. With potential statute of limitations coming due, Peter Roskam and Kevin Brady are to be praised for keeping this issue alive, and seeing that justice be served."
President Obama chose to ignore the problem; therefore, it is no surprise more spying scandals have come up as Obama exited the Oval Office. The rule of law relies on accountability, and Roskam and Brady are taking a critical step to ensure it exists. Now Attorney General Sessions must take the next step.
Natalia Castro is a contributing editor at Americans for Limited Government.