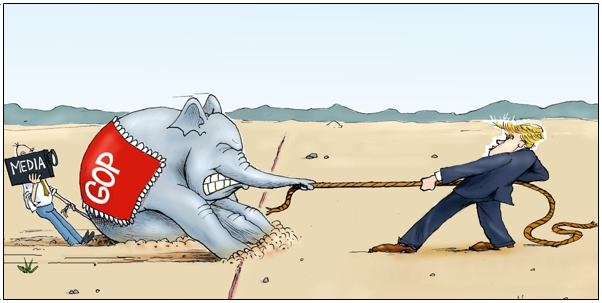 By Rick Manning
President Donald Trump's first full budget will be presented to the nation on May 23, and if the so-called preliminary or "skinny" budget is any sign, it will provide ample proof of why he is the swamp's worst enemy.
Preliminary indications are that the budget will continue to recommend the elimination of welfare for the wealthy programs like the Corporation for Public Broadcasting including National Public Radio, the National Endowment for the Humanities and the National Endowment of the Arts, as well as a complete re-evaluation of the funding the U.S. taxpayer provides the United Nations.
While these headliners are likely to draw attention, Departments like the Labor Department is likely to see funding cut back to pre-Obama levels, while the Department of Defense will likely see increases with an emphasis on restoring our nation's Navy, which has fewer ships in the water than at any time since before World War I.
There is also a growing anticipation that President Trump's budget will project to balance within ten years, recognizing the insanity of the continued growth of a nearly $20 trillion national debt that now exceeds 104 percent of our nation's $19 trillion Gross Domestic Product.
Unfortunately, in the April 28 government funding bill, Republicans in Congress decided that it wasn't worth fighting with Senate Minority Leader Chuck Schumer (D-N.Y.) over Trump's and according to their campaign commercials, their priorities, allowing Democrat must-haves like Planned Parenthood and funded sanctuary cities to continue while failing to fund the wall on the southern border and rein in Endangered Species Act abuses using policy riders.
What some are beginning to refer to as the "run out the Trump clock" Republican Congress will have to move rapidly to begin a reasonable process of passing more than a few appropriations bills this year and their self-created legislative calendar is against them with May already half over. The beginning of a new administration is always a time challenge due to the normal delay in the submission of a new President's budget.
Knowing this, the House of Representatives should be prepared to work into August to get as many individual appropriations bills done, even though Senate passage will be blocked by Schumer's Democrats.  By creating the House priorities through passage of individual funding legislation, Speaker Ryan should have a stronger hand should his priorities align with the President's in standing firm against Senate minority demands.
Of course, honest observers of the past funding fiasco have to wonder whether Ryan and Schumer are more in alignment on spending priorities than the Speaker and the President.
Reaction and support shown for the President's upcoming budget will provide an important tell on whether the GOP Congress is serious about limiting government or not. Let's hope for thunderous approval for a ten-year balanced budget with real cuts to the far-left agenda, rather than more muted responses couched in Washington, D.C. speak meaning, interesting but not relevant.
If the GOP can pull together around the core of the plan being presented by Office of Management and Budget Director Mick Mulvaney, they will be stronger and prepared to impose their collective will on the minority, but if not, they had better present at least an equally aggressive pathway to a balanced budget.
Funding the government reveals the true priorities of the politicians in D.C., and for GOP members of Congress after the past few years of compromising with Obama and the April 28 debacle, they are down to their last strike in showing they truly are limited government conservatives.
Rick Manning is the President of Americans for Limited Government.