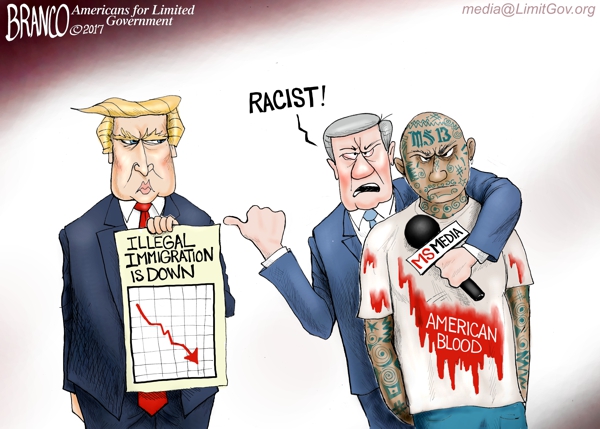 By Printus LeBlanc
Article I, Section 8, clause 4 of the Con­stitution clearly states, "the Congress shall have power to establish a uniform rule of naturalization." This means after Congress makes the law, it is up to the executive branch to enforce the law. This does not mean cities can intentionally break the law, because they do not like it. However, several cities and localities have not gotten the memo and decided to become localities of lawlessness.
When an illegal immigrant breaks the law, and is taken into custody by local law enforcement their background is checked. ICE will notify the arresting agency with a "detainer" to hold the individual for 48 hours so it can pick them up and begin deportation proceedings. Of course, this happens after the suspect has served time for the crime that got them initially arrested.
However, localities of lawlessness are not honoring detainers, or checking their status at all, after an arrest. Localities are releasing criminal illegal aliens back into the community.
Congress has tried to address the issue by recently passing two pieces of legislation in the House. H.R. 3004, Kate's Law, increases the penalties for deported aliens who return to the US, and H.R. 3003, No Sanctuary for Criminals Act, cuts federal grants to localities that refuse to cooperate with federal law enforcement while carrying out immigration enforcement duties. Both bills are currently sitting in the Senate.
President Trump and the Department of Justice (DOJ), being led by Attorney General Jeff Sessions, are not waiting on Congress. The DOJ is warning localities that the awarding of law enforcement grants is contingent upon enforcing the law. Seems like a novel concept.
Chicago is leading the way for localities of lawlessness caucus. Mayor Rahm Emanuel (D-Ill.) announced the city of Chicago is suing the DOJ for refusing to award law enforcement grants for not following the law. The DOJ issues grants to localities around the country every year, and at issue is a $3.2 million Byrne grant. Emanuel refuses to cooperate with federal officials, but demands their money.
Emanuel recently stated, "getting rid of sanctuary cities will harm public safety." If anyone knows about safety, it is the Mayor of Chicago. After all, over 781 people were killed in his city last year, and his city is set to exceed last year's total with over 400 killed this year already.
Chicago is not the only lawless locality. In a recent mass prisoner release, several counties in Texas released over 200 illegal immigrants in custody, refusing to honor ICE detainers, including a homicide suspect, a convicted arsonist, and multiple individuals convicted of aggravated assault. How is releasing criminal illegal aliens back into the community good for public safety?
States are starting to fight back against localities of lawlessness.
Texas Governor Greg Abbott recently signed a law banning localities from being sanctuary cities, aka localities of lawlessness. The law will create a criminal charge for police chiefs, county sheriffs and constables who violate the ban and charge local jurisdictions up to $25,000 for each day they are in violation. Colorado may have the best bill of them all though.
State Senators Vicki Marble (R-Colo.) and Tim Neville (R-Colo.) and Representatives Phil Covarrubias (R-Colo.) and Dave Williams (R-Colo.) introduced SB17-281, the Hold Colorado Government Accountable Sanctuary Jurisdictions bill. The bill reaffirms the federal government's role in immigration, but does something much more important.
It reads, "The bill waives governmental immunity against a jurisdiction and against its public employees for personal injuries caused to crime victims as a result of the jurisdiction creating sanctuary jurisdiction policies in violation of the federal law. Governmental immunity is waived and compensatory damages may be awarded under the 'Colorado Governmental Immunity Act' to the crime victim if the person who engaged in the criminal activity: Is determined to be an illegal alien; Had established residency in a jurisdiction that had adopted a sanctuary jurisdiction policy; and Is convicted of the crime that is a proximate cause of the injury to the crime victim."
The bill waives immunity for government officials that ignore ICE detainers. If an illegal immigrant commits a crime after being released and someone is hurt physically or financially, the localities are held responsible. After all, had the officials done their job, the illegal immigrant would not have been able to break the law after being released. The bill makes localities of lawlessness liable. The legislation passed the Colorado Senate, but has stalled in the House, and does not look like it is going to make it. The legislature is to be commended for its out of the box thinking and should not give up.
Americans for Limited Government Vice President of Public Policy Robert Romano stated, "The Colorado bill gives the victims of illegal alien crime the protections they deserve by putting cities and counties on notice that they can no longer look the other way on DHS detainer requests. This will cause officials to think twice before becoming a sanctuary jurisdiction."
This is the way to end sanctuary cities. If Travis County, Texas or Chicago, Illinois lose grant money, they can always raise taxes. However, if the officials are held liable, they will no longer refuse to obey the law. Politicians will not pay attention as long as their hands are in your pockets. If you want them to pay attention, put your hands in their pockets. SB17-281 does that, and should be the standard for all states.
Printus LeBlanc is a contributing reporter for Americans for Limited Government.