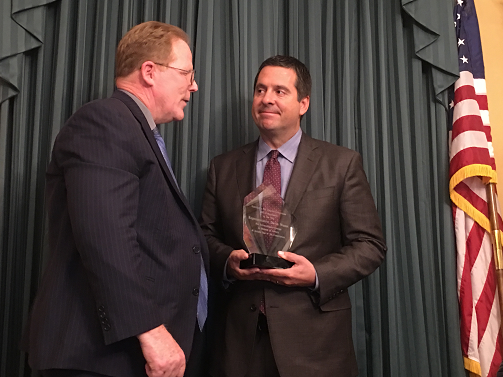 By Rick Manning
House Intelligence Committee Chairman Devin Nunes earned recognition as Americans for Limited Government's 2017 Congressman of the Year for his steadfast pursuit of the truth related to the Obama Administration's intelligence agency weaponization during the 2016 election campaign and the continued use of these tools against President Trump.
Chairman Nunes praised Speaker Paul Ryan for resisting pressure to submarine the Committee's investigation saying, "The Speaker faced enormous pressure to undercut the Committee's request for corroborating documents and stood firm in his resolve to get to the bottom of this scandal."
As reported by Fox News' Catherine Herridge, "A four-page memo circulating in Congress that reveals alleged United States government surveillance abuses is being described by lawmakers as 'shocking,' 'troubling' and 'alarming,' with one congressman likening the details to KGB activity in Russia."
As the #releasethememo movement swirls around Capitol Hill, it is Nunes' Committee that has opened the door for the potential future public release through their courageous vote to make the memo available for review to all Members of the House of Representatives.
The current #SchumerShutdown could expedite the overall process for releasing the memo forward as Members of the House are remaining in Washington, D.C. awaiting funding votes rather than going on the scheduled one-week recess.
This additional time in D.C. should provide the opportunity for every House Member who is interested to read the memo which is available in a secure room at the Capitol.
When discussing the overall challenges facing our modern technology world which often conflict with our nation's Fourth Amendment privacy rights, Chairman Nunes affirmed, "A lot of reforms are going to be necessary, we are only at the beginning."
America is truly fortunate to have a House Intelligence Committee Chairman who grew up as a farm kid in central California, who studied agriculture in school, and is imbued with a deep understanding of America's core freedom values.
Our nation faces terrific challenges in reconciling 21st century technology with the basic freedoms each American is guaranteed under the Constitution, and Devin Nunes is the right man, at the right place, in the right time to protect both our freedom and our security.
Rick Manning is the President of Americans for Limited Government.