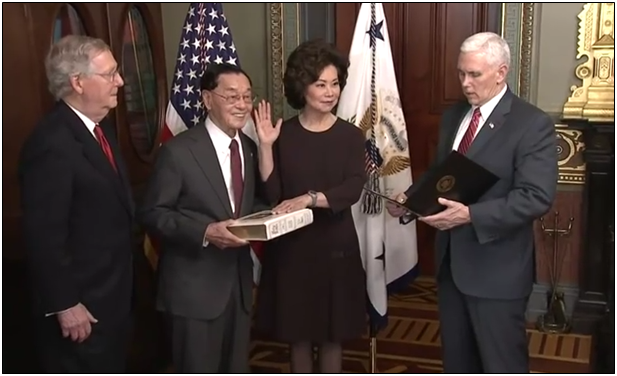 "In 2004, [Elaine Chao and Mitch McConnell] had an average net worth of $3.1 million according to public disclosures—well below the senate average of $14.5 million. Ten years later, they had a net worth of between $9.2 million and $36.5 million. The key: in 2008 they received a gift from Elaine Chao's father, James [between $5 million and $25 million]."
That is the passage from Peter Schweizer's latest book "Secret Empires" detailing a 2008 "windfall" received by then-Labor Secretary and now-Transportation Secretary Elaine Chao. Schweizer claims the money somehow came from the Chinese government.
In fact, it was inheritance from the death of Chao's mother, Ruth Mulan Chu, in 2007 after she lost her battle with cancer.
Americans for Limited Government President Rick Manning, who worked at the Labor Department under Chao during that time, noted in a statement blasting the book, "Anyone who worked with her at that time was aware that her mother was gravely ill. Unfortunately, when she passed, her estate was dispersed and the Secretary received some portion of that money. Any attempt to characterize this as anything but a normal generational transfer of wealth is misguided. And as anyone who has lost a parent will attest, any inheritance is small compared to the hole in your heart left by the loss."
Schweizer does not tell readers why the gift was made, but for a footnote, Schweizer references a 2009 Politico report by Manu Raju and John Bresnahan, "Members' fortunes see steep declines."
Raju and Bresnahan actually do better reporting than Schweizer, letting their readers know where the money came from because they included a statement from McConnell spokesman Don Stewart: "That was a gift from Secretary Chao's father in April 2008 to the Senator and the Secretary, in memory of her mother, who passed away in August 2007."
Raju and Bresnahan also report that the gift was fully transparent because it appeared in McConnell's annual financial disclosure report. That's how they learned about it. So not only was there not a crime or even an ethical issue to do with the inheritance, it was fully reported as required under the law.
Instead, Schweizer implies it reveals a cozy relationship between Chao, McConnell and the Chinese government, warranting some sort of security concern. He characterizes it as "money flowing from the Chinese government to the McConnell-Chao family…" making it sound like some sort of bribe or something.
In fact, it was money within the family and most of it was made in the U.S.
In fact, James Chao fled China early in his life to Taiwan before coming to America where he built his ship-building company, Foremost, based in New York. Schweizer references Mr. Chao's investment and trade with Chinese companies, because some of those included defense contractors, as evidence of him basically being a Chinese agent, through which Chao and McConnell appear as pawns, implementing China's preferred policies in Washington, D.C. at the highest corridors of power.
Or, you know, Chao's family was very successful and wealthy, and has made multiple investments throughout the region including, yes, in China, which have proved profitable. Investing in Chinese companies does not make somebody a Chinese agent. Even if one disagrees with the stances Chao or McConnell have taken on China, and they are certainly debatable, these connections do not appear to be particularly relevant.
Similar cheap shots were taken last year at Commerce Secretary Wilbur Ross by NBC News and the International Consortium of Investigative Journalists for investing in a British company, Navigator, that ships natural gas all over the world, including from Russia. Russia is one of the top exporters of natural gas in the world.
Which is as unsurprising as a businessman from Taiwan also having assets in China. Lots of investors have made money in China. It's now the second largest economy in the world.
Now, there are many debatable problems to do with globalization, the impact on local economies and workers, trade flows and the like. Investment on its own really is not one of them. Interconnected financial markets makes investment in companies foreign and domestic easy and advantageous.
The attack on the Chao family appears to be that they have benefitted from those trends and insinuates that this has impacted public policy decisions by Chao and McConnell, but with no evidence.
Schweizer calls Chao and McConnell's record "soft" but does not convincingly prove any sort of quid pro quo, and certainly not to do with the 2008 inheritance, which is the vast majority of the wealth that Schweizer makes the case against.
Why not let readers know it was inheritance? They should not have to type the footnote into their Internet browsers before they realize there was more to the story.
Again, there are many perfectly legitimate reasons to take a hard line on China as has President Donald Trump on trade relations, projecting military power, intellectual property rights and other issues. The shot Schweizer takes here really misses the mark and unfairly smears a family as acting as Chinese agents simply because they invested money in China.
In the context Schweizer is presenting, you have to believe that while Chao and McConnell have been married since 1993, only in the event of Chao's mother's death in 2007 did Chao's father use the opportunity to finally make the bribe. It not only does not pass the smell test, it stands out as shameful, lazy journalism; yet more foreign hysteria, this time in China.
As Manning concluded in his statement, "Secretary Chao's story encapsulates the American dream. Her father fled Communist China and as he gained the means brought his wife and children to America from Taiwan over time. The Secretary has spent her life in public service and has made a true difference for our nation. It was a great honor for me to serve under her leadership at the Department of Labor in the Bush administration, and Mr. Schweizer owes her an apology for miscasting the inheritance she received during this trying time in her life."
Robert Romano is the Vice President of Public Policy at Americans for Limited Government.