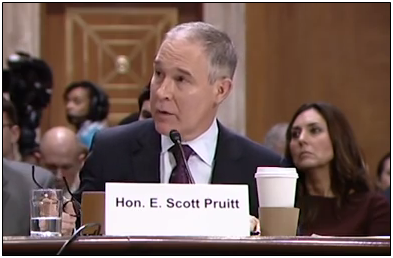 By Richard Manning
President Donald Trump is standing by his embattled Environmental Protection Agency (EPA) Administrator Scott Pruitt, according to reports. Let's be clear, that is good thing for both Trump and the country. Pruitt is one of the shining stars of the Trump administration, and no one who supports the president's "Make America Great Again" agenda should want him replaced.
Current complaints about Pruitt's Washington, D.C., condo, rented at the fair-market value from a lobbyist, are mostly politically motivated. As the designated agency ethics official for the EPA explained:
"Entering into the lease was consistent with federal ethics regulations regarding gifts, and use of the property in accordance with the lease agreement did not constitute a gift as defined in those regulations."
Yet some hope that by attacking Pruitt on fake ethics charges, the media-created scandal will cause the Trump White House to either foolishly force Pruitt out or cause him to throw up his hands in disgust and resign.
This would be a disaster for President Trump and all of us who care about his success.
EPA Administrator Pruitt has been instrumental in taking on the difficult task of rolling back Obama era regulations and in his first year has already completed 22 deregulatory actions, saving more than a billion dollars in regulatory costs.
Something as benign as Pruitt's recently announced effort to make certain that the methodology of the science the EPA uses to make regulatory determinations is transparent and the results are repeatable, has come under fire from former Obama-era EPA administrators Gina McCarthy and Janet McCabe called it, "his latest effort to cripple the agency."
It would seem that making sure the science behind major economy-shattering regulations is actually accurate and that the data is available for public scrutiny should be standard. Yet, incredibly, Pruitt is having to fightfor the sake of establishing sound science that meets the basic criteria of the scientific method in order to restore valid underpinnings for environmental regulations.
Pruitt is even having to re-evaluate the Obama administration's controversial and arbitrary fuel efficiency standard that set a car and light truck fleet average of 50 miles per gallon by 2025, regardless of whether it was technologically possible to achieve it. Effectively, this policy would force auto makers to sell expensive-to-produce electric vehicles to consumers at a loss in order to be able to sell customers the trucks and other gasoline-consuming vehicles that they want at significantly increased prices.
The changes announced by the EPA have left open what the fuel efficiency standards will be, and likely will end the state of California's waiver to federal law allowing the rogue state to compel stricter standards under the Clean Air Act.
President Trump can expect to hear an uproar from states like California and New York over Pruitt's smart decision on Corporate Average Fuel Economy (CAFE) standards, but when Administrator Pruitt prevails on this issue, it will help the president achieve his goal of putting the American auto industry back on top. Pruitt is doing the hard work to achieve the Trump agenda and taking the political and personal attacks that are part of battling the environmental industry driving American manufacturing to the breaking point.
We are talking about more than angry letter writing. In fact, Pruitt and his family have been subjected to a significant stream of personal threats. The threats have become so severe that the EPA inspector general, who is tasked with the physical safety of the administrator, now provides 24/7 protection for him and his family.
Incredibly, Pruitt gets zero credit from the left for increasing Superfund clean-up efforts designed to restore polluted sites to usability. He gets zero credit for enforcement actions that resulted in the second highest level of civil and administrative fine collections in the past decade, falling short of only FY 2016 which included a massive BP settlement. He gets zero credit because these critics are less concerned with cleaning up legitimate messes, than strangling the American manufacturing sector today and into the future.
President Donald Trump can and should be proud of his administrator's efforts at the EPA. Scott Pruitt is moving the Trump agenda forward and ensuring that the environment remains protected while our economic engines roar back to life.
Scott Pruitt is excelling at his job, and that is why he is the target of those who want to see the Trump administration fail. The president needs to recognize this and continue to stand by his chief general in the war against the regulatory stranglehold that was left by Obama. To be persuaded to make a personnel change at the EPA would be a disastrous mistake for his policy agenda. Most importantly, it would be a bad, bad decision for America's future.
Click here for the original article.
Rick Manning is president of Americans for Limited Government.