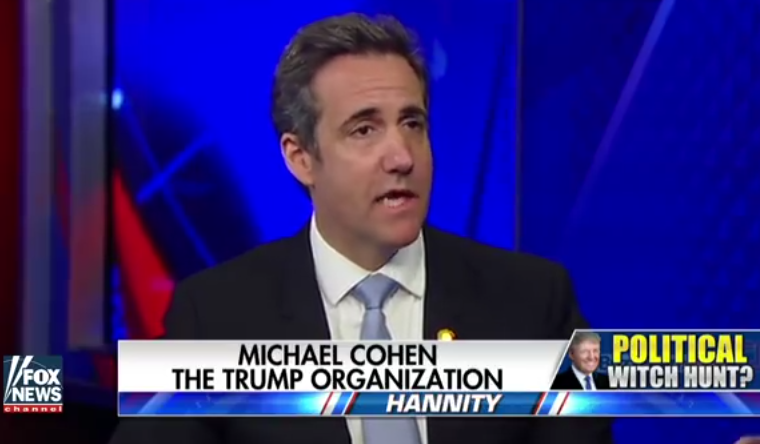 "By the way, we just found out, I was just coming down, Michael Cohen… is a very talented lawyer, he's a good lawyer at my firm, it was just reported that it wasn't this Michael Cohen they were talking about. So, all night long, it's Michael Cohen. I said, I want to see your passport, he brings his passport to my office, I say, hey, wait a minute, he didn't leave the country, he wasn't out of the country. They had, Michael Cohen of the Trump Organization was in Prague. It turned out to be a different Michael Cohen. It's a disgrace, what took place, it's a disgrace, and I think they ought to be apologize, to start with, to Michael Cohen."
That was then-President Elect Donald Trump at his famous CNN is "fake news" press conference on Jan. 11, 2017 calling the Fusion GPS-Christopher Steele dossier — which was paid for by the DNC and the Hillary Clinton campaign — a fake. It had contended that Cohen was in Prague in late August or early September to meet with Russian agents and to clean up the supposed fallout of one-time Trump campaign advisor Carter Page and former campaign manager Paul Manafort allegedly working with Russia to hack the DNC and put the emails onto Wikileaks.
Prior to that news conference, on Jan. 11, 2017, Jake Tapper reported on CNN, corroborating Cohen's account: "Michael Cohen, Trump's lawyer, has been out there because in this uncorroborated report, it talks about Michael Cohen, Trump's official corporate lawyer, making a trip to the Czech Republic. My reporting suggests that people tried to run that down, and they concluded that it was different Michael Cohen. It was a Michael Cohen with a passport from another country, same birth year, different birth date. So for Michael Cohen to dispute that he was in the Czech Republic, completely confirms and comports with our reporting and it's one of the reasons why the intelligence chiefs did not get specific with these allegations and that's why I hope at the press conference today people are more general and don't get into the specifics because a lot of that stuff just has not been proven."
By Cohen's account, appearing on Hannity on Jan. 11, 2017, he said Trump called him after the Steele dossier story broke and asked if he was ever in Prague, to which the answer was never. "I've never been in Prague… And so he said, 'Michael, I really need to know.' I said, 'Mr. Trump, I have never been to Prague.' He said to me, 'Okay.' I said, 'Do you want to see my passport? I live close to the office.' And he said, 'Yeah, you mind if I see it?' And I said, 'Of course not, you're the President Elect. I'll be there in about two minutes.'"
All along, Cohen contested, he had never been to Prague. In May 2017, he allowed Buzzfeed, which had broken the dossier story, to examine his passport, which took pictures of it: "The stamps indicate he traveled abroad at least four times in 2016: twice to London, once to St. Maarten, and once to Italy in July. The Italian trip is the most intriguing, because it places Cohen in what's known as the Schengen Area: a group of 26 European countries, including the Czech Republic, that allows visitors to travel freely among them without getting any additional passport stamps. Upon entering the Schengen Area, visitors get a rectangular stamp with the date, a country code, their port of entry, and a symbol showing how they entered — such as an airplane or a train. In Cohen's passport, that mark appears on page 17, with a date of July 9. The mark is too faint to be fully legible. The exit stamp, similar but with rounded edges, is also light, but the letters 'cino' are legible, indicating he flew out of Leonardo da Vinci–Fiumicino Airport in Rome. That stamp is dated July 17."
As for London and St. Maarten, "Regarding the three other 2016 stamps in his passport, Cohen said he visited London twice, where his daughter is studying: once in October for a birthday party and again in November for Thanksgiving. He said he vacationed in the Caribbean island of St. Maarten in January."
As for August, stating he was actually with his son at the University of Southern California with his son's baseball coach during that time. The Atlantic confirmed Cohen was on campus on Aug. 29 via a University baseball source. For the month of September, Cohen says he was in New York.
So, on the surface, and from the outset, it appeared the Steele dossier was a big bust. If he wasn't in Prague ever, and hadn't even left the country in the time frame the Steele dossier put him there, then he certainly couldn't have been here talking with Russian agents.
But now McClatchy has reported on April 13 that, Special Counsel Robert Mueller's team is saying that Cohen somehow managed to get in and out of the country without getting his passport stamped. The report states, "investigators have traced evidence that Cohen entered the Czech Republic through Germany, apparently during August or early September of 2016 as the ex-spy reported, said the sources, who spoke on condition of anonymity because the investigation is confidential. He wouldn't have needed a passport for such a trip, because both countries are in the so-called Schengen Area in which 26 nations operate with open borders. The disclosure still left a puzzle: The sources did not say whether Cohen took a commercial flight or private jet to Europe, and gave no explanation as to why no record of such a trip has surfaced."
For his part, Cohen is maintaining he was never in Prague. On Twitter, April 14, he stated, "Bad reporting, bad information and bad story by same reporter Peter Stone… No matter how many times or ways they write it, I have never been to Prague. I was in LA with my son. Proven!"
So is it more fake news? At least one part of the report is incorrect. Cohen would have still needed a passport to get to Germany from the U.S. and back again, even if he traveled on ground to Prague. But again, Cohen's passport never puts him in Germany in 2016.
If Cohen somehow got into Germany and back to the U.S. in late August or early September 2016 without anyone knowing including immigration officials — he's a ninja. And he would have fooled everyone — including CNN, the intelligence community and President Trump.
Robert Romano is the Vice President of Public Policy at Americans for Limited Government.