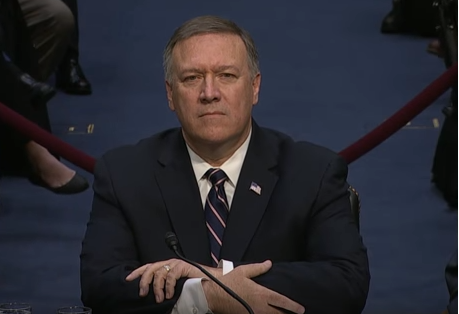 By Rick Manning
A casual observer might be surprised to learn that Mike Pompeo is in the midst of a confirmation battle to become President Trump's secretary of state. After all, he's already conducting high-stakes diplomatic negotiations for the United States.
On Monday afternoon, the Senate Foreign Relations Committee strictly along party lines to confirm Pompeo, the former CIA Director, to the full Senate for confirmation. Not one Democrat voted to recommend him. Regardless of that vote, the nomination will go to the full Senate for a vote — where it will again face entrenched opposition from the Democrats. Over the past several days, a number of Democrats who had been reluctant to put Trump's pick in Foggy Bottom announced that they would vote to confirm Pompeo. Good for them, and good for our national interests. But a number of their peers are still undecided, and if they don't make the right decision, Pompeo might not be confirmed.
What's remarkable about this furor over Pompeo's nomination is that it persists even after the public learned that he served as the president's envoy during a secret Easter weekend meeting with North Korean dictator Kim Jong-un. The Washington Post reported that Pompeo "has taken the lead on the administration's negotiations with Pyongyang," and his meeting with Kim "marks the highest-level contact between the two countries since 2000," when then-Secretary of State Madeleine Albright met with the late dictator Kim Jong Il.
The stakes were high: Part of the administration's historic attempts to denuclearize North Korea, the meeting sets the stage for a highly anticipated summit between Kim and Trump himself. And by all accounts, Pompeo's meeting was a success.
Afterwards, North Korean officials confirmed that Kim was willing to negotiate potential denuclearization. During his confirmation hearing earlier this month, Pompeo told the Senate Foreign Relations Committee that he is "optimistic" the United States can set conditions that will lead to a conversation between Kim and Trump that "will set us down the course of achieving a diplomatic outcome that … America and the world so desperately need." He didn't mention the meeting, but it's now clear that it was a source of his optimism.
Meanwhile, Trump tweeted that the "meeting went very smoothly and a good relationship was formed." It even earned praise from frequent Trump critic Rep. Adam Schiff, who called the meeting "good news for diplomacy," adding, "I'm glad that the meeting took place." Pompeo's efforts are a concrete step towards a long-held American foreign policy goal of a denuclearized North Korea, and a world free of the communist regime's threats.
The successful meeting is just the latest example of Pompeo's preparedness for the role of secretary of state. His impressive resume includes graduating from West Point, earning a law degree from Harvard, and serving as a Congressman. Those credentials are why, when he was up for CIA Director last year, the Senate confirmed him by a 66-32 vote. Since then, he has learned even more about the national security threats and challenges the United States faces around the globe.
Yet no committee Democrats recommended him, and some red state Democrats still haven't said how they'll vote later this week. That includes Claire McCaskill, D-Mo., and Bill Nelson, D-Fla. (Doug Jones, who was elected Senator of Alabama earlier this year, is still on the fence as well.)
Though these senators are surely focused on the uphill campaigns they face this fall, now is not the time to play political games: With North Korea's nuclear capabilities on the line, we need stability in the State Department. Besides, voters don't like flip-flopping. How would Donnelly and McCaskill, who voted "yea" for Pompeo as CIA Director, explain a "no" vote now? Would they take a page out of John Kerry's book and say they were for Pompeo before they were against him?
At a time when the United States is trying to conduct groundbreaking yet delicate diplomatic relations, it's unconscionable to leave the position of America's top diplomat vacant. Leaving the role empty as a qualified nominee waits would stall peace talks and will enable North Korea to pursue its nuclear agenda — an agenda that makes many Americans the target of a nuclear missile. Though Democrats think their actions will hurt Trump, their obstruction will ultimately hurt the American people, not to mention their own re-election odds.
These red state Democrats in the Senate should cease their political games and act quickly to confirm Pompeo.
As originally published https://www.usatoday.com/story/opinion/2018/04/24/mike-pompeo-democrats-elections-donald-trump-column/544145002/
Rick Manning is president of Americans for Limited Government.