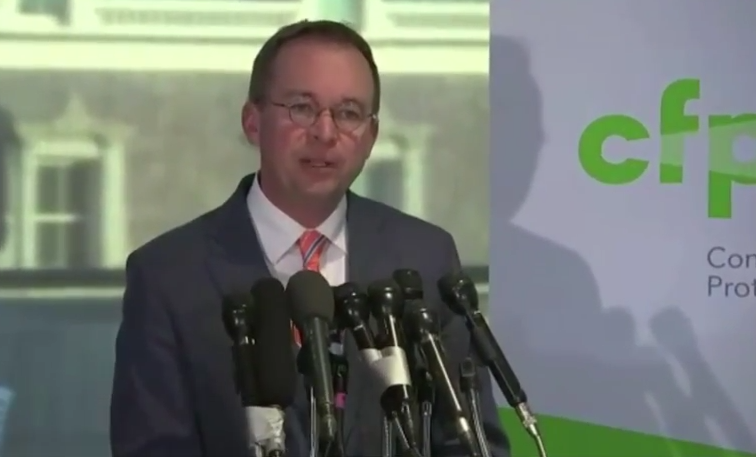 By Rick Manning
Mick Mulvaney, the acting director of the Consumer Financial Protection Bureau, is bringing responsibility and transparency to his agency – so of course he is under attack by Democrats.
The brainchild of Sen. Elizabeth Warren (D-Mass.), the CFPB purportedly exists to shield consumers from fraud. In reality, Democrats created a powerful rogue agency that they could use to control and reward their political friends. The agency was given largely unchecked enforcement authority and spent taxpayer money recklessly. Now that Democrats have lost the keys to that castle, they are making baseless accusations that Mulvaney is acting lawlessly, projecting onto him what they did to the agency. However, Mulvaney is trying to reform the CFPB into what its mission actually is: to protect consumers.
From the beginning, Democrats tried to block Mulvaney's appointment. Richard Cordray, the first director of the CFPB, resigned last year and attempted to appoint his own successor, Leandra English, who filed a lawsuit to keep the job. Though federal judges have thus far supported President Trump's authority to name an interim director of the agency, English's lawsuit continues. But Mulvaney's appointment is constitutional. Over 100 congressional Republicans filed an amicus brief last month arguing that Trump has the legal authority to appoint Mulvaney.
Just as his appointment was constitutional, Mulvaney is trying to make his agency operate in a constitutional fashion by making sure its actions stay within the realm of its authority and its operating costs stay within an appropriate budget.
Among many examples of reckless spending under its previous director, the CFPB spent over $215 million to renovate its headquarters. On his very first day as acting director of the agency, Mulvaney told the Daily Caller News Foundation that he would seek to rein in the soaring renovation costs.
"My objective in managing this agency is to make it more accountable, efficient, and effective in fulfilling its statutory obligations," Mulvaney said. "Because Congress does not control the bureau's budget through appropriations, we are left to budget ourselves without oversight, and every dollar we draw from the Federal Reserve is one less dollar available to pay down the deficit."
While examining his agency's budget in January, Mulvaney determined the bureau would need $145 million for its second quarter operating costs, but it already had $177 million in a "reserve fund" created by his predecessor. So Mulvaney told then-Fed Chair Janet Yellen that the CFPB would not require any additional operating funds for its second quarter.
In a letter to Yellen, Mulvaney suggested that the Fed instead direct those funds to the Treasury to reduce the deficit.
"While this approximately $145 million may not make much of a dent in the deficit, the men and women at the Bureau are proud to do their part to be responsible stewards of taxpayer dollars," he wrote.
Mulvaney's actions to trim the CFPB's budget and control its regulatory actions have led to accusations from Democrats that he is attempting to shut down the bureau, but he is doing no such thing. Mulvaney has stated that he has "no intention of shutting down the bureau" and that the law requires the CFPB to "enforce consumer-protection laws, and we will continue to do so under my watch."
Democrats, including Warren, have also baselessly accused the acting director of acting unethically by dropping investigations into some payday lenders and delaying a new rule regulating them due to campaign contributions he received from the industry when he was in Congress.
Mulvaney responded to these charges in a remarkable letter. "I reject your insinuation — repeated three times in as many pages — that my actions as Acting Director are based on considerations other than the careful examination of the law and the facts particular" to any matter, he wrote, adding:
"Prior to your letter, I would have never thought to consider, for instance, whether your vote against repealing the Bureau's arbitration rule was influenced by campaign donations you may have received from trial lawyers or other parties who stood to financially gain from the rule. Perhaps I should reconsider. Instead, shall we agree that such accusations are baseless and discuss policy matters as responsible officers holding a public trust?"
Contrary to these claims from Democrats, Mulvaney is the reformer CFPB needs, bringing both law and order to the bureau. Mulvaney is scaling the agency back to enforce the law as appropriate, rather than to "push the envelope," as his predecessor described the agency's actions. He is focused on fiscal responsibility and an equitable enforcement process that balances regulatory costs with need for consumer protections. He will ensure the agency advocates for consumers rather than the Democrats' agenda.
Rick Manning is president of Americans for Limited Government.