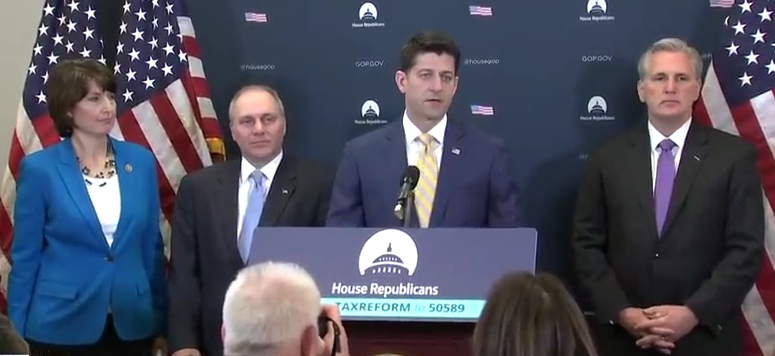 A new poll by McLaughlin & Associates on behalf of the Ear to the Ground Listening Project found 57 percent of likely voters disapprove of the Republican majority in Congress, including 32 percent of Trump voters, 25 percent of Republicans and 64 percent of independents.
Believe it or not, that's actually an improvement from several months ago. A similar poll in Nov. 2017 by McLaughlin & Associates had nationwide disapproval of the GOP majority at 62 percent.
That had followed failed attempts to repeal and replace Obamacare in July 2017 and again in Sept. 2017, which looms large as a disgruntling factor for Republicans.
Those numbers improved a bit after the big tax cut bill passed in Dec. 2017, which also repealed the Obamacare individual mandate to purchase insurance and allowed for oil drilling in the Arctic National Wildlife Refuge.
But whatever momentum was had after that took a dump in March with the $1.3 trillion omnibus spending bill. It spent too much money on Democrat priorities like an Amtrak tunnel between New York and New Jersey, and although it increased defense spending, a Trump administration priority, it did not fully fund the southern border wall and failed to defund sanctuary cities and Planned Parenthood.
There have been a couple of other successes. A number of Obama midnight regulations were repealed via the Congressional Review Act at the beginning of 2017 and the Obama era Housing and Urban Development regulation conditioning receipt community development block grants on changes to local zoning along racial and income criteria was prohibited in the omnibus.
Still, Republican dissatisfaction of the GOP Congress is far too high for Republicans to make an effective defense of the House majority in 2018, let alone pick up many seats in the Senate in a year when the environment actually favored them.
Nine Democrat seats up are in states President Donald Trump carried in 2016: Florida, Indiana, Missouri, Montana, West Virginia, Wisconsin, Michigan, Pennsylvania and Ohio. They could have been potential pick-ups, but now those prospects far more iffy as Republicans might be happy simply to keep the Senate majority and not lose any seats.
In every midterm following a presidential election, you can expect the opposition party, in this case the Democrats, to be fired up. Right now, the McLaughlin poll shows Democrats are united and that Republicans and Republican-leaning independents are dispirited. The reason is because they feel like they are not winning battles in Congress.
"This poll is a wake-up call," Americans for Limited Government President Rick Manning said in reaction, calling for new leadership. "It is clear that if Republicans want to create enthusiasm with those who should support them, they need to start fighting in favor of the issues that got them elected. With House Speaker Paul Ryan retiring, they need to choose a new Speaker who can credibly lead them in this fight. No one in the current leadership team has the credibility to fight for the values and principles that got the House Republicans their majority in 2010."
It's not all bad news. The poll shows Democrats with only a narrow edge in the generic ballot, 44 percent to 43 percent. As bad as the numbers are on approve or disapprove, on the ballot, independents are split 34 percent to 34 percent Republican and Democrat in terms of who they're voting for.
Meaning as much as Republican-leaning Americans are with the GOP Congress, they believe a Democrat-controlled Congress would be much worse.
Meaning, there's still time before November for Republicans to get their priorities funded and things they oppose defunded in the appropriations process, and to accomplish other things their base wants. The fiscal year ends on Sept. 30.
But to get a good deal, Republicans need leverage, and with a lame duck House Speaker, right now they have none. Therefore, now is the time for new, unifying leadership in the House that can get a better deal for the American people in this year's appropriations process and restore confidence in the Republican majority. That is, if Republicans in Washington, D.C. want to keep their majority.
Manning called on Republicans to fight to show their supporters they have their backs, concluding, "It is clear that Americans want a fight for the future of their country and if Republicans refuse to do it, they will be fired in November."
Robert Romano is the Vice President of Public Policy at Americans for Limited Government.