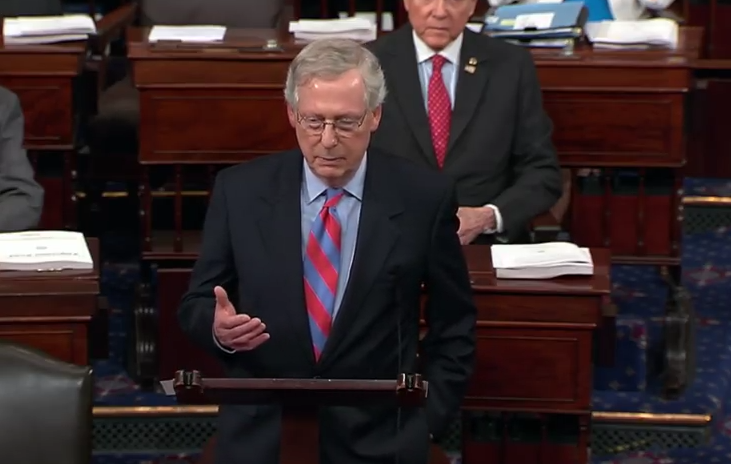 By Natalia Castro
Mitch McConnell has pledged to cement President Donald Trump's conservative legacy by using the Republican majority, while he still has it, to confirm as many of Trump's judicial nominees as possible. As pressure surrounding midterms mounts, McConnell should be praised for expediting the confirmation of these judges, but more still needs to be done. McConnell and the rest of the Senate must also fill the vacant positions within the executive branch; this is the only way to truly ensure the Trump Administration can do everything they have set out to achieve.
Conservatives were quick to praise McConnell when he told conservative radio host Hugh Hewitt he would work through the New Year to get judicial appointments confirmed. "We're going to continue to confirm judges all year," McConnell said, "The Congress doesn't stop with the elections. It goes until the end of the year. We're going to do six more [circuit nominations] next week, which will bring us to 21. I'm processing them as quickly as they come out of the Judiciary Committee, and the administration is sending them up rapidly."
The Senate Majority Leader announced that he planned to confirm "all the circuit and district court judges that come out of committee this calendar year, all of them."
According to the U.S. Courts Service, the Senate has already confirmed 33 Judicial nominees, but 68 nominees are still pending, and there are still 148 judicial vacancies.
But it's not just the judicial branch that needs confirmations. As Americans for Limited Government President Rick Manning reminds, "Confirming judges is extremely important, but it is equally important to ensure the executive branch is not being run by Obama holdovers a full year and four months after President Trump's inauguration."
One glaring example of the lack of executive appointments is Trump's nominees for the Office of Civil Rights at the Department of Justice.
Eric Dreiband received a favorable report coming out of the Senate Judiciary Committee on January 18, 2018. Dreiband was placed on the Senate calendar in January but has yet to be voted on.
Dreiband is extremely qualified to lead the Civil Rights Division of the DOJ; as a labor attorney for the Washington D.C.-based firm Jones Day, Dreiband "represents companies in all aspects of civil rights, employment discrimination, whistleblower and wage and hour investigations, litigation and counseling," according to his bio.
Dreiband also previously served as a top lawyer at the Equal Employment Opportunity Commission under President George W. Bush, where he entered into class-action lawsuits on behalf of women and minorities.
Despite his clear qualifications and conservative approval ratings, Dreiband has been unable to lead necessary reforms in the Office of Civil Rights because of Senate stagnation. If Mitch McConnell is truly committed to cementing Trump's agenda, he must not only focus on the courts but also on the executive appointments who can enact real change.
It is clear McConnell is nervous about the future of our country if Republicans fail to maintain control in the midterms, but the best way to cement Trump's legacy is to do it through all three branches instead of just two. Trump must have executives in place who will uphold and implement his policies, not just judges to rule on their constitutionality. Mitch McConnell has made strong statements, but he must prove he is willing to follow through and get these nominees done this year.
Natalia Castro is a contributing editor at Americans for Limited Government.