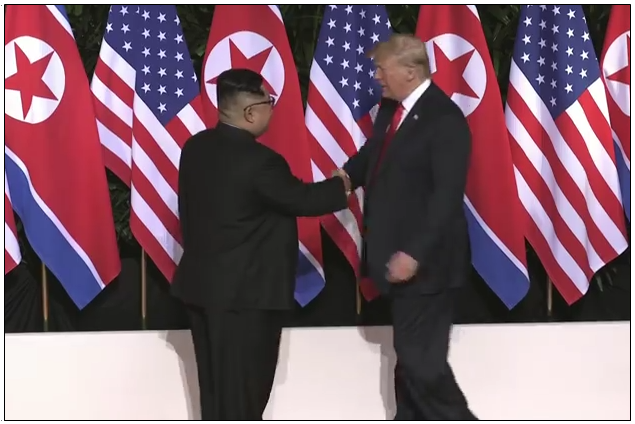 "I do trust him, yeah… Maybe in a year you'll be interviewing and I'll say I made a mistake. It's possible. We're dealing at a high level, a lot of things can change a lot of things are possible."
That was President Donald Trump in a candid interview with ABC News' George Stephanopoulos, cautiously optimistic about the new framework with North Korea that was agreed to at the June 12 Singapore summit.
Trump added, "We have the framework for getting ready to denuclearize… He's de-nuking the whole place. I think he's going to start now."
Hopefully, that's what happens.
According to the agreed-upon framework, "President Trump committed to provide security guarantees to the DPRK, and Chairman Kim Jong Un reaffirmed his firm and unwavering commitment to complete denuclearization of the Korean Peninsula."
As far as the security guarantee goes, that was to be expected, given what the ask is. Undoubtedly, the North Koreans are considering the examples of Iraq, Libya and Ukraine where disarmament of major weapons programs led to leaving each country open to be destabilized and embroiled in civil war. They did not lead to peace and security.
Other hurdles include the fact that we've been down this road before. In the 2000s, there were the six-party talks, yet North Korea's nuclear weapons program was being built the whole time. In 2006, it conducted its first nuclear weapons test.
In 2016 and 2017, North Korea test-fired many ballistic missiles and detonated nuclear weapons. Sanctions were intensified both from the U.S. and China. Trump had promised "fire and fury" in the event of an attack by North Korea.
But then the April 2018 summit between Moon Jae-in and Kim Jong-un, the leaders of South and North Korea, respectively, on ending the Korean War and beginning the denuclearization process.
Then the Singapore summit itself had a false start, where it was agreed to after North Korea released three American hostages, but then Trump had cancelled it amid North Korea ratcheting up demands on ongoing military exercises and what the summit's scope would be.
In the end, the summit happened. The framework included denuclearization of the entire peninsula, a major concession by the North. And it included the security guarantee by the U.S., a major concession here.
Trump also agreed to cancel certain military exercises in a move that drew criticism in some quarters. Yet in diplomacy there are concessions. If the Korean War really is ending, a ratcheting down of the military footing of both sides is to be expected. Trump appears committed to giving diplomacy a chance, and that's going to mean offering a tangible sign that the U.S. overtures are sincere.
Considering the end goal, it appears to be worth a shot.
If all goes well and denuclearization occurs and the Korean War ends, nobody's going to care about some cancelled military exercises. Or if it doesn't work out, and there's no deal in the end, those military exercises can just be rescheduled or new ones planned. No big deal.
As far as having the formalities of a meeting between the heads of state, with both leaders standing side by side, shaking hands, and the like, that comes with the territory of a summit. The alternative appears to have been no summit.
Finally, there were some who quibbled over Trump praising Kim, saying, "Kim Jong-un is a very talented man and he loves his country very much." Obviously, that was to help the deal along. Does anyone think that saying that makes a deal less likely to be implemented?
At the end of the day, to get the deal implemented, Trump has to convince Kim that he has a future that will not look like Saddam Hussein and Muammar Gaddafi, in Iraq and Libya, respectively, who were forced from power and then killed, or Viktor Yanukovych, of Ukraine, who was forced from power and then into exile.
If Kim doesn't have that security assurance and the formal interaction of state to state relations, then North Korea would have no incentive to deal. Something to keep in mind.
Now comes the hard part: Implementing the deal. Denuclearization has to be verifiable on both sides, meaning there has to be something agreed to put people on the ground who can verify the disarmament process is proceeding apace. This could still get dicey.
Robert Romano is the Vice President of Public Policy at Americans for Limited Government.