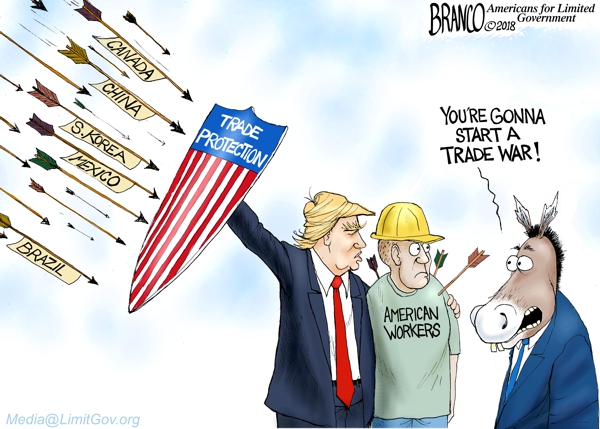 President Donald Trump is levying 10 percent tariffs on $200 billion of Chinese goods shipped to the U.S., rising to 25 percent in Jan. 2019, coming atop a 25 percent tariff on $50 billion of goods from China. Trump has warned if China retaliates, another $267 billion of tariffs will follow.
On Twitter, Trump briefly discussed the tariffs, writing, "Tariffs have put the U.S. in a very strong bargaining position, with Billions of Dollars, and Jobs, flowing into our Country — and yet cost increases have thus far been almost unnoticeable. If countries will not make fair deals with us, they will be 'Tariffed!'"
On the question of price increases, so far Trump is correct. While steel and aluminum have seen brief spikes in prices on commodities markets, it has no fed into overall consumer and producer inflation.
If the question boils down to "Who has more to lose in a trade, the U.S. or China?" it is clear that far and away China has a lot more to lose.
According to data gathered by the U.S. Trade Representative, "China is currently our largest goods trading partner with $635.4 billion in total (two way) goods trade during 2017. Goods exports totaled $129.9 billion; goods imports totaled $505.5 billion. The U.S. goods trade deficit with China was $375.6 billion in 2017."
China's $505.5 billion of good exports to the U.S. comprised a total of 4.1 percent of its $12.2 trillion Gross Domestic Product in 2017 and a whopping 22.3 percent of its $2.2 trillion of goods exports in 2017.
In contrast, American exports to China only comprised 0.67 percent of the 2017 annual GDP of $19.4 trillion, and comparatively 8.3 percent of its $1.5 trillion of goods exports in 2017.
If you break it down by global manufacturing market share, China has even more to lose. Since China entered the World Trade Organization in 2001, U.S. manufacturing market share has dropped from 13.4 percent to 7.9 percent in 2016, according to World Bank data. China has risen from 5.3 percent to 16.9 percent in 2016.
That is the context that President Trump's decision on tariffs must be understood, in balancing what has been a one-sided bad deal for America ever since most favored trading status was conferred on China.
And everything the American people were told about it has proven false.
In 2003 former President George W. Bush predicted that trade with China would create national prosperity and that it would lead to democracy there: "Our commitment to democracy is tested in China. That nation now has a sliver, a fragment of liberty. Yet, China's people will eventually want their liberty pure and whole. China has discovered that economic freedom leads to national wealth. China's leaders will also discover that freedom is indivisible — that social and religious freedom is also essential to national greatness and national dignity. Eventually, men and women who are allowed to control their own wealth will insist on controlling their own lives and their own country."
Instead, under President Xi Jinping has consolidated power in Beijing and is considered to be a president-for-life. China routinely oppresses religious minorities and has been repeatedly accused of mass organ harvesting of prisoners.
In the meantime, China has been ineffective at best and complicit at worst in halting the development of North Korea's nuclear and ballistic missiles programs and cooperating with U.S. sanctions against Pyongyang.
So, it's time to revisit this entire question. What is the U.S. getting out of this relationship with China? Is it serving our long-term economic interests? What of our national security interests?
Partnership with the U.S. cannot and must not be a one-way street. President Trump prevailed in the 2016 election largely on the question of the U.S. relationship with China on trade, and he is right to pursue the agenda he was elected on. If China wants to keep a good relationship with the U.S., then it has to start delivering something besides massive trade deficits.
Robert Romano is the Vice President of Public Policy at Americans for Limited Government.