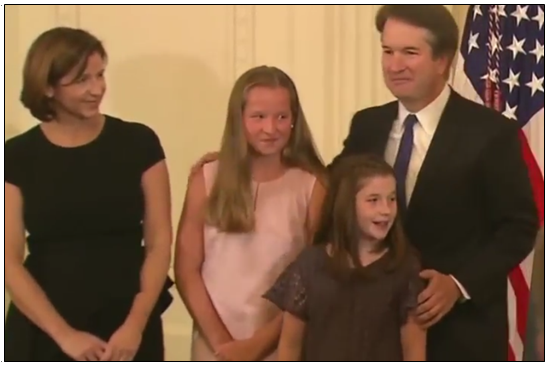 "How do you know how I'm going to vote?"
That was Sen. Joe Manchin's reply to an angry protestor who confronted him over his indecision in whether he'll vote to confirm Judge Brett Kavanaugh to the U.S. Supreme Court, saying she was a victim of sexual assault, shouting, "I don't understand how you can't look me in the eye!"
Manchin replied, "I can."
"Why are you going to vote yes on this?" the protestor asked Manchin.
That's when Manchin admitted what everyone already knows that he's been silent on the confirmation of Judge Brett Kavanaugh to the Supreme Court, replying, again, "How do you know how I'm going to vote?"
Now Americans for Limited Government is calling him out on it in a new ad entitled, "Due Process."
The 60-second video features Manchin's famous 2010 ad that propelled him to the U.S. Senate, "Dead Aim," where then-candidate Manchin was shooting up cap and trade bills and promised to "repeal the bad parts of Obamacare" (something that in hindsight he failed to do when he voted against the skinny repeal and every other Obamacare repeal).
In the new video, Manchin is portrayed shooting up the U.S. Constitution instead for failing to defend Kavanaugh while uncorroborated allegations were leveled against him accusing him of sexual assault.
"Where has Joe Manchin been the past three weeks while Judge Kavanaugh and his family were being destroyed by an out of control mob?" Americans for Limited Government President Rick Manning asked in a statement.
Manning explained, "He's been quiet and hiding while he tested the political waters to see if Senate Republicans could get to 50 votes. That's not leadership. Senator Manchin needs to hear from the people of West Virginia that staying silent on due process and the rights of the accused is just plain wrong."
In West Virginia, a Public Opinion Strategies/Judicial Crisis Network poll conducted Sept. 27 found 58 percent of voters support confirming Kavanaugh, including 42 percent of Democrats and 59 percent of Independents. 81 percent of Republicans support confirmation.
Now, Manchin's political fate — along with the Supreme Court's composition — hangs in the balance. The issue of confirmation has suddenly become front and center in the midterm elections, particularly in the Senate, and could determine which party is in the majority after November.
One of the reasons Manchin, a one-time West Virginia governor, was able to win in the 2010 special election was because he ran as a conservative who share the values of his constituents.
Manchin can decide to go with his constituents, or he can vote to defeat Kavanaugh, but he won't be able to do both.
The question for Democrats might be whether it's worth attempting to defeat Kavanaugh even if it means losing the Senate, in which case he or another constitutionalist judge could just be confirmed again in January or soon thereafter.
Is potentially losing the Senate worth it to merely delay the confirmation of President Donald Trump's nomination to the Supreme Court?
We'll be finding out very soon.
Robert Romano is the Vice President of Public Policy at Americans for Limited Government.