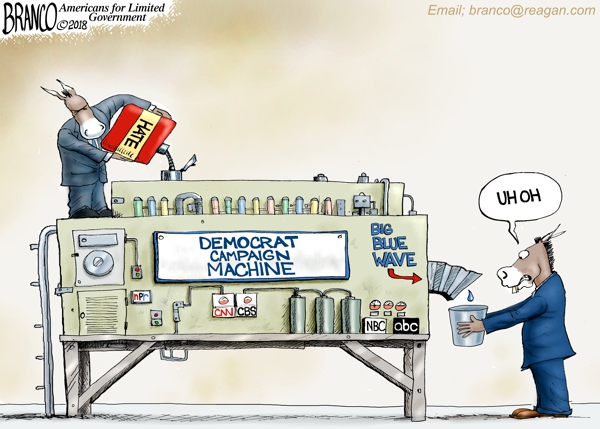 Headed into the Tuesday, Nov. 6 midterm elections and two bits of conventional wisdom are taking root: 1) Democrats will pick up many seats in the House and as a result claim a majority; and 2) Republicans will pick up some seats in the Senate and keep its majority.
In the case of the House, this holds true to history, where 89 percent of time, in midterms going back a century, the White House incumbent party loses on average 35 seats.
In the case of the Senate, it actually bucks the historical norm, where 71 percent of the time, the incumbent party loses 6 seats.
So, right off the bat, what would be shocking is if there was a Blue Wave resulting in Democrats sweeping into majorities in both the House and Senate.
But there's the basic prediction official Washington, D.C. is betting on: Democrats pick up the House, Republicans keep the Senate.
In the Senate, GOP gains are expected in states such as North Dakota and Missouri, plus potential pick-ups in Indiana, Florida, West Virginia and Montana. Democrats are fighting to make gains in Arizona, Nevada and Tennessee. So, there we'll see. If you look at the average of polls from Real Clear Politics, as of this writing, Republicans would pick up North Dakota and Missouri and lose Arizona, resulting in a net gain of one seat.
On the House side, Democrats currently have 193 seats in the House and need 25 more to get to 218. That includes currently vacant seats, of which there are 7. Two of those vacancies, in Michigan's 13th Congressional District and New York's 25th Congressional District, appear to be safe Democrat seats.
So the race will come down to whether Democrats can flip 23 currently Republican seats in order to gain a majority.
The Real Clear Politics average of polls has 15 Republicans seats that are either likely or lean Democrat. Let's say Democrats win them all. There are also two Democratic seats that are likely or lean Republican. Let's say the GOP wins those, resulting in a 13-seat net pick up.
Then, Democrats need 10 more.
So let's look at the toss ups. Real Clear Politics says there are 36 toss-ups, 31 of which are Republican.
Before looking at the polls, add to it that nationally, Republicans appear to be out to an early lead in early voting 43 to 41 percent according to NBC News based on ballots that have been submitted, and Tuesday might not be as bad as a blue wave would predict. This might be one that comes down to the wire.
With an edge in early voting, let's bank any districts either statistically tied, close and within the margin of error or showing the Republican ahead to the GOP column, any currently held by Democrats to being a Democratic hold, and go from there.
Of the 31 toss-up seats held by Republicans, just nine show the Democratic candidate clearly ahead in the latest polls.
That would leave Democrats just short of a majority, with Democrats at 217 seats, and Republicans at 218 seats, the closest result in U.S. electoral history in the House if it happened.
Of course, it's all speculative, based on two signals — a Republican lead in early voting tilting races too close to call to the GOP, and the number of races that appear too close to call. There are other unknown factors, including whether pollsters were anticipating elevated Republican turnout evident in the early voting. This author is assuming they hadn't, and so banked the close races to the Republican.
One indicator perhaps showing late momentum could be coming from California's 48th District. There, U.S. Rep. Dana Rohrabacher had only been up a couple of points in polls, but has jumped out a 9-point lead in the latest poll by Thomas Partners Strategies.
If this was really going to be a Blue Wave, my gut says Democrats should be way up right now and poised to reclaim the Senate, too, where they only need two seats.
President Trump might be about to break the midterm jinx.
On the other hand, this could be all wrong.
But this might give readers a guide of what to watch for. If districts said to be toss-ups start breaking for Democrats, it could be a great night for Democrats. On the other hand, if seats that were thought to be Democrat pick-ups suddenly go red, it could be a very bad night for Democrats. Time will tell.
As usual, stay tuned. This one could be really close.
Robert Romano is the Vice President of Public Policy at Americans for Limited Government.